Investors should steadily accumulate shares of Apple Inc. (NASDAQ:AAPL) (as opposed to a Strong Buy or a Strong Sell), as its performance has recovered from the lows it achieved in FY 2013. One catalyst that should enable Apple to continue growing is the upcoming launch of its new iPhone 6. Analysts are expecting that Apple will finally create a larger-sized iPhone device, which will enable it to potentially take market share away from Samsung (OTC:SSNLF) by attracting consumers who may have only previously considered the Samsung Galaxy series of phones. As the iPhone's revenue growth rate has significantly decelerated over the last couple of years and the smartphone marketplace has matured over the last couple of years into a Samsung-Apple duopoly, Apple's ability to generate future growth will depend on taking market share away from Samsung.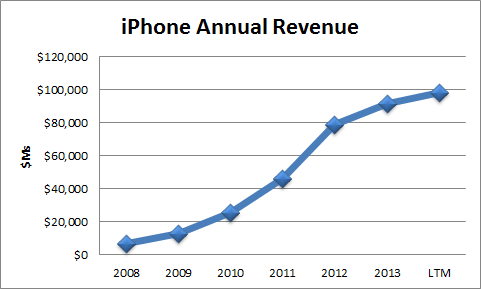 Source: Apple's 2008-2013 Annual Reports
According to Re/code's John Paczkowski, Apple will hold its 2014 iPhone event on Tuesday, September 9. This is in line with Apple's historical iPhone launch schedule, and confirms the 9to5Mac report stating Apple is "tentatively" planning a mid-September event for the iPhone 6. In addition to 4.7" and 5.5" displays (widely reported), the rumor mill has mentioned sapphire cover glass, optical image stabilization, an NFC radio, wireless charging, and Cat-6 LTE (theoretical max. speeds of 300Mbps) as potential new features. According to Jefferies analyst Peter Misek, Apple is negotiating with carriers for a $100 per unit price increase on the iPhone 6. Apple's rationale behind this price increase is the extra revenue offsets the increased costs for the bigger device. In a March survey of 4,109 ChangeWave members, 26% of those planning to buy a smartphone in the next three months said they were "somewhat likely", and 14% "very likely" to buy what was described to them as a next-generation iPhone 6 with "a larger screen size, gesture control, a faster processor, an updated iOS operating system", and a starting price of $199 (with a 2-year contract).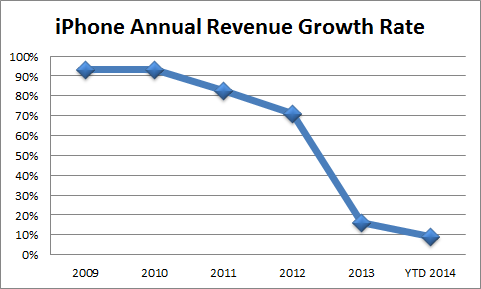 Apple released its original iPhone device in 2007, and it became Apple's best-selling product in terms of revenue in 2009. Apple generated 53% of its revenue from the iPhone in Q3 2014, which was more than its other products combined. Because of problems associated with the iPhone 5, Apple's reputation declined, and it helped contribute to decelerating growth in the product's revenues. Issues with the iPhone 5 included the new Apple Maps app, which led Apple to officially discontinue the product on September 10, 2013, and Apple replaced the iPhone 5 with the iPhone 5c, which was a lower-cost version of the iPhone 5 but containing a polycarbonate casing instead of the metal casing used in the iPhone 5 and iPhone 5S.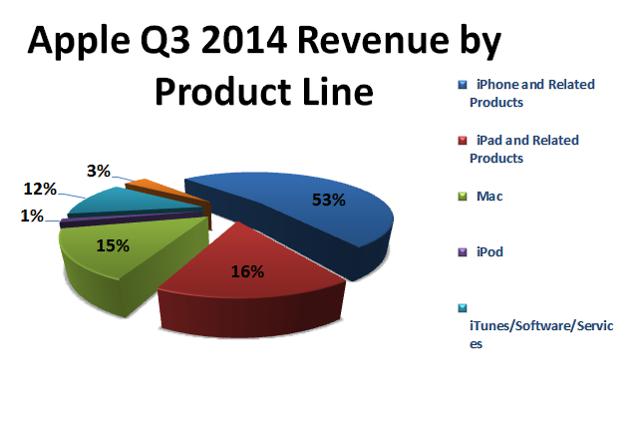 Source: Apple's Q3 2014 Report
Apple generated 55% year-over-year growth in iPhone sales in Q3 2014 in the BRIC countries (Brazil, Russia, India and China), and the company estimated that less than 25% of iPhones currently sold were tied to a traditional wireless phone subsidy plan, significantly less than years ago. This means that Apple is less exposed to potential cuts in smartphone subsidies by the wireless carriers and proves its critics wrong. Although Apple's momentum has decelerated a bit over the last couple of years, at least it isn't Nokia (NYSE:NOK)/Microsoft Mobile (NASDAQ:MSFT) or BlackBerry (BBRY). Apple's iPhone revenue is significantly greater than what these companies generate from their mobile communications devices, and unlike these companies, Apple is still growing its revenue and sales volume. Apple also had potential tailwinds from the eventual, potential launch next year of the iWatch and iTV, as well as its partnership deal with IBM Corp. (NYSE:IBM) to sell iPads and iPhones to business enterprise clients. Apple recently placed orders for 70M-80M 4.7" and 5.5" iPhone 6 units to be manufactured by Dec. 30, The WSJ reports. That's a sizable increase from the 50M-60M iPhone 5S/5C units Apple initially ordered last year.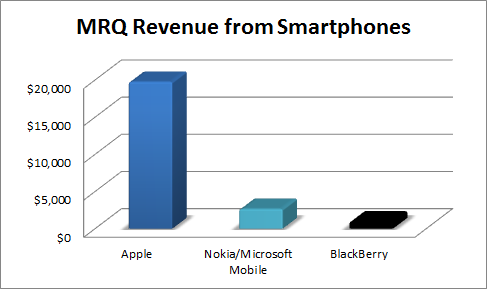 Source: MRQ Reports for Apple, Nokia, Microsoft and BlackBerry
In conclusion, investors should steadily accumulate shares of Apple, particularly after dips in the market. Although Apple's iPhone growth has significantly decelerated, the product category is still generating revenue and profit growth for Apple. Investors should expect Apple to maintain or improve its annual revenue and volume growth as a result of the new iPhone 6 that Apple will release, as well as continued improvements to its oft-criticized Apple Maps application. This is one of many factors prompting analysts to incrementally increase their FY 2014 and FY 2015 EPS forecasts for Apple, as well as reinforcing our decision to steadily accumulate shares of Apple. Bernstein Research senior analyst A.M. Sacconaghi believes that Apple is worth $114 net of its foreign source cash assets, even if the company endured flattish trends in its free cash flows. That compares favorably with the $95/share it recently went for in the market.
Disclosure: The author is long AAPL. The author wrote this article themselves, and it expresses their own opinions. The author is not receiving compensation for it (other than from Seeking Alpha). The author has no business relationship with any company whose stock is mentioned in this article.
Editor's Note: This article discusses one or more securities that do not trade on a major U.S. exchange. Please be aware of the risks associated with these stocks.