Fundamental changes in the music industry are paving the way for future monetization opportunities.

U.S. District Judge Jed Rakoff called it a "catfight between two rich companies" on November 1, when the controversial multibillion dollar lawsuit filed by Terra Firma Capital Ltd., and its chairman Guy Hands, against Citigroup Inc. (NYSE:C) and its banker David Wormsley was finally brought to a conclusive end. Rejecting Hands' claim that Wormsley had deceived him into overpaying for EMI's acquisition, the jury in New York has thwarted Hands' futile attempts in holding on to EMI. Now, Citigroup will have no problem in breaking apart the British music giant and selling it off in pieces, since it had initially provided over $4.8 billion in loans to finance the acquisition of EMI by Terra Firma.
Several analysts have said that the case has simply been Guy's last attempt at getting his own hands out of a poor business deal. Recently, negotiations between Citigroup and Hands on restructuring EMI's finances had been underway - a deal which will clearly be swept to the wayside now that the lawsuit has come to an end. With losses totaling more than U.S. $800 million in the year that ended March 2010, EMI had evidently not been performing nearly as well as its other music industry brothers such as Sony Music Entertainment (NYSE:SNE) and Warner Music Group (NYSE:WMG). With cost cuts instituted by Hands leading to the accelerated departure of EMI's top talent, such as Queen, Paul McCartney, and the Rolling Stones, EMI continues to have a difficult time in achieving previous levels of profitability, especially when it remains particularly vulnerable to global trends that continue to leech revenues away from the music industry.
Music Digitalization and its Challenges
Although EMI may have been hit the hardest as of late, the other giants of the "big four" in the recorded music business are likely to face the same challenges in the wake of vast changes in the industry. Technological innovation has brought an insurmountable degree of change to the music business, change that presents both opportunities and threats to its future economic outlook. Although new opportunities have rapidly evolved alongside innovations of digital distribution channels, such ingenuity has not resulted in proportional market growth. The global music market has declined a staggering 30% from 2004 to 2009, despite digital sales having increased a total of 940%, accounting for more than a quarter of record companies' revenues for the first time in history in 2009. Evidently, although digital sales of music have experienced unprecedented growth during the last decade, such growth has not offset the sharp decline in sales of physical formats. Imperative for the future growth of the music industry is the realization that music consumption will continue to ebb away from the physical world and into the digital realm, as seen by statistics provided by the International Federation of the Phonographic Industry (IFPI). Therefore, seeking monetization opportunities of digital music consumption will be fundamental for the survival of the music industry in the future.

The End of the Replacement Cycle, and the Birth of Online Pirates
Rapid deterioration of profitability in the recorded music industry can be largely attributed to the death of the replacement cycle of music products. Over two decades ago, when record companies ensured that CDs became standardized, consumers had to replace their entire cassette libraries with new CDs. In contrast, consumers today can simply rip songs from a CD and convert them to MP3 files at no additional cost, ultimately leaving a dwindling bottom line for the music business. Further culminating to the multitude of issues faced by the music industry is the imminent threat of online piracy. Illegitimate sources of music continue to choke revenues not just through illegal peer-to-peer (P2P) distribution, but also through unlicensed download sites, blogs, specialized search engines, and forums. With pervasive illegal file sharing growing prolifically on a daily basis, one has to wonder how much longer the music industry can wage war against a legion of unrelenting pirates.
It is clear that if the issue of piracy is not proactively resolved in the near future, copyright will continue to deteriorate to a point where it no longer has any inherent value. If the music industry ever reaches that point, there will no longer be incentive for anyone to pay patronage for the creators of intellectual property, ultimately resulting in the downfall of not just the music industry, but the creative industry as a whole.
Opportunities for the Music Industry
With the advent of the internet, the variety of distribution channels for music has increased more than ever. The channels have evolved from regular entertainment specialty stores such as HMV, to the likes of download stores like iTunes (NASDAQ:AAPL), and music video streaming services like VEVO. The reality, however, is that consumers have been conditioned to the lure of free music due to rampant piracy. Studies conducted by Entertainment Media Research in Britain found that 71 per cent of those admitting to increasing their illegal file sharing activity in 2008 was due to the fact that it was free. The IFPI reported studies in Japan and Belgium in 2009 that reached the same conclusions.
The appeal of free music to users of illegal file-sharing websites creates an unfair advantage over legitimate music services; however, it is advertising based streaming services like VEVO that have found new opportunities in monetizing the digitally integrated consumer. VEVO is an online service that has a signed agreement with EMI to stream professional music videos through the VEVO channel on YouTube (NASDAQ:GOOG), or other online destinations. By capitalizing on advertising revenues generated from a high volume of users, VEVO offers part of the solution towards a healthier outlook for the future of the music industry as it begins to draw users to stream music legally rather than downloading it illegally.
As mobile internet becomes increasingly relevant in today's society, opportunities are emerging constantly with regard to distributing music services to handheld devices. Mobile phone companies have already begun developing bundled services. Nokia (NYSE:NOK) and Sony Ericsson, for example, have started offering unlimited music services bundled with mobile phones at an additional cost. Nokia's "Comes with Music" is a service that offers unlimited downloads of songs, even allowing for users to keep the downloaded files after a subscription expires – a strategic move played by Nokia to transform itself from a handset manufacturer to an internet services company. Collaboration between mobile phone companies and record companies has only been made possible through the evolution of the digital world and the opportunities it presents. Evidently, such opportunities have paid off, with the number of licensed music services growing substantially over the past few years.

Growing Emphasis on Live Music
Aside from the many opportunities the digital world has presented to the music industry, fundamental changes have also been occurring in the arena of live music performances. In a mere decade from 1999 to 2009, concert ticket sales grew from U.S. $1.5 billion to $4.6 billion.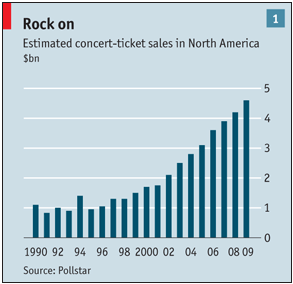 Such a drastic increase in live music revenues begs the question of why such a phenomenon has been occurring, and such insight lies in how artists now perceive touring. It used to be that musicians would use concert tours to promote their records, but now, the concerts themselves have become a new major source of revenue as CD sales continue to decline. Coinciding with the growth of live music has been the rise in sales of merchandise such as t-shirts and other paraphernalia. Websites like Bravado have taken merchandising to a whole new level, offering streams of products for several different artists all available through their online stores. As an artist promotes his/her music, consumers buy into the lifestyle of the artist, a lifestyle that can be sold, and this is as profitable, if not more, than just selling their music. Evidently, in today's contemporary music industry, it is not so much about selling music anymore, but using music to sell.
A Corporate Misconception
For the past decade, sales of recorded music have indeed continued to plummet, with digital music sales from iTunes and the like making for no comforting compensation. It is, however, a misconception that the music business is slowly dying, since this is clearly not the case. The music industry is simply changing profoundly as it adjusts itself to an era of digitalization, where the opportunities are as far reaching as the internet itself. Given the promising results of recent attempts by governments to halt piracy through implementing graduated response models, the music industry is only likely to be on the rebound upwards in the long term. This potential for growth has been made possible only through the ease of access to music consumers get from the many facets of the Internet, and it is now more than ever that investors should seek and invest in organizations that have developed innovative ways of monetizing this access.
Further Reading
IFPI Digital Music Report 2010 (.pdf)
Disclosure: No positions