This article is a follow-up to Part 1 that describes interest rate sensitivity for BDCs and the core drivers that impact net investment income as interest rates begin to rise, so please read "Rising Interest Rates & BDCs: Part 1" for more information.
Implied Floors for BDC Investments
Interest rate caps and floors are used throughout the lending industry for protection against changes in interest rates. This article will focus on the interest rate floors for BDC investments that are important because this is the point when a lender receives incremental income from a variable rate loan. BDCs are only required to report limited amounts of information regarding these floors, making it difficult for investors to compare which companies are more likely to benefit from rising interest rates. Below is a table from Part 1 showing which BDCs have higher amounts of variable rate investments, but it does not take into account these floors. Until a loan to a portfolio company reaches its rate floor, it is similar to a fixed rate loan and does not provide the company with additional income.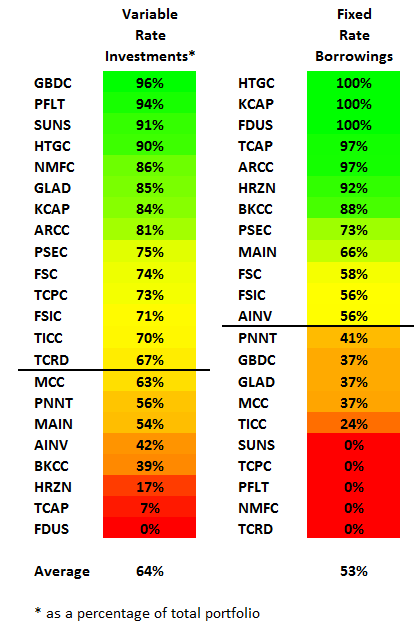 How do investors find the weighted average floors for BDC investments?
This is the tricky part, because many BDCs only disclose limited information, requiring more due diligence for investors. I have gone through the reports for each BDC to estimate these floors and the potential impacts to net investment income ("NII"), and will provide a few examples of the information that BDCs do provide.
Ares Capital (NASDAQ:ARCC) discloses a basic amount of information, and is a good example of what you will find. Here is some of the information from the 10-Q released yesterday:
"As of June 30, 2014, 81% of the investments at fair value in our portfolio bore interest at variable rates, 9% bore interest at fixed rates, 9% were non-interest earning and 1% were on non-accrual status. Additionally, for the variable rate investments, 67% of these investments contained interest rate floors (representing 54% of total investments at fair value). We assess interest rate risk and manage our interest rate exposure on an ongoing basis by comparing our interest rate sensitive assets to our interest rate sensitive liabilities. Based on our June 30, 2014, balance sheet, the following table shows the annual impact on net income of base rate changes in interest rates (considering interest rate floors for variable rate instruments) assuming no changes in our investment and borrowing structure:"

As you can see, ARCC is showing a decrease in interest income if rates only rise by 100 basis points. I am assuming this is because of its structured product investments, which I will cover later in this series. The footnote at the bottom is important, and BDCs do not include the potential incentive fees paid (or reduced) when disclosing impacts to NII.
PennantPark Investment (NASDAQ:PNNT) also reported yesterday with the following information in its 10-Q:

Again, these amounts do not include the potential impacts from income incentive fees, but show the company having less income until rates rise higher than 100 basis points.
Medley Capital (NYSE:MCC) provides more than most BDCs, including the breakdown of investments by floors, showing that only 14.5% of its floating rate portion of portfolio would deliver incremental income if rates only increased by 100 basis points. As you can see, the company would have slightly lower NII in this scenario.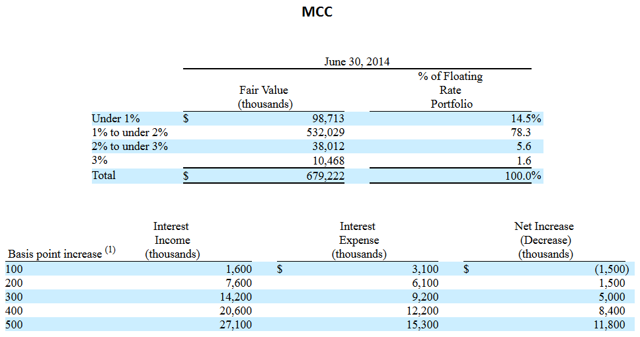 BlackRock Kelso Capital (NASDAQ:BKCC) and Solar Capital (NASDAQ:SLRC) also recently reported results, with very little information related to rising interest rates. SLRC did disclose that an increase in LIBOR would have a positive impact to NII per share of around $0.04 (not including incentive fees).
PennantPark Floating Rate Capital (NASDAQ:PFLT) will report results later today, and as discussed in Part 1, BDCs that are in the earlier stages of portfolio growth start out using variable rate credit facilities to fund growth, such as TCP Capital (NASDAQ:TCPC), Solar Senior Capital (NASDAQ:SUNS) and New Mountain Finance (NYSE:NMFC). The following tables were provided by PFLT and NMFC:

Both PFLT and NMFC would have decreased NII from a 100 basis point increase, and breakeven at 200 basis points.
TCPC, on the other hand, would benefit immediately, as shown in the table below:

Apollo Investment (NASDAQ:AINV) provides much more detail, including the most important, which is the breakdown of rate floors for investments, but shows that 57% of investments would not see additional income until rates increased by at least 125 basis point, but is still better than the average BDC.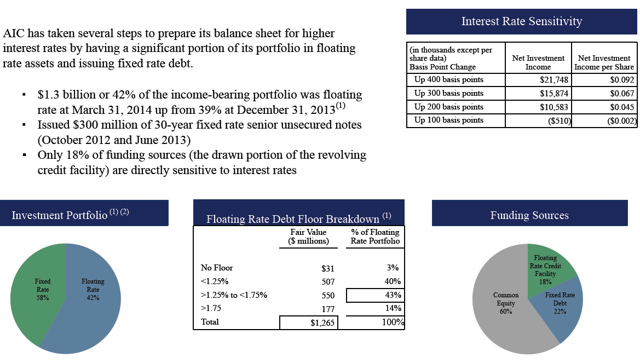 Fifth Street Finance (FSC) also provides some detail regarding investment floors, but does not show that changes to income for 100 basis point increase, which is usually the point where BDCs have increased expenses and very little increased income. As you can see, only 5% of FSC's investments have floors below 100 basis points.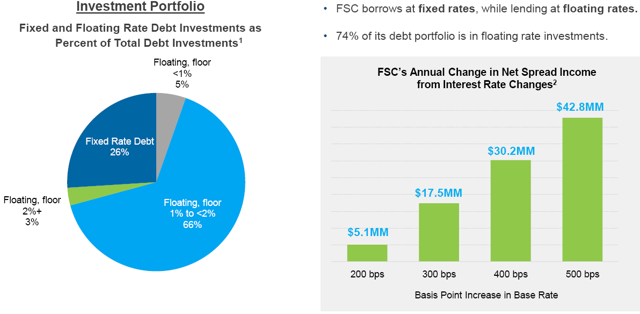 Prospect Capital (NASDAQ:PSEC) is a good example of a BDC that discloses very little. The following statement is the entire "Quantitative and Qualitative Disclosures about Market Risk" section of the latest 10-Q:
"We are subject to financial market risks, including changes in interest rates and equity price risk. Some of the loans in our portfolio have floating interest rates. We may hedge against interest rate fluctuations by using standard hedging instruments such as futures, options and forward contracts subject to the requirements of the 1940 Act. While hedging activities may insulate us against adverse changes in interest rates, they may also limit our ability to participate in the benefits of higher interest rates with respect to our portfolio of investments. During the three months ended March 31, 2014, we did not engage in hedging activities."
The investor presentation has a bit more information, including the following:

Some investors may take comfort in only knowing what the impact to NII would be if interest rates increased by 500 basis points, but the more savvy investors would ask what happens at lower rates, especially the most critical, which is 100 basis points, when very few investments provide additional income but interest expense on credit facilities would be fully impacted. This is most likely why FSC does not disclose these impacts, but at least has 200 basis points and higher.
The "Portfolio Investments" section of PSEC's latest 10-Q states:
"As of March 31, 2014, $4,517,031 of our loans, at fair value, bear interest at floating rates and $4,483,477 of those loans have Libor floors ranging from 1.25% to 6.00%."
This implies that 75.2% of PSEC's portfolio are loans with floating rates, and that 99.3% of those loans have LIBOR floors over 125 basis points. I will try to quantify what that means to investors later in this series, but PSEC most likely has much higher weighted average floors than most BDCs. PSEC also has structured product investments similar to ARCC mentioned earlier, but are in the form of collateralized loan obligations ("CLOs"), which are very different than ARCC's Senior Secured Loan Program with GE. Many CLO investments have higher-than-average floors, along with off-balance sheet leverage. TICC Capital (TICC) and KCAP Financial (NASDAQ:KCAP) also have meaningful amounts of CLO investments, but TICC does disclose the impact from rising rates to these investments.
As discussed in Part 1, Hercules Technology Growth Capital (NASDAQ:HTGC) is one of the most well-positioned BDCs for rising interest rates, including having much lower floors. The following table was provided in the last 10-Q: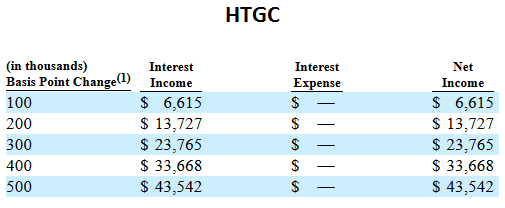 As you can see, HTGC would benefit even if interest rates only rise by 100 basis points, as well as having 100% of borrowings at fixed rates with no additional interest expense. Also, HTGC is internally managed similar to KCAP, Main Street Capital (NYSE:MAIN) and Triangle Capital (NYSE:TCAP), and would not be obligated to pay 20% incentive fees to an external manager.
FS Investment Corp. (NYSE:FSIC) is also much better positioned for rising interest rates, but not as well as HTGC, due to having some variable rate borrowings and being externally managed. Here is the information provided in the last 10-Q:

Keep in mind that all of the table and charts in this article do not take into account income incentive fees or recent changes to borrowings and capital structures for the BDCs that have not reported results. In the remaining articles in this series, I will discuss the following:
BDC borrowing rates
Other expenses related to rising interest rates
Impacts to CLOs and other structured products
I have put together a "BDC Research Page" that links to various articles on Seeking Alpha, and I will continue to update that as well as my "Index to BDC Articles" for more information on specific BDCs.
Disclosure: The author is long ARCC, FSC, FSIC, GBDC, HTGC, MAIN, NMFC, PFLT, PNNT, PSEC, TCPC. The author wrote this article themselves, and it expresses their own opinions. The author is not receiving compensation for it (other than from Seeking Alpha). The author has no business relationship with any company whose stock is mentioned in this article.