After going public on Jul. 25, shares of El Pollo Loco (NASDAQ:LOCO) skyrocketed 60% to close at $24.03, before rising another 43% in the ensuing days to $34.31 even after falling more than 10% on Aug. 5. To some investors, this might bring back memories of Chipotle Mexican Grill (NYSE:CMG), the leading fast-casual chain in the U.S., which saw its shares double from $22 to $44 during its IPO on Jan. 26, 2006.
The hopes investors bear is that the company can see the same kind of fast growth Chipotle has in recent years that has sent its stock hurdling up to $674.71, 2967% above its IPO price, but for those with this vision, all they might receive is a rude wake-up call instead. In what follows, we will see three very important reasons why El Pollo Loco is not quite like its big brother Chipotle.
Structural differences!
One of the biggest things that separate El Pollo Loco from Chipotle is how the companies' stores are owned. In the case of the latter, all of its restaurant locations are company-owned, whereas El Pollo Loco's are franchise-oriented. Currently, El Pollo Loco has 401 locations in operation, 168 of which are company-owned with the remaining 233 being operated by independent franchisees.
The upside to this kind of relationship is that El Pollo Loco will collect high-margin royalties from its franchised locations but there are numerous downsides. First and foremost is that the potential for revenue growth is severely limited. From its 233 franchised restaurants, the business only generated sales of $20.4 million (or $87,554 per store). In contrast, its 168 company-owned outfits generated revenue of $294.3 million ($1.75 million apiece). Once the business reaches a point of market saturation, having a majority of its restaurants under franchise agreements will leave management scraping around for extra revenue.
Another negative consequence is that franchising brings with it a loss of control. According to the current legal system in the U.S., franchisors cannot have too much control over how their franchisees operate. This means that instituting corporate-wide initiatives and/or addressing concerns like low service quality can be more challenging than if the stores were all company-owned. Chipotle, whose stores are all company-owned, does not have to worry about either of these factors.
El Pollo Loco is burdened by debt and slow growth!
Right now, El Pollo Loco has long-term debt of $288.8 million, plus $7.3 million in letters of credit. Because of this hefty load of obligations, the business booked interest expense of $36.3 million in 2013, taking its net income down to a $16.9 million loss. Fortunately, the business refinanced its debts in Oct. last year, decreasing its interest expense to an estimated $17.8 million. This should fall even more as management uses the $107 million it raised in its IPO to cut out $100 million worth of its pricier debt.

Because of the heavy interest expense in recent years, El Pollo Loco has had difficulty growing. Between the end of its 2011 fiscal year and its 2013 fiscal year, management added only three locations to its company-owned base. With some of its troubles behind it, management expects to open up to 10 new restaurants in 2014 and as many as six franchised locations, but with almost $200 million in debt on its balance sheet remaining, it will be interesting to see if management can juggle growth and keeping up with its bills simultaneously.
Growing is pricier for El Pollo Loco than it is for Chipotle!
In addition to interest expense issues, there is another factor that stands in El Pollo Loco's way. Unlike Chipotle, El Pollo Loco is an expensive establishment to set up. Using the company's own forecasts, it costs approximately $1.4 million to set up one restaurant and each location brings in sales of $1.75 million, on average. This stands is sharp contrast to its rival.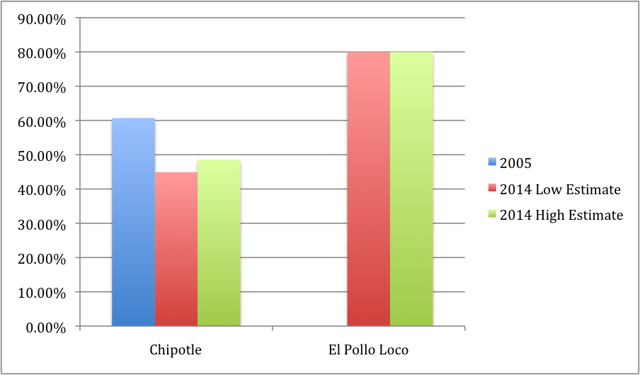 According to Chipotle, it costs between $897,436 and $972,222 to set up a restaurant. In addition to being cheaper to set up, each Chipotle restaurant averages sales of roughly $2 million per year. Looking back to 2005, the year before Chipotle became a publicly traded enterprise, the business reported that each restaurant cost, on average $910,000 to build, so little has changed on that front. Revenue per location at each of its restaurants came out to a little more than $1.5 million, so even when Chipotle was smaller, a disparity between it and El Pollo Loco today existed.
Takeaway
Moving forward, it will be interesting to see how well El Pollo Loco performs. So far, its revenue and market presence suggests that the business is onto something good, but with its structural differences, high debt and slow growth, and its steep cost/revenue ratio, the business has a lot of work to do if it wants to become the next Chipotle.
Disclosure: The author has no positions in any stocks mentioned, and no plans to initiate any positions within the next 72 hours. The author wrote this article themselves, and it expresses their own opinions. The author is not receiving compensation for it (other than from Seeking Alpha). The author has no business relationship with any company whose stock is mentioned in this article.