For some time now, a battle has been escalating between the businesses that push data (primarily content providers and device makers) and the businesses who actually deliver the data (primarily wireless and wireline providers).
Rich media outlets such as Youtube (NASDAQ:GOOG) and Netflix (NASDAQ:NFLX) are making vast quantities of information and entertainment available to viewers, and are currently able to transmit this data at a low cost over any number of different mediums. The popularity has allowed media or device companies to achieve "cult stock status" as investors appear willing to pay any price to get a piece of the action.
At the same time, the popularity of smartphones, iPad (NASDAQ:AAPL) tablets, netbooks and other devices allow consumers to access the internet from nearly any location – and the amount of bandwidth required for mobile applications now exceeds what would have been considered "standard" for a desktop just a few years ago.
Initially, the widespread usage of media rich devices was a boon for wireless carriers. The industry ramped as net new subscribers were added, and wireless firms used smart-phone capabilities as a sales pitch to gain new data customers. But today, the very same firms are arguing for media content providers or device makers to share in the bandwidth burden because of the increasing costs to provide the data.
Even though billions of dollars have been spent to install, upgrade, and maintain wireless data networks; many top-tier providers still struggle to keep their burdened networks in service and fulfilling promises to customers. At this point, the biggest problem is actually one of economics: The primary beneficiaries of data distribution are not the ones ultimately responsible to pay for the means of distribution. And until this issue is resolved – and supply / demand dynamics are allowed to be governed by price – we are unlikely to see resolution to the conundrum.
The use of wireless data continues to increase exponentially across the world. In emerging markets, farmers who never used to even have a bank account, now check their balances via smart phone while organizing fertilizer, seed, and crop schedules. A growing portion of citizens in emerging markets like China and India now consider smart phones a true necessity.
According to the International Telecommunications Union, global mobile data bandwidth increased by 68% just during the first half of 2010. The increase in bandwidth was largely driven by applications such as Youtube, Facebook, and other social media network applications. Whether the wireless providers like it or not, global data usage will continue to rise as new applications are developed and a "connected" generation adopts new mediums for education, entertainment, and social interaction.
At this point, there are basically two business models used for transmission of this data - one old, one new:
The "Subscriber-Based" Model: Charges a fee per user with little correlation between data usage and the level of revenue.
The "A-la-Carte" Model: Revenue is tied directly to the bandwidth provided.
While there are a number of different ways that companies can distinguish their offerings and adjust their revenue strategies, traditional wireless providers appear most vulnerable at this time, while we have isolated a bullish trading opportunity in a less well known growth engine: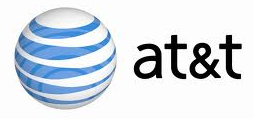 AT&T Inc.
AT&T is the very definition of a mature cash-cow company. The wireline and wireless provider may be the exclusive wireless provider for the famously popular iPhone, but in practice it still operates as a phone company with razor thin margins and a lumbering bureaucracy. After clearing no small number of regulatory hurdles to acquire the Cingular wireless network, the company has been unable to add any material growth for the last several years.
On the positive side, AT&T has a huge customer base with a well-diversified suite of offerings. But most of these offerings feature static revenue structures with expenses that continue to expand. The iPhone contract may have masked significant weakness for the company because the phone's popularity has overshadowed the weak service provided by the network. Many traders (along with impatient consumers) look forward to seeing what will occur once AT&T has to compete for subscribers who are given a second option for their iPhone data plan.
For more than two years now, AT&T has reported quarterly results with revenue growth that ranges between -2% and +3% while earnings have faced significant declines. In 2010, the company finally began to turn the earnings picture around, but with no revenue growth management will only be able to manufacture so much growth. Ultimately, the company will either need to find a way to revitalize revenue growth, or its earnings rebound will prove to be temporary.
From a trader's perspective, the stock has reached the upper portion of a multi-year range, just at a time when the broad market appears unstable – and this is despite any material fundamental improvement. The stock looks vulnerable to a break below $28 and could easily lose 20% or more as hopeful investors lose confidence.
One caveat to keep in mind if taking a short position: AT&T pays a 6% dividend yield which could help to attract buyers if the stock drops. A hefty dividend yield shouldn't make AT&T bulletproof, but it's the one issue that appears to be skewed in this vulnerable stock's favor.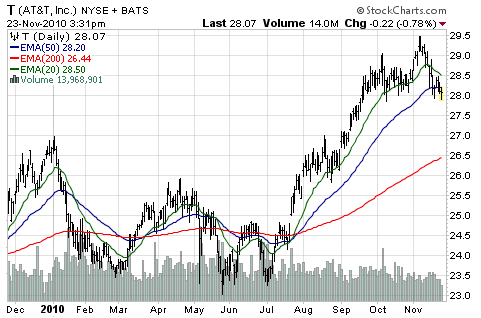 (Click to enlarge)

Neutral Tandem Inc.

If AT&T finds the exponential global growth in data challenging, Neutral Tandem is quite the opposite. TNDM offers communication services to dozens of carriers like AT&T, which allow different wireless, wireline, cable and broadband networks to interface with each other. The company's business model actually benefits from the ramp in data because TNDM typically charges per minute, per megabyte, or per text message. So the more data end customers consume, the more revenue TNDM generates.
Neutral Tandem has operated primarily in the US with only modest exposure to emerging markets. But last quarter the company completed its acquisition of Tinet, which now gives TNDM significantly higher growth potential. Considering the parent company's substantial investment in building out infrastructure – along with Tinet's growing international customer base – the marriage looks very attractive.
At first blush, TNDM's revenue and earnings growth appears to be under pressure. For the majority of 2009, the company was seeing year-over-year revenue growth above 40%, but in the last quarter the company only recorded a 4% increase. Significant investment in the company's technology and infrastructure has also pressured earnings and year-over-year EPS dropped in each of the last three quarters.
But as TNDM beefs up its international presence, it will be able to tap into that 68% global growth noted by the International Telecommunications Union. As evidence, consider the fact that during the third quarter TNDM's billed minutes reached 27.9 billion – up 21.7% over last year. Management has guarded the company's capital very carefully and Neutral Tandem's balance sheet currently features more than $200 million in cash with no long-term debt. This cash balance should allow flexibility for continued investment in the company's technology and could also come in handy for bolt-on acquisitions.
After a difficult last 12 months, the stock is showing signs of life and recently cleared its 200 day average. Bullish traders stepped up to the plate after the last quarterly report. Over the last two weeks, the stock has backed off a bit in relatively light trading and looks primed to bolt higher with any positive catalyst.
TNDM is currently trading at about 12 times forward earnings expectations, which implies that investors are expecting little to no growth. Any positive surprises would likely throw that assumption into question so it appears that the risks are skewed much more toward higher prices than to any decline in the stock. A break above $15 in strong volume would certainly catch my attention. With a business strategy that benefits from the global voice and data trends, TNDM should be a strong contender even in this challenging market environment.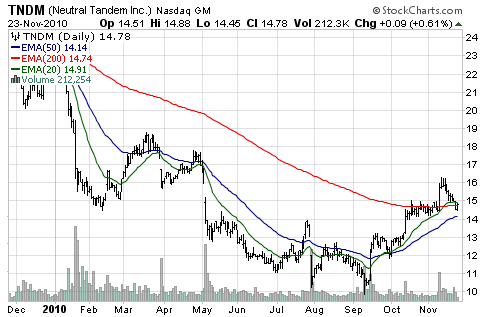 (Click to enlarge)
Disclosure: As active traders, authors may have positions long or short in any securities mentioned. Full disclaimer can be found here.