Entrec Corporation (OTC:ENTCF) provides heavy-haul transportation and crane services for a range of industries across Western Canada and North Dakota. The company's diverse fleet of equipment (cranes, trucks, trailers etc.) allows it to provide solutions to clients in various industries such as conventional oil and natural gas, mining, power generation. The company also provides a wide range of engineering and logistical support to its customers including lift studies, assembly / disassembly plans, route and feasibility studies and other technical support. Over the past few years the company has established a significant market share through acquisitions and growth capital expenditures.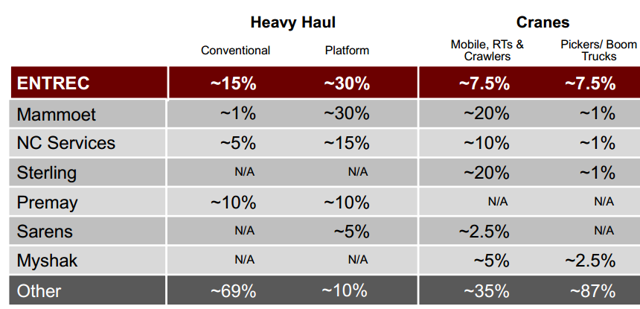 (Source: May 2014 Investor Presentation)
History and Recent Developments
Entrec was a part of Flint Services until April 2011 when they sold the business to EIS Capital. EIS Capital was a capital pool company formed by former executives of Eveready Inc., a Canadian energy and environmental services company that was acquired in 2009. Along with this "qualifying transaction," EIS acquired a portfolio of oilfield and transportation services companies and combined them to create the consolidated entity that is now known as Entrec.
Entrec has been on an acquisition spree since that time, acquiring 13 small trucking / hauling businesses at attractive multiples (median EV/ LTM EBITDA multiple of ~3.6x). In November 2013, the company signaled a slowdown in the pace of acquisitions to focus more on integration and organic growth, providing investors a welcome break from equity financing dilution. In 2013, the company spent C$58.9mm on capital expenditures (~28% of 2013 revenues) and plans to spend an additional C$46mm in 2014 (~19% of 2014E revenues).
The result of this aggressive expansion is that Entrec has too much equipment at the moment. The company started experiencing lower equipment utilization in 2H 2013 due to a temporary slowdown in Alberta's oil sands market. Management has done a sub-par job of communicating with investors, having to revise revenue estimates downward to C$230-C$250mm in April 2014, only a month after the release of FY 2013 results which reiterated a guidance of C$250 - C$270mm.
Investors punished the stock with a ~20% drop upon the announcement and the price has been gradually recovering since.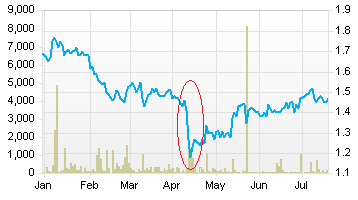 (Source: Factset)
Industry Overview
Entrec's growth is linked to two critical sectors experiencing multi-billion dollar investment inflows: 1) Alberta's oil sands and 2) Development of liquefied natural gas ("LNG") supply and infrastructure in northern British Columbia (B.C.) and northwest Alberta.
Alberta's Oil Sands - Canada has the third largest oil reserves in the world (173bn barrels), ~97% of which are in the oil sands. 81% of oil sand reserves are recoverable using in-situ technology, with limited surface disturbance. Oil sands projects require thousands of tons of specialized loads to be moved along long distances, creating demand for Entrec's heavy-haul and crane services. Given their multi-decade operating life, these projects also require maintenance, repair and operations ("MRO"). The Alberta oil sands region has been experiencing multi-billion dollar investments every year since the early 2000s. Prospects for the industry remain positive given the bullish outlook for global oil demand and the fact that rail has helped to alleviate transportation constraints.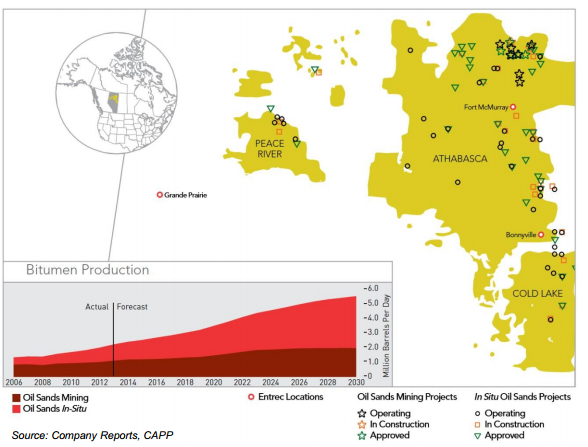 (Source: 2013 Annual Report)
Liquefied Natural Gas ­- High natural gas prices in markets such as Japan, South Korea and Europe and growing gas demand in emerging economies such as China and India are creating an attractive opportunity for Canada to participate in the global LNG trade. LNG is the only means of efficient trans-ocean delivery of large gas volumes. Prince Rupert and Kitimat regions of B.C. are the obvious export points in Canada that provide advantageous shipping distances to key Asian markets.
As part of the B.C. Jobs Plan launched in 2011, the B.C. government set a goal of having three LNG facilities in operation by 2020. An LNG strategy was developed by the government and has attracted the attention of large companies and global investors who have since come forward with a number of proposals that are at various stages of development.
Consensus forecasts anticipate approximately three of the 16 proposed facilities going forward with construction and the first LNG shipments possible in 2018. These mega projects require precision lifting of large objects such as tanks and vessels. Entrec has been positioning itself as a primary provider of heavy-haul and crane services in the region.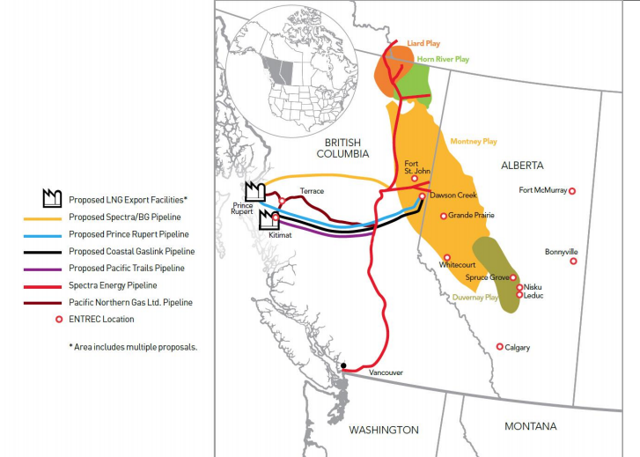 (Source: 2013 Annual Report)
Despite Recent Headwinds, Long-Term Outlook Remains Attractive
A lot of the oil sands delays are temporary engineering delays and activity is expected to pick up in 2H 2014. On the most recent earnings call, the company emphasized the significant size of revenue backlog, stating that it will be "well over 50%" of current revenues when realized. As an example, JV Driver, one of Entrec's largest customers, booked C$2.1mm of revenues in Q1 2014 vs. C$10.3mm in Q1 2013 and is currently sitting on record backlog of projects.
Once these projects go through, there will be an initial demand for heavy haul and crane services followed by years of recurring MRO revenue generated under long-term contracts. This should push Entrec's equipment utilization rates higher resulting in higher margins.
On the LNG side, the companies involved in the 16 planned LNG projects will get more clarity regarding their proposed investments by the end of this year, when the B.C. government is expected to reveal specifics regarding the key costs associated with these projects including taxes, revenue sharing and economic spinoffs to First Nations. The Montney region has been very active as many major oil and gas companies have been actively drilling in anticipation of final LNG investment decisions.
There is a lot of industry ambition directed at B.C. gas exports, especially with a growing understanding of just how big the province's resources are. The province lags LNG developments in other jurisdictions such as Australia, Nigeria, Qatar, Russia and the United States. The United States has already approved LNG export applications, including one from the Jordan Cove LNG project in Oregon that could be fed with Canadian natural gas. These developments have increased the pressure on the B.C. government to move quickly.
Entrec has the relationships, the equipment and reputation to take advantage of these projects in Northeast B.C. (see blue region in map below).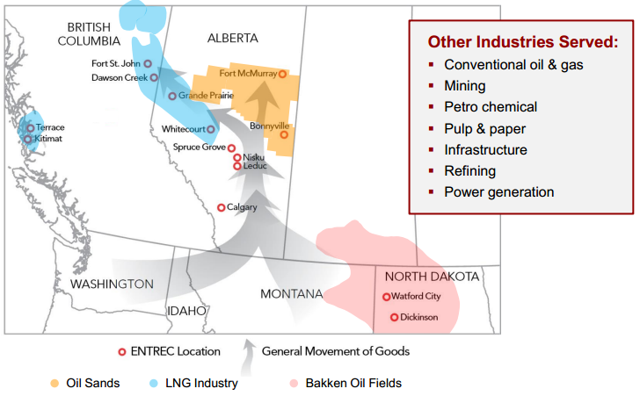 (Source: 2013 Annual Report)
Valuation
Even with the revised lower revenue estimates, Entrec boasts a double digit free cash flow yield at the current stock price ($1.45). The following assumes mid-point of management's revenue guidance, a conservative 20% EBITDA margin and C$12mm of maintenance capex (as messaged by the company in their MD&A):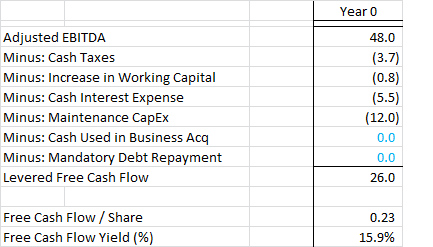 If the company decides to use this free cash flow to de-lever, we can see how shareholders can realize significant returns even with conservative assumptions (revenue growing at inflation rate and margins normalizing to 2013 levels over the next couple of years).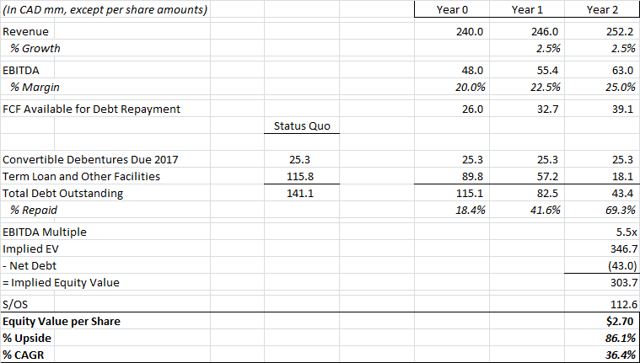 Incentives Are Aligned
The ability to generate free cash flow is meaningless if management is not inclined to allocate capital in a shareholder friendly manner. In the above illustration I have shown how a de-leveraging is one way to unlock value. However, the company has been deploying most of its cash flow towards growth capital expenditures to expand its crane fleet. Management claims that this is needed to provide the scale necessary to access recurring MRO support work linked to existing and recently awarded contracts. The CEO has stated that the company will not purchase any equipment on speculation.
Investing in Entrec requires trusting management's optimism regarding their existing customer agreements, backlog and long-term outlook for the WCSB. Entrec's board of directors and senior management own ~29% of the company, so it appears incentives are aligned. It is also good to know that the current management has a proven track record of successfully executing for a growth stage company (at Eveready, they were able to grow revenues from $46mm in 2004 to $650mm in 2008).
Finally, one of Entrec's biggest customers, JV Driver Corporation (industrial construction services firm), is also its largest shareholder, providing additional interest alignment.
Other Positive Indicators
In November 2013, the company received regulatory approval to repurchase ~10% of its public float. During the first three months of 2014, the company repurchased 922,600 shares at a purchase price of ~C$1.50.
An additional vote of confidence came from insiders purchasing ~6.9mm shares in the month of May, having purchased ~7.4mm shares since January 2013 as detailed by SA contributor Markus Aarnio. From a credit perspective, the company closed a C$240mm covenant light ABL facility with a syndicate of lenders led by Wells Fargo in March. The financing demonstrates the lenders' confidence in the quality of the equipment fleet and provides Entrec with financial flexibility on attractive terms.
In June, the company graduated from the TSX Venture Exchange to the Toronto Stock Exchange, providing it improved access to capital and increased trading liquidity.
On June 23rd, Entrec's private comp, NC Services Group, was sold to TriWest and Alberta Teachers' Retirement Fund. While no transaction multiples were disclosed, the sale removes some overhang from Entrec stock since the company had been shopped for a while and investors were starting to worry whether it would ever be sold. The sale affirms that financial buyers are confident of the long-term prospects for the region.
Risks
A significant and sustained decline in oil prices would make the Alberta oil sand projects economically unfeasible and could bring activity in the region to a halt. Similarly, a reduction in global gas prices, unacceptable delays to the B.C. Government's LNG plan or unfavorable tax terms could force investors to abandon their planned LNG projects in the region.
Though low probability events, all these situations would very severely impact Entrec's utilization and it would need to downsize its fleet rapidly. Luckily Entrec has a modern fleet and the company's tangible book value per share (typically ranged between C$0.90 and C$1.00) likely understates the resale value, providing some margin of safety in such an extreme scenario.
U.S. investors must also consider the risk of CAD depreciating significantly in the event of a housing crisis and recession in Canada (long predicted). There could also be relative strengthening of USD due to rising interest rates in response to the recent pickup in US economic growth. On the flip side, a weaker CAD would boost Canadian commodity exports and stimulate investment in the WCSB region.
Conclusion
Heavy haul in WCSB is a high-ROIC, FCF generative business that is primarily owned by PE shops (including Berkshire Hathaway). Entrec offers public investors a double-digit FCF yield, an experienced management team that is heavily invested in the success of the enterprise and exposure to a region that is experiencing a major investment boom catalyzed by both geography and politics. Recently, a number of related parties (insiders, creditors, customers) have demonstrated their confidence by increasing their exposure to the business. Investors buying the stock today are aligning themselves with the experts in this industry, the smartest guys in the room. It seems to me that at the current price of $1.45, the stock offers an attractive risk-reward proposition.
Disclosure: The author is long ENTCF and ENT (the stock that trades on the Toronto Stock Exchange). The author wrote this article themselves, and it expresses their own opinions. The author is not receiving compensation for it (other than from Seeking Alpha). The author has no business relationship with any company whose stock is mentioned in this article.