Rosetta Stone (NYSE:RST) remains one of the most misunderstood companies I can find in the market today and, therefore, one of the most mispriced (as I discussed here). The key point in the Q2 earnings call is that the business remains on track integrating a slew of recent acquisitions, including Lexia Learning, Fit Brains, Tell Me More and Live Mocha. In addition to affirming its guidance for FY 2014, Rosetta Stone reported accelerating growth in its most valuable segment - Enterprise & Education ("E&E") - with pro forma growth up 8% year-over-year, and an increasing backlog in the deferred revenue line item on the balance sheet ($93 million). Rosetta Stone also disclosed that it won a significant 7 figure SaaS deal with a K-12 customer in Q2 which management believes they won because of their broadening suite of education software products.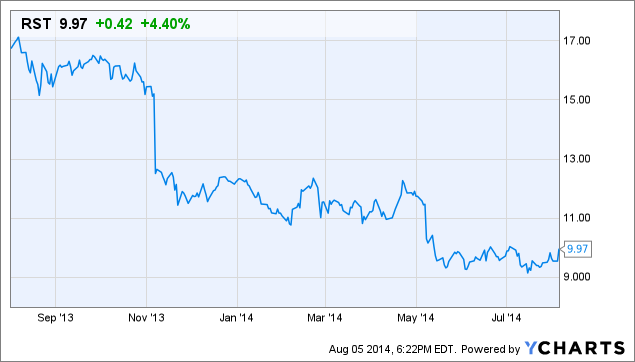 While Rosetta Stone reported a GAAP loss, I continue to be bullish on the company due to valuation and evidence that the E&E business continues to strengthen. Moreover, the CFO indicated on the earnings call that 90% of its EBITDA and cash generation occurred in the second half of 2012 and 2013 due to purchasing patterns from its customers. To that end, Rosetta Stone expects to generate about $8 million in free cash flow this year and end the year with around $70 million in net cash, up from the current $46 million cash pile. At the current $190 million valuation, investors can buy the operating business for $120 million which should generate around $140 million in higher-quality SaaS revenue via its growing consumer web and E&E subscription streams. Even before considering Rosetta Stone's CD-ROM (i.e., perpetual, one time sales) consumer business - which has issues due to channel shift and competition - Rosetta Stone is cheap based only on its cash and subscription revenue streams to which I ascribe a 3x multiple.
Rosetta Stone is still in the middle of a transformation from a language technology company to an education technology company, and from a one-time CD-ROM sale business to one delivering its solutions to customers via subscription plans which is lengthening customer relationships, making product pricing more accessible (monthly payments vs. lump sum) and increasing the visibility of the revenue streams (evidenced by growing deferred revenue backlog).
At the end of the day, Rosetta Stone has a recognizable brand name, sells a product with 80%+ gross margins with growing subscription revenue streams and has a very strong balance sheet which should report ~$70 million in net cash by year-end. That seems like a pretty reasonable investment to me. My value estimate remains in the $25 to $30 per share range (similar to management who gives a $20 to $35 per share estimate in recent investor presentations). There is clearly a wide gap in those estimates and the current market valuation, but with some execution and a simpler story to tell going forward, I think Rosetta Stone will be priced significantly higher if it reaches its low double digit EBITDA guidance in 2016.
Disclosure: The author is long RST. The author wrote this article themselves, and it expresses their own opinions. The author is not receiving compensation for it (other than from Seeking Alpha). The author has no business relationship with any company whose stock is mentioned in this article.