You can say what you want about QTR, but I said going into FDA approval of MannKind's (NASDAQ:MNKD) Afrezza that you might want to short the post-FDA approval dip. Sure enough, we saw the stock dip from highs in the $11 range down to the $8 range after the drug's approval was announced.
Despite that, the company is still up 56.7% for those that have been holding year to date. There was an emotional run up in the price leading to the FDA approval, as predicted, and the stock is now bouncing around the low $8 level.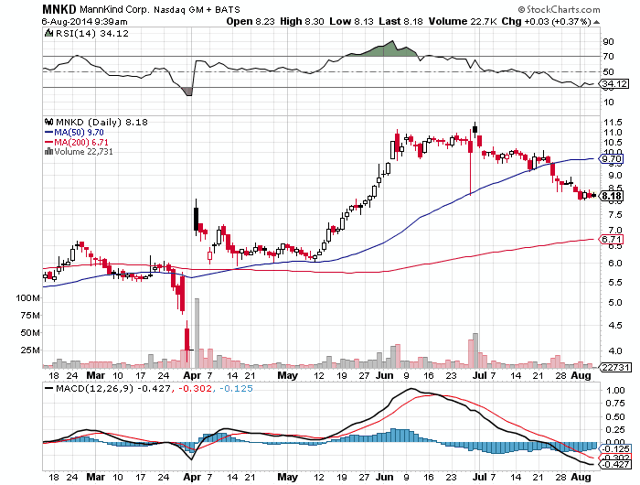 For that thesis, I'm still contending to hang on short for just a little while longer before covering and/or going long. It's looking like that 200 day moving average could be a nice little support for MNKD when it needs it. By then (or before then), we should know a bit more about the company's future plans.
I'll once again take a paragraph to reiterate that I'm not anti-MNKD, I'm really not. I like the company's product and I like that it's going to help a significant amount of people. My best friend growing up has diabetes - I think about the benefits for people like him when I think about Afrezza getting traction. But, as we know, the stock and the company are two totally different entities. So, while being bullish on the name and the product, it's easy for me to suggest that the company could still be overvalued until they really start to monetize the product or sign a partnership.
After all, we're talking about a company that is still commanding a $3 billion market cap despite no recorded Afrezza sales - yet. We know they're coming, however. Granted, shorts got a bit of help from the macro market indices - but still, MannKind failed to announce a partner directly after getting approval.
What we had heard from the company was that they expect to announce a partner 6-8 weeks after approval, and I noted in my last piece that we're moving into that timeframe right about now.
Right on cue, MannKind announced yesterday that it had inked a deal with an insulin supplier. A mandatory, yet good step, in the right direction for the company.
Seeking Alpha reported:
MannKind Corp. (MNKD) and Amphastar Pharmaceuticals (NASDAQ:AMPH) consummate a Supply Agreement under which Amphastar will manufacture recombinant human insulin for use in Afrezza,
Under the terms of the agreement, MannKind will purchase an aggregate of €120.1M from 2015 - 2019. The agreement term ends on December 31, 2019 but can be renewed in successive two-year terms upon 12 months written notice. MannKind can terminate the agreement upon two-years written notice.
Partnership? Maybe you can call it that. But, it's really a supply agreement that MNKD was going to have to enter into at some point anyway. MannKind doesn't have the manufacturing capabilities to make their own insulin.
However, this could be the first step of a few to get several partnerships and agreements in line all in succession. There doesn't seem to be any clear cut answer as to whether or not this deal means that MNKD is going it alone or with a partner, either.
In the comments, I'd love to hear the sentiment from the MNKD crowd as to whether or not they think this deal is the beginning of a coming future partnership or - if it, by itself - means that the company could have a go on its own.
Best of luck to all MNKD investors.
Disclosure: The author has no positions in any stocks mentioned, and no plans to initiate any positions within the next 72 hours. The author wrote this article themselves, and it expresses their own opinions. The author is not receiving compensation for it (other than from Seeking Alpha). The author has no business relationship with any company whose stock is mentioned in this article.