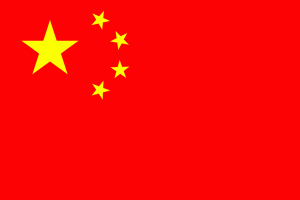 by Jack Sparrow
The big story in the week that was (besides the customary Black Friday trample-fests)?
"Greece Part II: Eurozone sovereign debt crisis revisited."
As such, the Captain Obvious award goes to the NYT for pointing out that a bailout of Spain — were such even feasible — would test Europe's finances.
(Nah, ya think?)
Funny, though, how the big driver often winds up being the thing less talked about. And right now, there is very little focus on what's happening in China.
The old Federal Reserve rule is "three steps and a stumble," meaning, when the Fed hikes rates three times, look out below. (Basic rationale: As interest rates go up, margin and loan service costs go up. Rate-of-return hurdles go up. Yields on safe haven debt instruments become more competitive. All this happens with risk appetite in a 'peaking' stage, and the bloom comes off the speculative rose.)
So if "Don't Fight the Fed" counts as time-tested wisdom, how about "Don't Fight Beijing?"
Via Bloomberg, Standard Charted Bank is expecting a Chinese rate hike by year's end — and three more by June 30th.
And why would China be in hiking mode? Because inflation is getting out of control:
Standing near his 12-table noodle shop on Beijing's Yonghegong Avenue, owner Liu Heliang says meat and vegetable prices have climbed 10 percent in a year and staff wages are up 40 percent.

"I'm struggling to make ends meet with costs going up like this," said Liu, a native of Sichuan province who pays his workers as much as 1,800 yuan ($271) a month, or 88 percent more than the Beijing minimum wage, to serve up a staple Chinese meal. "Raising prices is the only way out," he said, predicting he won't be able to hold out beyond two months.

Premier Wen Jiabao's cabinet last week announced it will sell grain, cooking-oil and sugar reserves, ordered an end to tolls on trucks carrying produce and threatened price controls to rein in a 10 percent inflation rate for food. Because the measures would do nothing to counter the 54 percent surge in money supply over the past two years, the risk is they will prove insufficient to cope with the challenge.

"They are just not addressing the fundamental problem at all," said Patrick Chovanec, an associate professor at Beijing's Tsinghua University. With the expansion of credit and cash in the economy stemming from China's response to the global crisis, "you're sitting on a volcano," said Chovanec.
China's deadly serious "hot money" problems should come as no surprise whatsoever. If you'll recall the giddy days of 2009, for a period of some months China was viewed as "savior to the world" via the juice created by their $586 billion super-stimulus (announced during the dark crisis days of November 2008).
In absolute terms, RMB 4 trillion / $586 billion was a HUGE amount. Relative to the size of China's smaller economy, it made America's $700B stimulus look like chicken feed. The effect of that money pump was then magnified even more by China's super-effective "command and control" system, in which banks were forced to lend and public works projects initiated by fiat. (Hellooo ghost malls… and ghost highways… and even entire cities…)
So China brought the love by doing a "full Greenspan" mid-crisis — juicing the racehorse to its eyeballs with force-fed liquidity — and the result was an extended "Goldilocks" period.
But as we know, stories of rampant pharmaceutical abuse rarely end well… and now Goldilocks has a snarling case of 'roid rage.
Along with pending rate hikes, China is also attempting to slam the brakes on commodity speculation (which had gotten so bad at one point, "pig farmers" were reputedly hoarding base metals).
Via Zero Hedge:
Just because the CME's hikes in all sorts of commodity margins were perfectly innocent and only had to do with "risk management" functions, we read with little surprise that China's Dalian Commodity and Shanghai Futures Exchanges are now also in the indirect price suppression, pardon, risk management business. Earlier reports confirm that both exchanges will hike margins on virtually every single commodity traded in China.

This is likely the last stop gap measure before the central bank is forced to implement a rate hike and cool already near record inflation.

As the CME's failed attempts to kill silver and gold price appreciation using margin pressure have so far done very little, we expect that the short-term impact of this move will wear off within a [week], at which point prices will resume their upward climb with a vengeance.
We disagree that commodities will shake off China's moves like a bad head cold, mainly because the charts — and the impact of a surging dollar — suggest otherwise.
While still long gold and silver names via vehicles like Market Vectors Junior Gold Miners (GDXJ), Silver Wheaton (SLW) and Silver Standard Resources (SSRI), we established short positions in China, copper and oil on the post-QE2 semi-bluff reversal day, and remain short copper and China (having booked profits in crude as a result of the 11-24 surge). We also added to base metal miner shorts this past week (rationale noted by Mike McD here).
Side note: All trades referenced are real time and real capital, verifiable via third-party executing broker.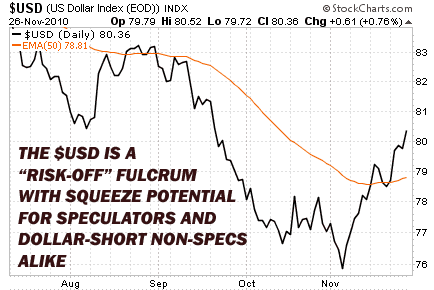 Another reason for our increasingly bearish stance: Powerful uptrend potential in the $US dollar.
As China plays whack-a-mole with commodity speculators, Europe is also adding hard asset pressure via the impact of a crumbling euro. As euro zone crisis fears intensify, the dollar just gets stronger. (As those of you following along know, we've been long the buck since early November.)
Another hidden factor here — again something no one is talking about — is the potential for a major 'short squeeze' to develop if dollar strength persists.
In addition to the "risk off" orientation of a rising dollar (as the speculation traffic light transitions from green to red), there have been many commercial lenders and sovereign governments happy to borrow in dollars, as a natural extension of the can't lose, DGDF, "dollar goes down forever" meme.
If you want to know what happens when an innocent currency speculation goes bad, just ask the poor Hungarian homeowners who took out their mortgages in Swiss Francs. Or ask Thailand, a country crushed by mountains of dollar-denominated loans when the Asian currency crisis hit. It isn't clear how much commercial "unwind" potential there is to fuel a further $USD rise, but the amount could be substantial.
Disclaimer: This content is general information only, not to be taken as investment advice or invitation to buy or sell securities. As active traders, we may or may not have positions in securities mentioned. For full disclaimer click here