Natural gas is a domestic market that matches supply with demand. Natural gas wells produce year round, but the heaviest use occurs in the winter months for home heating. Natural gas is stored underground in salt caverns. These are generally safe and make sure the supply of gas is plentiful when seasonal demand increases.
We have written often about the increased production of natural gas and the economical use of natural gas for electricity generation and transportation. Where are we in natural gas availability?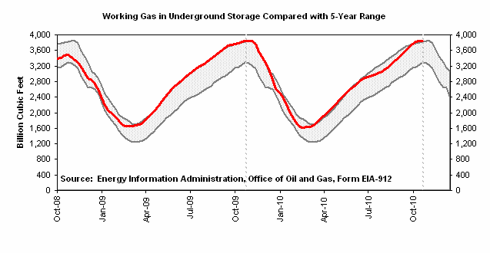 This chart from the Energy Information Agency (EIA) shows natural gas storage for the last two years, in Billion Cubic Feet (Bcf). The broad blue shaded area paints the five year average range. The red line is actual storage, plotted on weekly reports.
Since 2008, actual natural gas storage has remained in the upper part of the five year range. Most of the time, actual storage reports are at the very top of the shaded area if not above it. We had a small pull down last week, and the prior week's build in inventory was smaller than in the past, as the country had cold weather in the southeast.
We have more cold weather this week, but most industrial users are closed for the holidays. Natural gas is enjoying greater use in manufacturing and electrical generation because of its low price and low green house gas emissions. Even with increased usage, natural gas in storage is, and has been plentiful.
"Maximum End of Month Working Gas Inventories" (MWGI) is the maximum volume of gas reported by region in the lower 48 states over the last five years. MWGI is reported by EIA as 3,833 Bcu. Last week's working gas in storage reflected on the above chart is 3,837, four Billion cubic feet over any prior end of month report.
Short conclusion. Storage is full. It ain't going to get any fuller. What do you do? Short UNG, the U.S. natural gas ETF. Understand, this is not a sure bet, but I will show you why it is a good bet. UNG does not own natural gas, it owns futures contracts one month out for delivery of natural gas. Natural gas is in a condition called "Contango." Contango means a commodity is priced higher in the future than it is in the cash spot market.
This is a normal market. Futures markets generally reflect the spot price plus interest and storage to hold the commodity for future delivery. They jump or dive from this price based on outside events or news, like weather or supply disruptions.
It appears, and we believe, there is more natural gas than demand because of technological advances in finding and extracting natural gas (shale gas & directional drilling). There is enough gas to meet demand and keep the red line on the graph in the top of the range, suppressing any price increase for nat. gas.
The price of natural gas is low, hovering around $4 per (million british thermal units) MMbtu. Here is the December contract quotes for natural gas.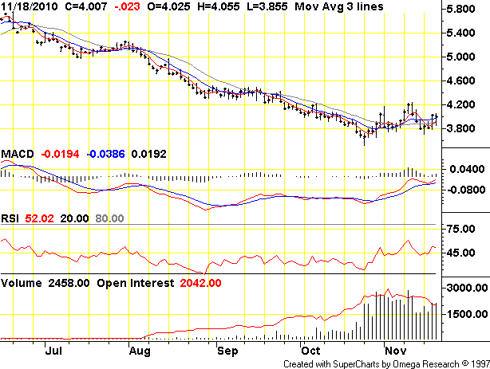 It has moved a little higher in the last two weeks on the forecast for colder temperatures. Why is this good for us? Earlier we said UNG does not own gas, it owns contracts. When a market is in Contango, UNG buys future contracts at cash plus interest & storage, the contracts fall in price then to match the spot price. This puts UNG in a "death spiral."
Every contract they buy for natural gas depreciates in value to the spot price. They lose money every month. Here is their chart.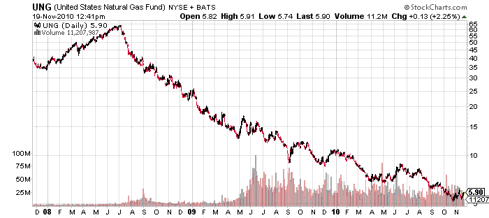 Looks like a giant slalom. The danger in this trade is the spot price of gas moves higher than the futures contract price. This puts the market into a condition called "backwardization." UNG will make money on contracts if this happens, and move higher.
Be careful to buy on the tops and ride the slope down. Watch for cash spot prices in natural gas to move higher. It could catch you. You should be able to make money on this trade.
Disclosure: Short UNG