With Black Friday safely behind us, all retail eyes shift to Cyber Monday. Early stats show that the online portion of Black Friday increased over 16% from last year. Last year's Cyber Monday sales approached $900M, which makes it likely that Monday's sales will exceed $1B for the first time on Monday.
How big is Cyber Monday in terms of retail? Nearly 90% of retailers participate in some way on Cyber Monday. That is up from 73% the year before, and it will probably be close to 100% next year. Some retailers only offer free shipping as one of their big inducements, but most are offering some unique items at large discounts. Besides the previous brick and mortar retailers, who are heavily into Black Friday and Cyber Monday, newcomers such as Groupon, Facebook and Twitter will be participating. Not to mention, a lot of the mobile applications that allow quick reviews and cross price comparisons on different sites.
One area that does not get a lot of attention is in the free shipping part of the equation. What companies benefit the most from this? Well, if stock price is any indication, United Parcel Services' (NYSE:UPS) stock is hitting close to a 2 year high. FedEx (NYSE:FDX) has also done fairly well this year and over the last 2 years is up almost 50%. Now, some companies only offer free shipping on minimum purchases or if you are a paying member to some type of shipping club. Others seem to be going the opposite way, and like Wal-Mart (NYSE:WMT) offer free shipping on up to 60,000 items, including electronics. Now, like all good things, free shipping will eventually go away, but right now the ability to turn inventory quicker and increase sales without adding floor space is more than offsetting the cost of free shipping. Plus, who doesn't look forward to the free part of the equation, along with getting merchandise shipped right to your front door without having to leave your couch?
UPS 1 Year Chart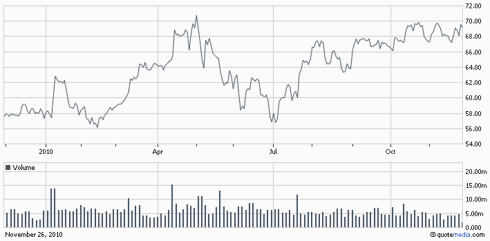 Disclosure: No positions