For those investors in American Realty Capital Properties (ARCP) who rolled the dice around 60 days ago, your courage is now paying off. I was one of those gamblers who decided to "back up the truck" and take advantage of either mispricing or simply the chase for yield.
I'll be brutally honest; it took guts for me to buy shares in ARCP after an onslaught of significant transactions that began to spook Mr. Market. I had to do some real soul searching to overcome the unexpected and often volatile decisions that ARCP's management team was making.
After all, I have been used to researching an analyzing very simple Net Lease REITs like Realty Income (NYSE:O) and National Retail Properties (NYSE:NNN), and now, I was faced with the decision of whether or not I should invest in a Triple Net REIT that had a more complex value proposition.
So, the decision I made on June 13th to buy ARCP was a good wager. I bought in at $11.95 and the dividend yield was almost 8.4%.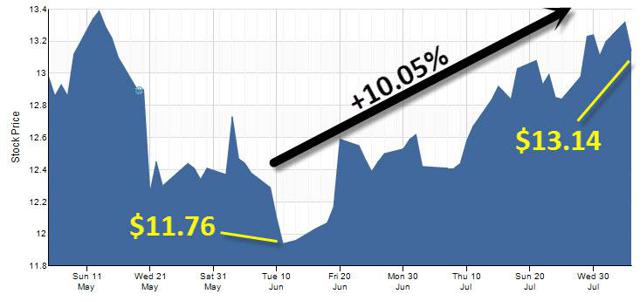 However, I actually had more pressure to pull the trigger then because I had already nibbled on a few shares in ARCP back in September (2013). In hindsight, the small position I took last fall proved to be a good reinforcer for me since I had to either "fish or cut bait" in June. I was faced with the decision as to either dumping my small stake (I paid $12.82 and that would have resulted in a loss of $1.06 per share) or dollar cost averaging.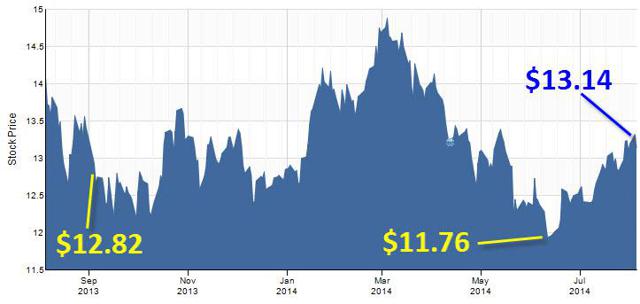 Many investors, like me, bought ARCP for the yield. When you compare ARCP's portfolio with the peer group, there are noticeable similarities, and while ARCP's concentration in Red Lobster is significant elevated, the high dividend seems to more than compensate investors for the risk. Today ARCP's dividend yield is 7.62% and when you compare the yield over the last 12 months (with the peer group) it's easy to see that the market views ARCP as a higher risk alternative.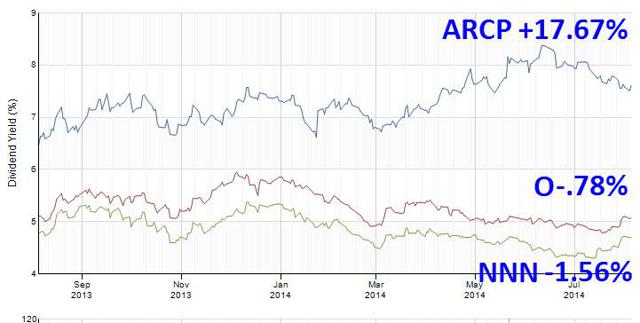 One of the keys to ARCP's success (and my investment in the stock) is risk management. In other words, the 3 year-old REIT (IPO was September 6, 2011) must develop a consistent agenda that includes demonstrating that risk can be minimized and losses mitigated when (not if) risk meets adversity. A highly skilled REIT like Realty Income has become the standard for risk control and the remarkable 20 year track record for paying and increasing dividends is the mark that separates the best from the rest.
One of the ways that investors measure value is to consistently engage with senior management. As shareholders in any public company, we have a right to full transparency and although we can't tap into the brain of Mr. Market, we can interact with management. For me, that is the most rewarding part of my job because I'm able to interact with REIT CEOs in order to gain market insight or simply to assess quarterly performance.
On December 10th (2013) ARCP announced that David S. Kay would assume the role of President and then later, on June 20th (2014) ARCP said that CEO Nicholas Schorsch would be stepping down in October and be replaced by Kay (as CEO) as part of governance changes.
Previously he was one of the founders of Capital Automotive and was the CIO and CFO. In December 2005, Kay led the Capital Automotive through the largest REIT privatization totaling nearly $4 billion. In 2009, and 2001, Mr. Kay oversaw two restructurings totaling approximately $3.7 billion of the Company's debt.
Prior to forming Capital Automotive in 1997, Kay was employed by the public accounting firm of Arthur Andersen LLP in Washington, D.C. for approximately ten years. While at Arthur Andersen LLP, Mr. Kay provided clients with consultation regarding mergers and acquisitions, business planning and strategy, and equity financing. He also has extensive experience in capital formation, roll-up transactions, and public offerings.
Recently other authors have provided valuable insight in ARCP's business model: Achilles Research article HERE; Rubicon Associates article HERE, and my latest article HERE.
Now, check out this exclusive iREIT Investor interview with David Kay, President of ARCP:
For more information on REIT investing, check out my monthly newsletter HERE.
Disclaimer: This article is intended to provide information to interested parties. As I have no knowledge of individual investor circumstances, goals, and/or portfolio concentration or diversification, readers are expected to complete their own due diligence before purchasing any stocks mentioned or recommended.
Disclosure: The author is long O, DLR, VTR, HTA, STAG, UMH, CSG, GPT, ARCP, ROIC, HCN, OHI, LXP, KIM, WPC, DOC, UDF, EXR. The author wrote this article themselves, and it expresses their own opinions. The author is not receiving compensation for it (other than from Seeking Alpha). The author has no business relationship with any company whose stock is mentioned in this article.