Salesforce.com Business
Salesforce.com (NYSE:CRM) is an enterprise cloud computing company headquartered in San Francisco that distributes business software on a subscription basis. Salesforce hosts the applications offsite. It is best known for its Customer Relationship Management (CRM) products.
Salesforce currently operates in only one domain, i.e. CRM, and does not intend in the near future to expand into other domains. Salesforce uses cloud technology, which is a part of the Software as a Service (SaaS) model. Salesforce does not have a traditional in-house product.
CRM Software Market
The worldwide CRM application software market grew at a rate of nearly 90 per cent in 2000 then collapsed in 2001 bottoming out in late 2003. Since 2004, the market has grown steadily at 11 per cent to 23 per cent per year. It is set for 10 per cent growth from 2007 to 2012, despite the recession in 2009 and knock-on in 2010. Gartner estimates that total revenue for CRM application software market in 2008 amounted to nearly $9 billion worldwide and will reach $10 billion in 2009, a 7 per cent per cent year-on-year increase. This includes licenses, maintenance and subscription revenues.
Worldwide Vendor Revenue Estimates for Total CRM Software (Millions of U.S. Dollars)
| | | |
| --- | --- | --- |
| Company | 2008 Revenue | Market Share (%) |
| SAP (NYSE:SAP) | 2,055 | 22.5 |
| Oracle (NYSE:ORCL) | 1,475 | 16.1 |
| Salesforce.com | 965 | 10.6 |
| Microsoft (NASDAQ:MSFT) | 581 | 6.4 |
| Amdocs (NYSE:DOX) | 451 | 4.9 |
| Others | 3,620 | 39.6 |
| Total | 9,147 | 100.0 |
Source: Gartner (July 2009)
Please note the above numbers are for Total CRM Software which includes traditional and Software as a Service (Saas) models.

Software as a Service (SaaS) continued to drive the market forward, representing nearly 20 percent of total CRM software market revenue in 2008, up from just over 15 percent in 2007.

SaaS continues to penetrate the customer relationship management (CRM) market, accounting for nearly 24 percent of total CRM market revenue in 2009. SaaS in CRM exhibits more-general market adoption, ranging between 11 percent and nearly 40 percent of total software revenue, depending on the CRM sub-segment. SaaS is forecast to account for 26 percent of CRM market total revenue in 2010.

SaaS CRM revenue for 2008 was around 20% of $9.147 bio, which is $1.83 Bio. Salesforce had around 53% market share in SaaS CRM market as of 2008.
As per Gartner's estimate, 2010 CRM revenue (traditional + SaaS) should be around $11 Bio. Out of which, 2010 SaaS CRM revenue should be around 26% of total CRM revenue, which is $2.86 Bio.
Extrapolating Salesforce YTD sales, I see Salesforce 2010 revenue to be around $1.65 Bio. That works out to a 57.69% market share of the SaaS CRM Market. Salesforce has increased its market share in the SaaS-CRM market.
SaaS CRM market has grown from $1.83 Bio in 2008 to $2.86 Bio in 2010. That is around 28% year growth on a non-compounded basis.
Assuming the same growth rate, 2011 SaaS CRM market revenue should be around $3.66 Bio. For Salesforce to make $2Bio revenue, it needs a market share of 55%. Though this looks feasible considering their current market share of over 57%, maintaining such a high market share for a sustainable period is going to be extremely difficult. Competition includes SAP, Oracle, Microsoft and a whole lot of smaller players who have beefed up their SaaS CRM.
Out of the current Top 40 CRM software vendors, 31 provide SaaS capabilities. A detailed report on the Top 40 CRM vendors with their capabilities, strengths, pricing etc, can be found here.
While the vendor landscape has changed dramatically, it is likely to change beyond recognition with the number of vendors leaving the market outpacing the number of new entrants. The five largest CRM application vendors are estimated to represent almost 60 per cent of the market in 2008. Gartner estimates that three or four large vendors will remain with an aggregate of more than 50 per cent market share in 2020.

While Gartner estimates 3 to 4 vendor with more than 50% market share by 2020 for CRM market as a whole (including traditional + SaaS), Salesforce will find it extremely challenging to maintain its 50%+ market share in the SaaS CRM.
Source of all text in quotes: http://www.gartner.com/
Siebel Systems Inc Comparison
While Salesforce's revenue has grown substantially over the past, it will be extremely difficult to sustain the same rate moving forward. Siebel can give some pointers on scalability of sales growth in the CRM software market. Siebel was the market leader in CRM software pre-Oracle, and was mainly a traditional software vendor (not SaaS). Though the model differs from Salesforce, this was the traditional model attributed for most of the revenue pre-2000, when Siebel experienced explosive growth and then matured. Siebel was also a pure play CRM vendor just like Salesforce.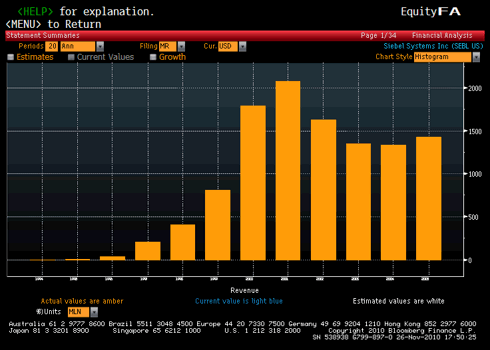 The above graph shows that Siebel revenue peaked in 2001 at over $2 Bio after experiencing explosive growth for the past 5Y. Siebel's market share peaked in 2002 at 45%. Oracle bought Siebel in 2005, valuing it at $5.9 Bio, around 4.2 times its sales.
The P/E Multiple of Siebel peaked over 250 in 2000 one year before its revenue peaked in 2001. The graph below shows the quarterly P/E of Siebel.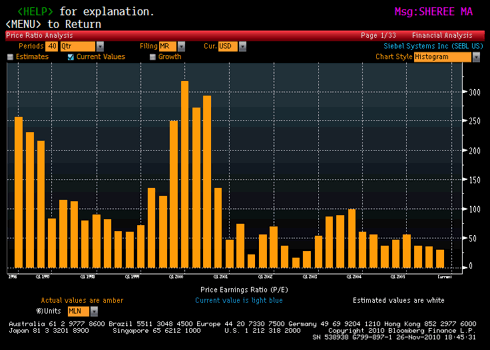 Source of all charts: Bloomberg
Salesforce.com at the current valuation could be the best short opportunity available in the market today.
Disclosure: Short CRM