The origin of the saying good food, good whiskey, good gamble is not entirely certain. Many attribute it to Las Vegas casino operator Benny Binion, but for our part, we simply have no idea.
Regardless of its origin, the term gamble and the term investing, certainly don't seem to go hand in hand. Yet, when given equal consideration, often times, all investors are actually doing is gambling.
Several years ago, we stumbled on Maxwell Technologies, Inc. (Nasdaq: MXWL). We understood the technology the company was developing, but try as we might we simply couldn't get our collective heads around what the market for an ultracapacitor might be.
Our reasoning at the time was, why would anyone have a need to charge a battery that fast?
But we thought that at $7, it seemed like a pretty good gamble, so we took a position and today at $16, it appears that our gamble is paying off.
Enter Enova Systems, Inc. (AMEX: ENA), another of those companies that at first made us wonder, and then made us ask why not?
Basis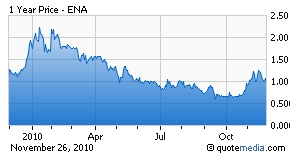 Financial information for Enova Systems, Inc., is based on the company's most recent SEC Form 10-K filing, for year ending December 31, 2009 as filed with the Securities and Exchange Commission on March 26, 2010.
What They Do
The company believes it is a leader in the development, design and production of proprietary, power train systems and related components for electric and hybrid electric buses and medium and heavy duty commercial vehicles and stationary power generation systems.
Its focus is on powertrain systems, including digital power conversion, power management and system integration, focusing chiefly on vehicle power generation.
Specifically, the company develops, designs, and produces drive systems and related components for electric, hybrid electric and fuel cell powered vehicles in both the new and retrofit markets.
Company management believes medium and heavy-duty drive system sales offer it the greatest return on investment in both the short and long term.
In addition, management believes the medium and heavy-duty hybrid market's best chances of significant growth lie in identifying and pooling the largest possible numbers of early adopters in high-volume applications.
By aligning the company with key customers and integrating with original equipment manufacturers ("OEMs") in its target markets, management believes that alliances will result in the latest technology being implemented and customer requirements being met, with an optimized level of additional time and expense.
During 2009, the company continued to develop and produce electric and hybrid electric drive systems and components for First Auto Works of China, Navistar Corporation (NYSE:NAV), Tanfield Engineering Plc, and the United Stares military.
The company was also successful in introducing its technology to Freightliner Custom Chassis Corporation in 2009.
Short-Term Investment
The stock closed recently at $1.06 with Resistance at $1.09, a 3% increase from its recent close, and Support at $0.83, a 22% decline for its recent close.
The Stochastic indicator is currently showing the stock to be oversold with the 13 day moving average starting to trend downward and the 50 day moving average seeming to plateau, indicating to us that the stock price may be close to a bit of downtrend.
All in all, there doesn't seem to be any short-term advantage to a position at this time.
Long-Term (5-Year Hold) Investment
While we think the company's Current Ratio at 8.5, Quick Ratio at 6, and Cash Ratio at 5.5 are all what we consider investment quality, we cannot say the say about the company's Cash Conversion Cycle at 522 days.
Granted, the company is operating in an emerging industry that hasn't quite caught on, but in the end, this metric needs improvement. Holding inventory for a year, while perhaps necessary, certainly doesn't help.
One of the downsides to hanging on to inventory for so long is that it often times requires the holder to process its Accounts Payable well in advance of collecting its Accounts Receivable.
Such is the case with Enova, with Accounts Payable outstanding an average 33 days, while Accounts Receivable are outstanding an average of 91 days. In effect, the company is providing its suppliers 60 day interest free loans.
The company ended FY09 with debt of $1.4 million, paying an average annual interest rate of 14%. While not uncommon for an emerging market company, to us it is something that investors should keep a watchful eye on.
Valuations
Based on our review of the company's latest annual financial information, we think the company currently has a Reasonable Value of about $4, with a Buy Target of $2.50, a First Sell Target of $4.75, and a Close Target of $5.25.
The company has a Market Cap of about $33 million, with an Equity Value of about $1.50 and Tangible Book Value of about $0.55, and negative Free Cash Flow.
Final Thoughts
As we said at the outset, sometimes things just seem like a good gamble. We think that is true of Enova Systems. Certainly none of the company's financial metrics are that glowing. Still, we can't help but ask ourselves, what if?
The company has recently partnered with Smith Electric Vehicles to provide drive systems for Smith's Newton truck, part of a Department of Energy initiative, and back in May, the company announced an order for Navistar's hybrid school buses, part of a large scale deployment of federal stimulus dollars.
Granted, these recent company announcements don't mean the company will ever become profitable. Nor do these announcements mean that the company will even remain an on-going concern.
But at a 75% discount to our reasonable value estimate, we happen to think taking a long-term position in the stock is a pretty good gamble; besides, what else are we gonna do with a buck, buy a lottery ticket?
Disclosure: Long Position Maxwell Technology. No position Enova Systems