Due to the recent release of its blockbuster hepatitis-C drug, Sovaldi, that is estimated to have nearly $5 billion in sales in the first 6-months of 2014, Gilead Sciences Inc. (NASDAQ:GILD) is fighting a legal battle to hold off competitors who are claiming patent infringement and may face pricing pressure starting later this year.
From the Treatment of HIV to Hepatitis-C
GILD is a bio pharmaceutical company that works to develop and market a series of drugs that treat life-threatening diseases such as HIV/AIDS, liver disease, cardiovascular disease, respiratory conditions, cancer, fungal and parasitic infections and vision loss.
The Company currently has over 200 active clinical studies and works with a combination of universities, other companies, medical research institutions and its own discovery methods to help transform and simplify the care for people with life-threatening illness across the globe.
GILD's extensive pipeline can be found here.
Impressive Sales, Competitive Edge
GILD has an impressive $6.6 of sales for every $1 it spends on SG&A as of the end of 2013. Its competitors do not even come close to that kind of productivity.
Its focus on only life-threatening diseases allows it keep expenses low while being selective with research and development efforts and acquisitions.
In 2013, approximately 80% of sales were driven by the company's strong advantage in the single-tablet treatment regime for HIV and it serves about 85% of the HIV patents in the US.
Competitors are looking to release similar products as patents begin to expire for comparable treatments in several years; however, with GILD's continued strong grasp on the market, others will have a hard time toppling its dominance.
New Crown Product: Sovaldi
With an average price of about $80,000, it has been all about sales of Sovaldi in 2014 for GILD.
In Q1, total revenues increased 97% to $5 billion, compared to $2.53 billion in the first quarter of 2013. $2.27 Billion of Q1 sales was for Sovaldi. Assuming the same pace for Q2, that equates to nearly $5 billion in sales in 6-months.
GILD acquired the patent for Sovaldi in its $11 billion, 2012 acquisition of Pharmasset. At the time, the deal was thought to be quite expensive, but in hindsight shows that management has the ability to analyze key pipeline data at acquisition targets that can drive long-term profitability.
Q2 saw impressive improvements as well, with Sovaldi driving anti-viral product sales to new highs in the US and abroad.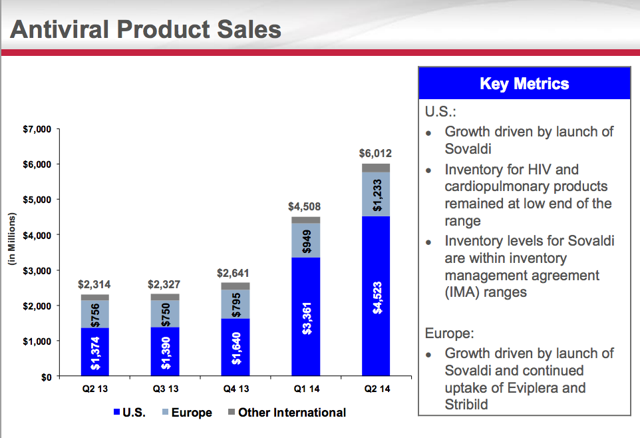 (Source: Gilead earnings presentation)
Current Patent Fight
With success comes scrutiny, and competitors such as Roche Holdings (OTCQX:RHHBY) and Merck (NYSE:MRK) are claiming that Sovaldi infringes on their patent or contract rights. Another competitor, AbbVie (NYSE:ABBV) is trying to block new formulations by filing patents for combinations of drugs to treat the Hepatitis-C virus-going so far as to file a lawsuit, claiming that it patented the use of both Sovaldi and another drug, and that if GILD takes this combination to market they will be entitled to monetary damages.
AbbieVie is unable to market either Sovaldi or the other drug called ledipasvir, because it lacks the patents on either, but it is still able to patent a "method of use" that include products that they don't own.
Merck has recently agreed to acquire Idenix Pharmaceuticals Inc. (NASDAQ:IDIX) for $3.85 billion. Idenix is developing an experimental hepatitis-C that is similar to GILD's Solvadi and has also been suing GILD for patent infringement. Roche's patent claim is based on 2004 research collaboration with Pharmasset. GILD is disputing all claims.
Valuation
Analysts are estimating 2014 sales of $22.57 billion with earnings of $6.71 billion.
GILD has a TTM P/E, of 33 compared to the industry's 71.4, and the S&P 500's 18.6. GILD's price to book is 10.2, compared to the industry average of 8.3, and the S&P 500 of 6.4, but with the launch and success of Sovaldi being so new, the accumulation of cash and the valuation of intangibles may soon drop this lower. Price to sales is also higher than the industry and the S&P500, but as sales catch up later in the year this will most likely also come more in line with the industry.
Risk
GILD will continue to face increasing competition, litigation and pricing pressure in the HIV and hepatitis-C markets. Key patents on GILD's HIV product will expire in 2021 and may face significant sales headwinds if it is unable to maintain its efficacy and safety standards.
It is paramount that the company continues to transition to new products in that period to counter the impact that generics will have on the market after that time.
The government purchases 60% of GILD's HIV treatments; and with overall increasing healthcare costs and tighter government budgets; this could lead to increased pricing pressure. Pricing pressure could also come from pharmacy benefit managers as competitors bring alternatives to market.
Conclusion: Despite Competition, GILD IS At Fair Price With Promising Growth
GILD represents a fair price, given the potential for growth and management's demonstrated ability to pick winning treatments, but the timing of comparable treatments is a risk that may place significant downward pressure on pricing, cutting into margins.
This may also lead to increased stock price volatility, which may allow investors to purchase the stock at a discount during times of retrenchment as long as fundamentals stay strong.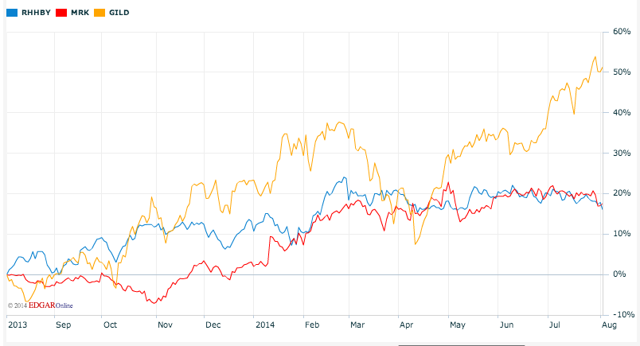 (Nasdaq.com)
However, we are increasingly positive on GILD moving forward in 2014 and suggest investors be so, as well.
We invite readers wishing to join the discussion on GILD and the greater pharma industry to click the +FOLLOW button above the title of this article-- and those looking for the latest developments to click +Get real-time alerts.
Disclosure: The author has no positions in any stocks mentioned, and no plans to initiate any positions within the next 72 hours. The author wrote this article themselves, and it expresses their own opinions. The author is not receiving compensation for it (other than from Seeking Alpha). The author has no business relationship with any company whose stock is mentioned in this article.
Editor's Note: This article discusses one or more securities that do not trade on a major U.S. exchange. Please be aware of the risks associated with these stocks.