Market Week in Review
Stocks: The short Thanksgiving week saw most major stock indexes pull back on typically light volume, as eurozone financial trouble and live artillery fire on the Korean peninsula led investors to lighten up on risk. The Dow Industrials lost 1%, the SPX and NDX a little less. Foreign stocks took heavier losses: the developed market EAFE index pulled back 3.5% and the emerging markets lost nearly 3%. On the positive side, US small caps gained better than 1%. Inside the S&P Sectors, only consumer discretionary and techs posted small gains while financials dropped 2.5%
Bonds: With the exception of high yield corporates and foreign sovereigns, bond prices stabilized after a slump of several weeks' duration. High yields, which had been relatively immune to the recent bond selloff, were sold on risk aversion. Foreign government bonds also saw wide selling, with some European issues being particularly hard hit.
Commodities: The CRB Index posted a small gain for the week. Winners included the grains, oil, gold, and palladium. Losers included silver, platinum, and industrial metals. Copper dropped 2%. Note that oil gained better than 2% in a week when the US Dollar did the same, which brings us to...
Currencies: With the Dollar gaining on risk aversion amid ongoing uncertainty in Europe and Asia, the euro, Sterling, Swiss Franc, Yen and Aussie Dollar all dropped.
The Week Ahead
Stocks: The Dow, SPX and NDX continue to consolidate at their 50 day moving averages after the breakout, with volume and money flow contracting. Looking beyond US large caps, the relative strength of the small caps and relative weakness of foreign stocks paint a picture of a slowly improving US economy and healthy corporate earnings in the face of significant headwinds. First, the financials are a definite drag on the markets, as they face the uncertainty of foreign bond exposure and, more significantly, the still unresolved mortgage mess. Second, eurozone troubles are contributing to risk aversion among investors whose memories of systemic financial crisis are still all too fresh. Third, concerns about the Chinese economy and policy makers' attempts to reign in inflation are driving [misplaced] growth concerns. Finally the outbreak of hostilities in Korea can only add to risk aversion.
In spite of this litany of worries, stocks are hanging tough and, to this point, refusing to be broken down. More importantly, with the US Dollar rallying, stocks are not selling off significantly, and it is the inverse Dollar/equity correlation appears to be breaking. Risks remain, but this can be regarded as bullish for stocks going forward.
(click on charts to enlarge)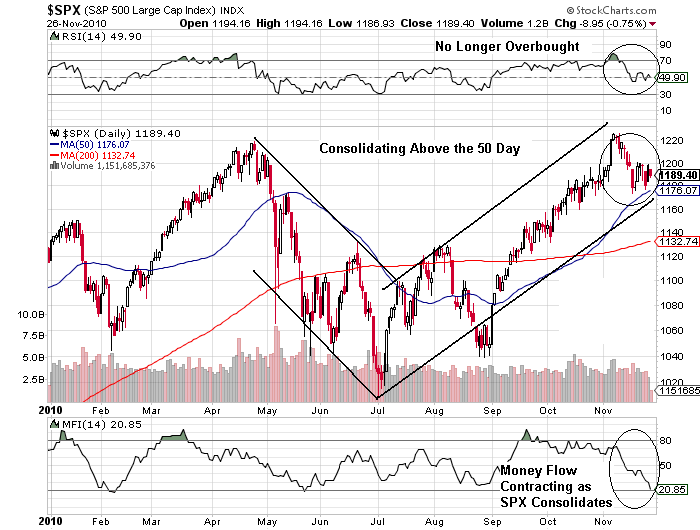 Bonds: We've been bearish on bonds since October, and though US Treasuries appear to have benefited from some safe haven buying last week, yields have been rising since the announcement of the Fed's "QE2" bond buying program. Bonds had been priced for a severe recessionary scenario and with the US economy slowly improving, we remain bond bears. It would take a severe crisis to change that outlook.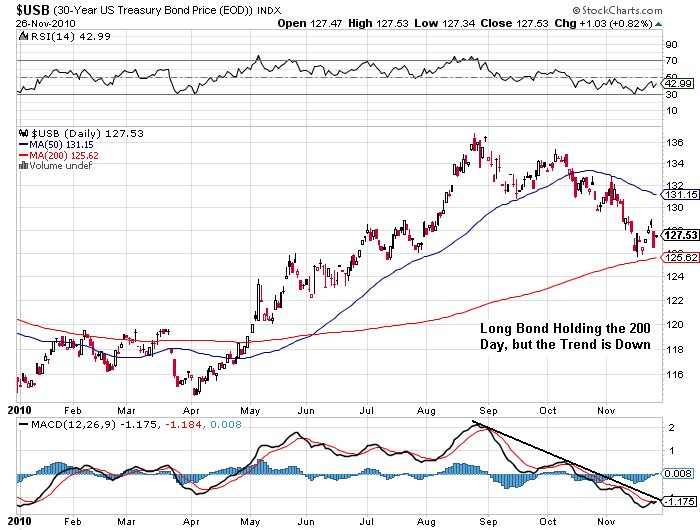 Commodities: These markets present an interesting dilemma. A rising US Dollar, slowing growth in China and the eurozone situation do not add up to a fundamentally bullish case in general. This is the case in particular for oil, where market supply appears ample. Technically, however, many commodities remain in strong uptrends, except for oil which is in a long term trading range with a near term upward bias.
While it's true you shouldn't fight the tape, the risk/reward tradeoff in most commodities doesn't look favorable for position traders, so my bias here would be to shy away from new long positions, and keep open long positions on a short leash.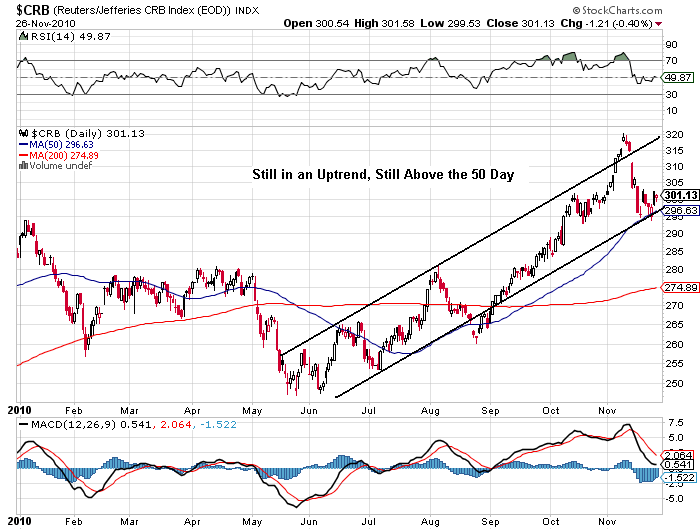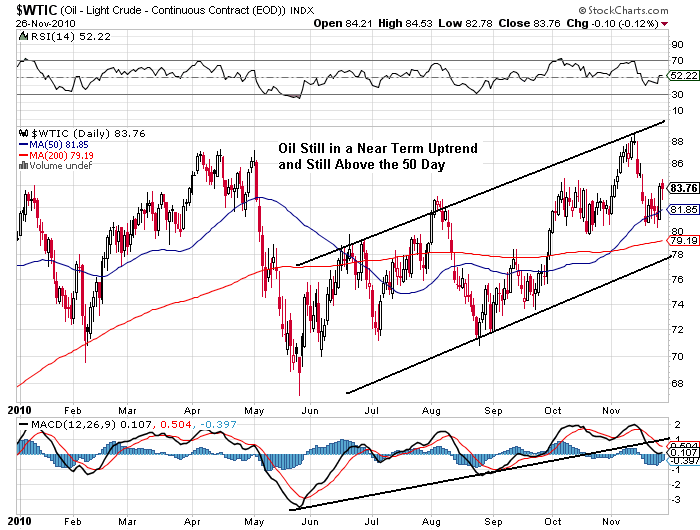 Currencies: The US Dollar index held that 76 level we kept looking at, is in a new uptrend, and looks technically poised for a sustainable rally. This is not a pure risk aversion play; rising Treasury bond yields and a strengthening economy will support the currency. A strong Dollar, as noted above, has signaled a weak stock market since the financial crisis, but that could be changing. In the coming days, when time permits, I will calculate near term and longer term Pearson correlation values for the Dollar index and SPX, and plot the trend on a chart. Dollar strength is also significant for commodities, as noted above, and leads me to urge caution with commodity investments.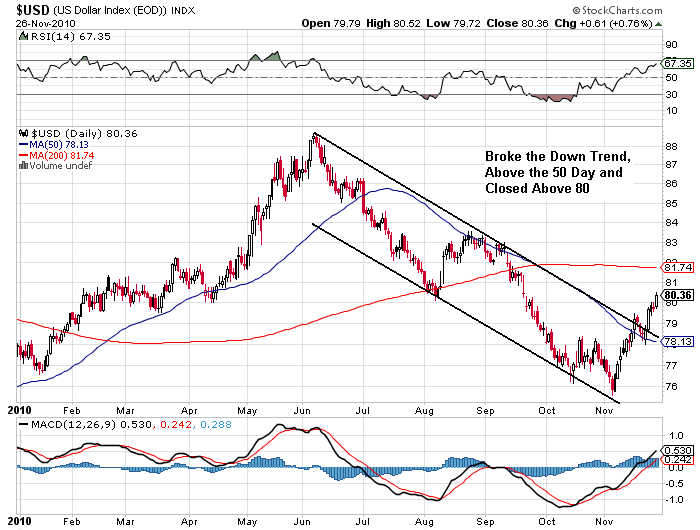 In summary, my current stance is modestly bullish on US equities (ex financials), cautious on foreign equities and commodities, and bearish on bonds.
Disclosure: No stocks mentioned