The long-term outlook for agriculture remains positive, however the recently accelerating decline of commodity prices will have a negative impact on Deere's (NYSE:DE) top and bottom line. This effect is already taken into consideration by analysts who expect earnings per share to fall back in the current and in the next fiscal year. However, the extent might be worse than currently expected: In comparison to other crop inputs like seeds, fertilizers, and agrochemicals, equipment manufacturers like Deere are under higher pressure, as investments in machinery can obviously more easily delayed.
Particularly Deere's dependence on the North American market is a weakness as growth in other regions is not sufficient to compensate the decline in the US and Canada. Nevertheless, the company remains a very attractive long-term investment, and it has taken measures to cope with the unfavorable market environment to the extent possible. Additionally, the valuation of the stock is very moderate, it offers a growing dividend, and the ongoing share buybacks help to reduce the negative effect on EPS level. I would not consider Deere at the moment, since I expect to see lower prices in the near future, but to watch it carefully over the course of the next year.
Market Environment
Commodity prices have come down quite rapidly in the recent months, and the US is expecting the second record corn harvest in sequence. Corn and wheat are approaching their five-year lows, and also soybean prices are declining. The USDA's Worldwide Agricultural Supply and Demand Estimates forecast strong harvests for all major crops and higher ending stocks.
CBOT Corn Futures, Cont. Contract #1 (C1) (Front Month)



Source: quandl.com.
CBOT Wheat Futures, Cont. Contract #1 (W1) (Front Month)

Source: quandl.com.
Particularly the slide in corn price will have a severe impact on US farm income. Already in February, the USDA predicted farm income to drop by 27% in 2014, and it will possibly decline further in 2015. For 2014, growers have partly benefited from higher prices earlier in the year if they sold part of their crop in advance, but those who were hoping for a recovery were caught in the cold. Corn futures continue to trade lower and in combination with high ending stocks, the outlook for the 2015 growing season remains clouded. For all major crops, the USDA estimates lower average farm prices for next year.
In this environment, farmers will unlikely make investments in equipment, particularly large machinery unless absolutely necessary. Many will in fact have to cut back on spending during the next growing season in order to avoid losses.
Deere & Co.
Deere is very much relying on farm equipment and on the North American market. Its Equipment Operations consist of the two categories Agriculture & Turf (A&T) and Construction & Forestry (C&F) with the first representing 77.1% of the company's sales vs. 15.5% for C&F. The share of sales outside the US and Canada have remained relatively constant over the past five years and stood at 37.7% in 2013. This is due to the fact that the domestic market has been the major growth driver for Deere in this period: Equipment sales have grown from $13.0B in 2009 to $21.8B in 2013 or by 68% in line with the positive commodity price trend during this period.
In addition to equipment, Deere offers financial services to farmers, and this business is even more relying on North America with a 74.2% share of revenues.
Deere & Co. 2013 Key Figures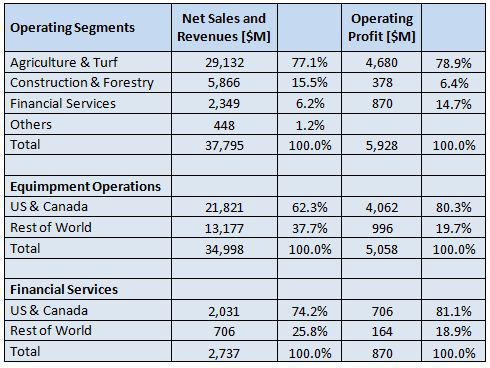 Source: 2013 Company Report.
The profitability of Deere is first of all depending on the Agriculture and Turf segment and on North America: A&T accounts for almost 78.9% of the company's operating profit and 80.3% of it is generated in the US and Canada. Construction & Forestry is currently a relatively stable business, but it remains the least profitable segment overall, contributing only 6.4% to the 2013 operating profit. Finally, Financial Services which account for 14.7% of the company's profit generates the by far larger portion of its operating profit (81.1%) in North America.
Additionally, the strained financial situation of US farmers will likely lead to increased write-offs, impacting the profitability of Financial Services. During the last crisis, write-offs as percentage of the average owned portfolio peaked in the year 2009 at 0.70% and have dropped to record lows below 0.10% in the past two years. Since interest rates are much lower today and farmers have benefited from high commodity prices in the recent years, the impact will presumably be not as severe, but write-offs are nevertheless likely to increase.
Deere's fiscal year ends October 31, and the negative impact of the headwinds from the commodity markets became already visible in the last quarter. While in Q1 2014 the company has been able to report record earnings with revenues up by 3%, operating profit 4% higher, and net income increased by 5% as well as EPS by 10%, the second quarter saw a significant drop. Q2 2014 revenue decreased by 9% and operating profit was down by 22%. The effect on net income was lower (minus 10%), mainly because of reduced income taxes. The impact on EPS could be limited to a moderate decline of 4% due to share buybacks. In the first half of FY2014, Deere has already spent $1.1B for repurchases, vs. $1.5B in FY2013 and $1.6B in FY2012.
In its current outlook, the company estimates equipment sales to decline about 4% in the next quarter and for the full year. In the US and Canada, sales for agricultural machinery are expected to be down by 5 to 10% for the full year. The net income for FY2014 is anticipated to be about $3.3B which compares to $3.5B in FY2013. Deere will report Q3 earnings next week on August 13. Given the current headwinds in the North American A&T segment, I have my doubts that the full-year guidance can be met.
Valuation
In principle, the negative short-term outlook is already reflected in the analyst consensus forecasts which see EPS of $8.44 for FY2014 and $7.63 for FY2015. This compares to last year's record earnings of $9.09. Based on the current share price, this corresponds to a PE(2014) of 10.1 and a PE(2015) of 11.2 which looks cheap compared to the S&P 500.
The stock has recovered from a severe drop during the financial crises when it fell below $30 in 2009 after having reached a record high of $94.69 the year before. In the year 2011 the stock declined within one year from its historic high of $99.80 in April to $63.62 in October. Since the beginning of 2012, the share trades in a relatively narrow corridor around $85.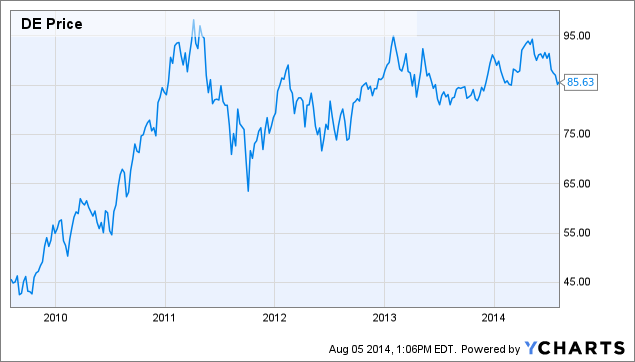 Deere's stock is supported by a growing dividend and an extensive share buyback program. Last December, the company announced an expansion of the current repurchase program by $8B. Since 2004, the share count has been reduced from 506 million to 389 million at the end of FY2013.
With the increase of the dividend over the course of the years, Deere can now be considered an interesting stock for income investors. In the past five years, the dividend has grown by in average 13.4% annually, and for the full year 2013, $1.99 per share were declared. With the third quarterly payment in 2014, the dividend was raised from $0.51 to $0.60, so that an annual payment of $2.22 can be expected which brings the current dividend yield for 2014 to 2.7%. Besides this, the payout ratio for 2013 has been only 22% and leaves room for further rises. Because of declining earnings and an increased dividend, the ratio will increase, but even at an estimated dividend of $2.51 in 2015 (assuming the average five-year increase) and using the EPS consensus for 2015, it would stand at only 33%.
Both, the share buyback program and the growing dividend should support the share price, so that a decline to the lows from 2011 seems rather unlikely unless we will be confronted with a real bear market scenario.
Despite all these supporting factors, I would not be surprised if we were going to see share prices clearly below $80 within the next 12 months. In light of the current commodity market environment, I consider Deere's outlook as too optimistic. Sales in the A&T segment have already declined by 12% in the second quarter, and I expect this trend to accelerate further in Q3 and Q4, so that the estimated 4% reduction for the full year could be too low. The impact on profitability should be even more severe, as A&T's operating profit already fell by 22% in the second quarter, and price concessions might be necessary to counter the reclining demand. Lower than expected earnings in the next quarters and a more cautious outlook could trigger further stock price corrections below $80.
I do not expect commodity prices to recover soon, unless unexpected crop failures occur in major producing regions. Therefore it is very likely that US farmers remain very cautious and that the demand for farming equipment will not pick up in the first half of FY2015.
Do not get me wrong: I am not picturing a doomsday scenario for Deere, but we are in the middle of an agricultural cycle which clearly has an impact on the short-term performance of the company. For long-term oriented investors who are already holding the stock, I do not see any need for action. For all others, more attractive entry levels to initiate a position in the share should appear within the next 12 months.
Conclusion
I believe that Deere & Co. is a highly innovative company with a strong reputation and a bright long-term perspective. It also offers a more and more appealing dividend, but in my opinion it is too early to buy the stock now. The company is still too dependent on the North American market, and declining US farm income will continue to have a negative impact on the demand for farm equipment. Based on the current commodity price situation and the prevailing outlook, this situation will most likely continue until next year and could have a more negative impact on Deere's earnings than currently estimated.
Disclaimer: Opinions expressed herein by the author are not an investment recommendation, any material in this article should be considered general information and not relied on as a formal investment recommendation. Before making any investment decisions, investors should also use other sources of information, draw their own conclusions, and consider seeking advice from a broker or financial advisor.
Disclosure: The author has no positions in any stocks mentioned, and no plans to initiate any positions within the next 72 hours. The author wrote this article themselves, and it expresses their own opinions. The author is not receiving compensation for it (other than from Seeking Alpha). The author has no business relationship with any company whose stock is mentioned in this article.