I reiterate my bullish stance on T-Mobile (NASDAQ:TMUS). The company recently reported strong 2Q14 results, primarily driven by excellent postpaid subscriber additions, well ahead of analyst expectations. The growing penetration of TMUS' Simple Choice Plan and consistent up gradation of un-carrier strategies are growing its postpaid subscriber base and benefiting top-line growth. Moreover, the company's healthy revenue growth coupled with efficient cost management initiatives are positively benefiting its EBITDA. On the other hand, the company's equipment installment program has strengthened its subscriber base, but has pressurized its ARPU, which I believe will continue in the near term due to competitive initiatives undertaken by TMUS to address competition.
The Growing Subscribers Base
In the recent past, in efforts to grow its subscriber base and address the intense competition in the industry, dominant North American wireless carriers like AT&T (NYSE:T) and Verizon (NYSE:VZ) have undertaken competitive pricing and introduced equipment installment programs. TMUS, with its Simple Choice Plan and ETF (early termination fee) plan, is not only surviving the competitive industry but is also doing well to grow its service revenue. Moreover, by continuously updating its un-carrier strategies, the company is consistently growing its subscriber base.
As for now, the company's un-carrier 5 strategy (7 day test drive of the iPhone 5s) and the un-carrier 6 strategy (free music streaming) have been strengthening its subscriber base; TMUS enjoyed 908,000 net postpaid additions in 2Q14. Moreover, the company remains committed to soon introducing its un-carrier 7 strategy, which I believe will further strengthen its subscriber base in the long run. The company also reported 329,000 mobile broadband additions, mostly tablets, as customers were attracted towards the company's tablet freedom strategy, which offers up to 1GB of free data every month. Owing to the success of the tablet freedom strategy, TMUS expects to strengthen its share in the Wireless Industry by growing its tablet momentum in the near future.
Furthermore, the company has been moderating its churn over the past few quarters, with its improved customer care services and competitive strategies. Besides, the company's wireless customer care services were ranked first amongst its peers in a customer care services study by J.D power. The following graph shows TMUS' postpaid churn in recent quarters.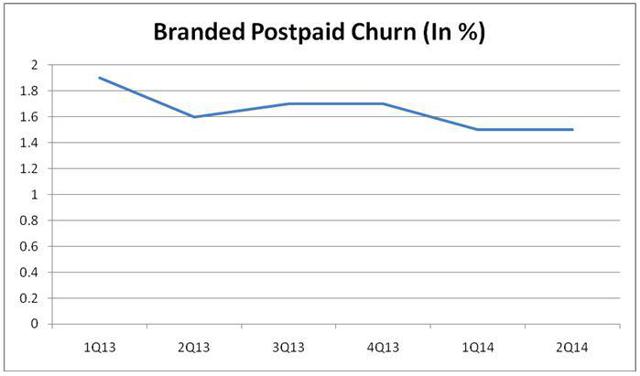 Source: Company's Quarterly Earnings Report
Although the company's postpaid subscriber base growth has been fairly strong in 2Q14, net postpaid subscriber additions of 1.4 million by VZ and 1 million by T outpaced TMUS' net postpaid additions of 908,000. I believe the company's postpaid net additions are still strong given its relative size as compared to T and VZ.
TMUS has mapped out its plan to stay competitive in the long run with its competitive strategies like equipment installment plan and family plan. As per the new family plan, the company will be offering a four-line family plan with 10GB of data for $100, which is lower than T's plans and those of other major U.S. carriers. I believe this plan will attract a large number of subscribers towards TMUS.
Based on the potential of the newly introduced family plan offerings and innovative customer friendly un-carrier strategies, I believe the company will continue to witness a gain in its subscriber base. Also the company is highly likely to achieve its target of branded postpaid net additions of 3 million-to-3.5 million by the end of 2014.
Subscribers Growth Translated to Revenue Gain
Since the company's branded postpaid subscriber base has gained momentum, TMUS has been efficiently translating its subscriber base gain into revenue growth. In 2Q14, the company's total revenue growth was 8% year-on-year, outpacing T and VZ, who reported total revenue growths of only 1.6% and 5.7% year-over-year, respectively.
As the company has been undertaking competitive strategies to address competition and grow its subscriber base, its ARPU has been decreasing. In 2Q14, TMUS' postpaid ARPU dropped by 8% to $49.32. I believe that as long as the company is able grow its top-line numbers and subscriber base, a drop in ARPU is not a significant concern for the company. Also, I believe ARPU will improve in the near future, as the company plans to increase its data package prices and eliminate discounts from new customers. TMUS CFO and Executive Vice President J. Braxton Carter said in the 2Q14 earnings conference call:
"We believe that recent pricing actions, like the requalification requirements retain corporate discounts, the elimination of corporate discounts from new customers and the increase in the price for 4G unlimited from $70 to $80, will help us achieve our ARPU goal."
The following table shows the year-over-year growth rates of TMUS' branded postpaid service revenue and ARPU.
| | | | | | | |
| --- | --- | --- | --- | --- | --- | --- |
|   | 1Q13 | 2Q13 | 3Q13 | 4Q13 | 1Q14 | 2Q14 |
| Branded Postpaid Service Revenue (Y-O-Y Growth) | (14.6%) | (11.6%) | (7.5%) | (2.9%) | 5.6% | 7.1% |
| Branded Postpaid ARPU (Y-O-Y Growth) | (6.3%) | (6.5%) | (7.8%) | (8.6%) | (7.5%) | (8%) |
Source: Company's Quarterly Earnings Report
Improving Margin
TMUS' healthy top-line results for 2Q14 and strategic initiatives grew its EBITDA margin by 26%, as compared to 2Q13. The expansion of the EIP program, which offers better margins, was the key driver behind strong EBITDA margin growth. In addition, the company's efficient cost management initiatives also added towards expanding EBITDA margin. Furthermore, the company's MetroPCS integration plan stays on track; up till now, 2/3rd of MetroPCS' customer base has been brought to the TMUS network. Also, the company expects to realize cash synergies of 1.5 billion/year by fully integrating MetroPCS.
In addition, the company is aggressively rolling out its LTE network, with improved network breadth and quality. TMUS' 10x10 4G-LTE network, offering high download speeds, is now available in 43 out of the top 50 metro areas. Moreover, in 2Q14, the company started deploying the 700MHZ A-Block spectrum on its network, which will expand its coverage footprint. TMUS is also partnering with multiple parties to speed up its 700MHZ spectrum expansion to approximately 8.7 million POPs.
Conclusion
TMUS has been growing its postpaid subscriber base with strategic initiatives, which are fueling its top-line growth. Moreover, the company's subscriber base growth seems strong with its commitment to introducing innovative un-carrier strategies and family plan offerings. In addition, the company has been experiencing strong EBITDA margin growth, and the trend is likely to continue, which will portend well for the bottom-line growth. Due to the aforementioned factors, I am bullish on the stock.
Disclosure: The author has no positions in any stocks mentioned, and no plans to initiate any positions within the next 72 hours. The author wrote this article themselves, and it expresses their own opinions. The author is not receiving compensation for it (other than from Seeking Alpha). The author has no business relationship with any company whose stock is mentioned in this article.