Previously, we looked at stocks highlighted by Citi Equity research as an alternative to bond holdings, and among those was Coca-Cola (NYSE:KO). At the time, we rated KO an overall hold, indicating its metrics demonstrated a slight overvaluation, however, with a highly stable dividend.
Background
KO is the leading manufacturer of non-alcoholic carbonated and non-carbonated beverages. KO's portfolio includes many of the most recognized brands in the world. Key company initiatives include growth in non-carbonated beverages and in looking towards more innovative products such as single-serve pod-based beverages.
Recent Share Activity
KO shares have recently pulled back below the $40 level, pushing the dividend yield again back above 3%. Market pullbacks are often a great time to add stable companies with less sensitivity to the economic ups and downs.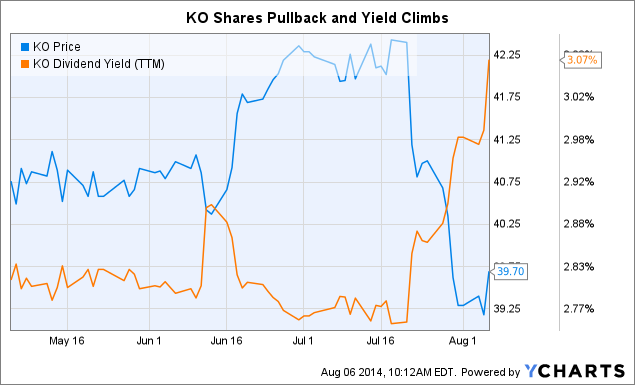 Valuation
Our valuation analysis looks at KO from a relative perspective, comparing KO's metrics to both the large cap S&P 500 index and the Consumer Staples sector.
On a dividend yield basis, KO is substantially ahead of the overall market, with a yield of 3.1% versus 1.98% for the S&P 500. KO pays a slightly above-average yield for a Consumer Staples stock, with an average yield of 2.7%.
On a trailing earnings basis, KO trades at a premium to both the S&P 500 and Consumer Staples sector. KO's earnings metrics are more favorable on a forward basis, with a more modest premium to the S&P 500 and slight discount to the Consumer Staples sector. At the same time, KO's earnings are expected to grow at a 6% annual rate over the next five years - a slower pace than both the S&P 500 and the Consumer Staples sector.
In analyzing the above, we find it helpful to view the forward PEG ratio that measures the cost of future earnings growth. We note that KO's PEG ratio of 2.9 is higher than that of the S&P 500 (1.4) and the Consumer Staples sector (1.9). The considerable brand portfolio and earnings stability is a feature that income investors would be willing to pay a premium for.
Overall, we continue to rate KO shares a hold, and would recommend income investors accumulate at modestly more attractive levels where KO levels begin to approach the overall market for P/E ratio.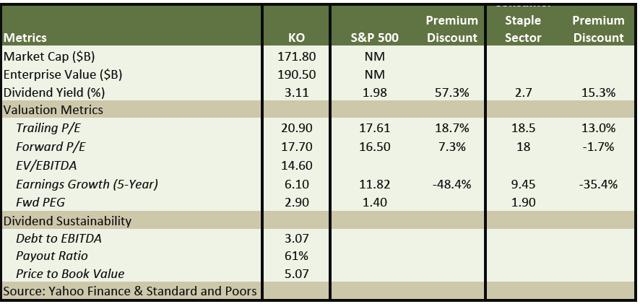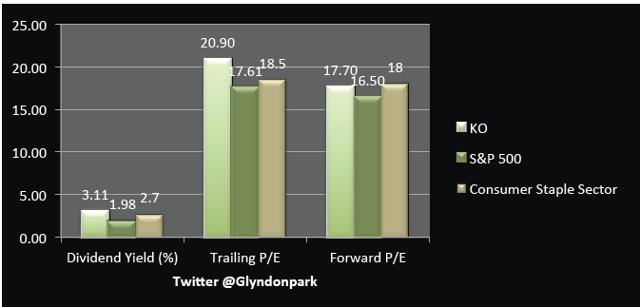 Dividend
KO has a long history of dividend payments and annual increases. KO's brand portfolio, coupled with stable earnings and a current payout ratio of 61% provide plenty of cushion to continue the ongoing dividends and future increases. Further, the company's debt load, at only 3 times EBITDA, is unlikely to pose any financial hardships.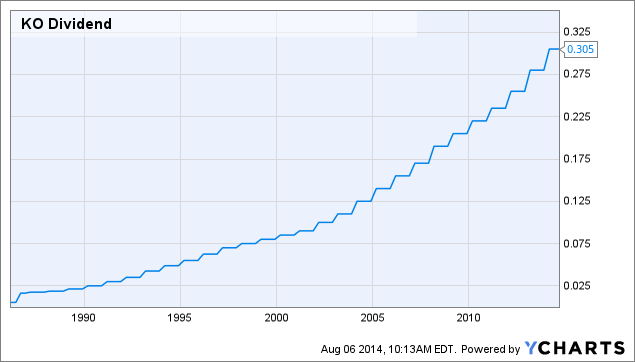 KO Dividend data by YCharts
Disclosure: The author has no positions in any stocks mentioned, and no plans to initiate any positions within the next 72 hours. The author wrote this article themselves, and it expresses their own opinions. The author is not receiving compensation for it (other than from Seeking Alpha). The author has no business relationship with any company whose stock is mentioned in this article.