Heavy rainfall in top natural rubber producing nations including Thailand and India has triggered a positive spike in the prices of natural rubber to record highs earlier this month. A report published by Thomson Reuters has quoted the Association of Natural Rubber Producing Countries (ANRPC) as admitting that November-December 2010 output in its member countries is likely to fall by 4.5 percent due to rains but expressed optimism for the output next year. Rubber experts and analysts also believe that the recent trigger in rubber prices is unlikely to soften anytime soon in the short term as limited supplies and a growing healthy demand is driving the rubber prices to higher levels.

Natural rubber is produced primarily in three countries — Thailand, Indonesia and Malaysia. Together, they account for about 94% of global production. India is another big producer, but it is also the fourth largest consumer of natural rubber. While most market analysts have been focusing on crude oil, natural gas and other commodities, natural rubber has slowly but surely begun its quiet bull run and it's likely to follow the trend for sometime.
The US, China and Japan dominate the global rubber consumption, collectively accounting for more than half of the market in 2011.
World rubber consumption is forecast to increase 4.0 % annually to 26.5 million MT in 2011.
China is the leading consumer of rubber worldwide, following more than a decade of strong growth in motor vehicle production and industrial goods manufacturing. Demand from China is expected to soar 35% to 6.83 million MT by 2010, according to the China Rubber Industry Association.
Demand for both natural and synthetic rubber is likely to expand at a strong pace, but the division of the market will remain essentially unchanged through 2011, with synthetic rubber continuing to hold approximately 55 % of demand and natural rubber holding the remaining 45 %.

An Overview Of Natural Rubber Market: The rubber industry is very sensitive as the price of rubber is constantly changing and any economic decline or rise affects the rubber industry to a large extent. Prices of natural rubber are not uniform, as they vary (although they tend to have a quite high correlation) across types and grades, with variations between RSS and TSR grades (RSS being ribbed smoked sheet and TSR being technically specified rubber in block form). Separate quotations exist for latex concentrates and bulk latex. The major markets include Kuala Lumpur, London, New York, Tokyo, Bangkok, Shanghai and Singapore.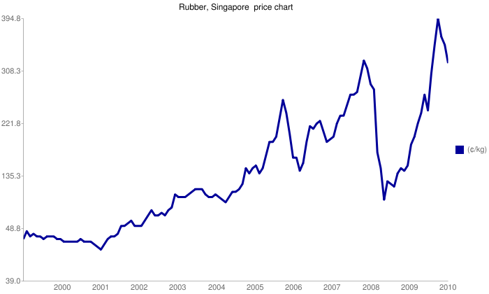 Rubber Oriented Companies Listed On NYSE
Newell Rubbermaid Inc. (NYSE:NWL) : Newell Rubbermaid Inc. is a global marketer of consumer and commercial products. The Company's multi-product offering consists of consumer and commercial products in three business segments: Home & Family; Office Products; and Tools, Hardware & Commercial Products.

# Mkt cap 4.63B
# P/E 15.35
Cooper Tire & Rubber Co. (NYSE:CTB): Cooper Tire & Rubber Company is a manufacturer of replacement tires. Cooper focuses on the manufacture and sale of passenger and light truck replacement tires.

# Mkt cap 1.17B
# P/E 10.60

Future Outlook For Natural Rubber: In 2010, with the expected higher GDP growth and an improving outlook for prices, global NR production is forecast to reach almost 10.56 million MT, a rise of 11.9 percent, compared to the previous forecast of a 3.7 percent increase to 10.0 million MT, with higher output seen in all the major NR producing countries. The global demand for rubber gloves is also expected to grow by 10 percent per annum. The demand for rubber gloves is reported to be increasing from India, China and Vietnam due to increase in health and hygienic awareness. Plantation expansion plans of the major NR producing countries have obviously been developed based on the rising trend in rubber prices. Since the global supply of NR is forecast to fall behind its consumption up to 2020, the current boom in the NR market is expected to continue.

Disclosure: No positions