Several weeks ago, upon seeing an analysis of the data that details the speculative long and short positions in the U.S. dollar by currency traders, it put into perspective how one-sided the Long Commodities & Long Equities & Short the U.S. dollar trade had become. According to the data as compiled by Credit Suisse First Boston, net speculative positions were the most skewed they have been since October 2007 -- just before the financial crisis began to gain speed and unravel equity markets around the globe.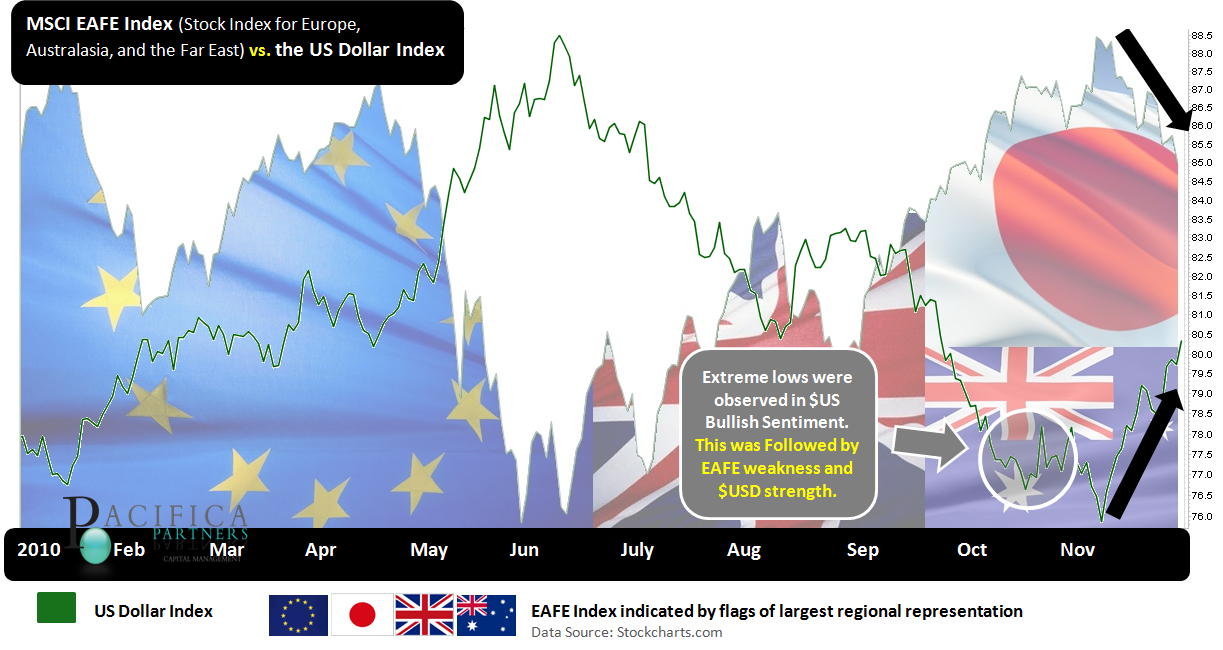 (Data Source: StockCharts.com)

The data made clear that given how "tilted" the consensus had become against the U.S. dollar, a correction was an increasingly high probability event. That is to say, if this relationship was going to hold, and the consensus bet of piling in against the U.S. dollar was going to prove itself to be ill-advised, then something would have to give in the currency and equity markets.

As per our comments earlier this month, a likely hotspot was Ireland. So far the thesis has proven correct. The euro has retreated almost 8% against the U.S. dollar, and equity prices have been under pressure. Along with the retreat in the euro we have observed European and other major equity markets weaken. The chart above shows the U.S. dollar index vs. the MSCI EAFE index, which reflects equity prices in Europe, Australasia, and the Far East (EAFE).

It is said that the job of the stock market is to disappoint the most investors it can. One way this is done is to lure many investors into a one-sided consensus trade, such as betting against the U.S. dollar and investing in emerging market equities or in Europe. In a relatively short amount of time, the hysteria around the QEII policies of the Fed has been replaced with a whole other set of concerns.

For now "risk is off," and the U.S. dollar should continue to strengthen as the flight to safety continues. For many investors, the lift in the dollar may have come as a surprise. However, we only have to remember that investing alongside an overwhelming consensus opinion in the financial markets can often prove hazardous to an investor's portfolio.

Disclosure: No positions.