Recent Decline Brings Shares Closer to "Reality"
Zulily (NASDAQ:ZU) shares have come under significant pressure over the last several months as investors reduced valuations closer to "reality." If we believe that management's forecast for the next few years is what constitutes "reality," then we can clearly see that the shares still have significant downside risk, with little room to outperform.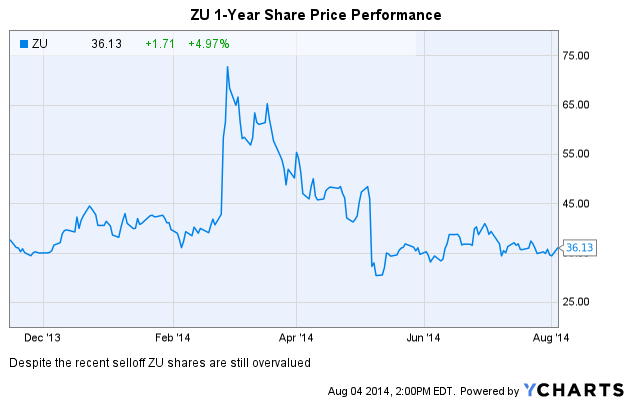 Management Forecast Indicates Excess Growth Already Priced In
Based on management's most recent investor presentation we can see that their aggressive growth forecast is more than reflected in the current share price. Management expects revenue to grow at 69% in 2014 (and I assume a 3-year compound annual growth rate ("CAGR") of ~50%), which even if achieved implies a stock price of about $30/share. Given increased awareness of Zulily's business model and competition from other online retailers RetailMeNot (NASDAQ:SALE), OverStock.com (NASDAQ:OSTK), and ASOS (OTCPK:ASOMY) there appears to be an asymmetric risk-reward payoff between the downside of missing growth expectations, and the upside of achieving them.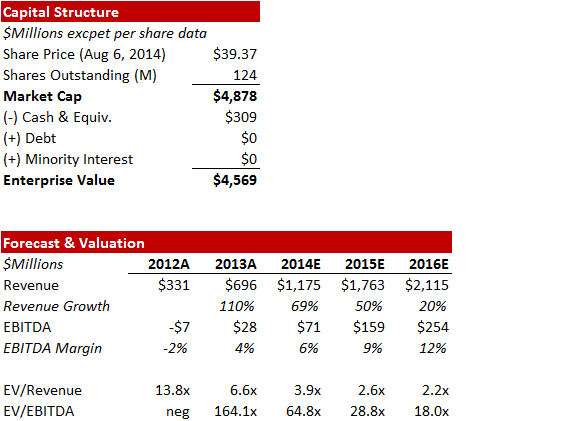 Target Price of $30.00/share
I arrive at a target price for Zulily of $30.00/share based on a 50/50 hybrid approach of 2016E EV/Revenue and 2016E EV/EBITDA. This assumes management is able to achieve EBITDA margins of 12% by 2016 and grow revenue to $2,115 million.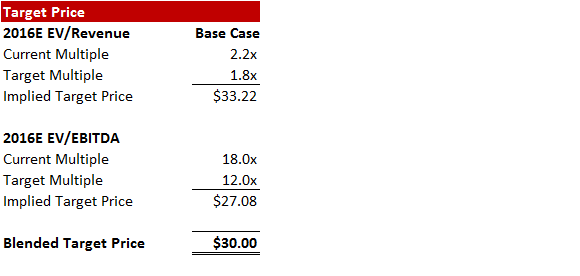 Short Opportunity
The base case target price of $30.00/share implies a return of 24% on a short position as Zulily's shares return to their intrinsic value.
Further selloff could be expected if management fails to deliver on their lofty sales growth and margin expansion. We could expect to see further downside with a bear case scenario of $25.00/share (2016E EBITDA margin of 10% and 2016E Revenue of $1,892 million) which implies a return of 36% on a short sale.
The key risk associated with this trade is management's ability to over deliver on their forecast and the return of investor exuberance for the stock. While this is a legitimate risk, it appears that based on the stock's current valuation and management's most recent investor presentation there is more downside risk for the shares than upside.
Short interest in Zulily is currently at an all-time high of 8.7 million shares (7% of shares outstanding).
Disclosure: The author has no positions in any stocks mentioned, and no plans to initiate any positions within the next 72 hours. The author wrote this article themselves, and it expresses their own opinions. The author is not receiving compensation for it (other than from Seeking Alpha). The author has no business relationship with any company whose stock is mentioned in this article.