Colgate-Palmolive (NYSE:CL) breaks down net sales and operating profit into 7 categories: North America, Latin America, Europe/South Pacific, Asia, Africa/Eurasia, Hill's Pet Nutrition and Corporate. In this report, I will look at each of the 7 segments and provide what I believe growth will look like for the next 5 years. At the end, I will pull all this data together to come up with total net sales and EBIT for the next 5 years.
North America

(Source: 10-K Filings)
As you can see, the North America division has been growing slightly faster in the last 3 years than the 10-year historical CAGR. What's even better is seeing the operating profits jump nearly 10%. Colgate said that for FY2013 200bps were contributed to their "funding-the-growth initiatives." 70bps were lowered from lower overhead costs and that was partially offset by 30bps in increased advertising expenses. The prior year, we saw overhead increase, as well as an increase in advertising expenses.
Already this year, we've seen North American net sales increase 1.9% vs. 6 months trailing in 2013 and an increase in operating profit by 1.1%. I believe that this year will actually end stronger than expected, as this most recent GDP spike contained an increase in consumer disposable income.
For growth, I used the World Bank. I took a look at their "Global Economic Prospects." The GDP growth in all high-income countries is forecasted at 1.9%. I know it's currently at 4% in the U.S., but we have to annualize it. Remember that we saw a 2.9% dip in Q1. The Conference Board estimated that the annualized GDP this year will be 1.5%, but was also expecting a 3% growth this quarter vs. 4% actual. Adjust the annual increase and we get 1.75% growth [(-2.9+4.0+2.9+3.0)/4] which is pretty close to the World Bank's estimate.
Here is the North American division with growth based off the World Bank, my assumption for the remainder of the year and constant margins.

Latin America
Historically, Latin America has been the fastest-growing segment, growing at a 10-year CAGR of 9.2%. Recently things haven't been looking up. The 3-year CAGR is now down to 1.2%, making it the 2nd slowest growing segment. It has also seen negative operating profit growth.

(Source: 10-K Filings)
In my opinion, this is an extremely important segment, because it contains the most net sales as a percentage of total sales, and it is one of the highest operating margin regions for Colgate.
One big problem here comes from the currency exchange rates. Latin America saw 5.5% volume growth and total organic growth of 9.5%. Just about all of this was offset by 9.5% in negative foreign exchange rates (much of this due to the devaluation of the Venezuelan Bolivar). The prior year, there was organic growth of 10.5%.
Colgate has had volume growth exceed GPD growth in Latin American countries. For forecasting, I looked again at the World Bank economic prospects page (linked above). I expect volume growth to beat the forecasted numbers each year. However, net sales this year are already behind last year's, driven by foreign exchange impacts and slow sales growth in Brazil. Management is still optimistic for a 2% growth rate this year. I believe growth will continue about 1% above GDP levels in 2015 and beyond.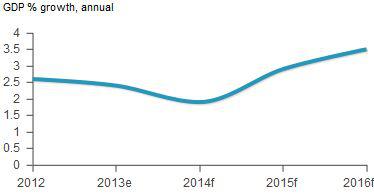 (Source: World Banks Global Economic Prospects, linked above )

Europe/South Pacific

(Source: 10-L Filings)
Over the last 10 years, Europe/South Pacific has seen the same growth rate as North America at 2.9%. Sales growth has actually been negative over the last 3 years due to a slowing economy, but operating profit has climbed 6%. Its operating growth rate is the 2nd highest, after Asia. Please note that this segment was still the least profitable in 2013.
The first half of this year has shown impressive signs vs. the first half of 2013. Net sales are up 3.9% vs. the prior 6 months, and the trailing 6-month operating margin is at 25.5%, up 1.8% from FY2013. Much of this improvement was contributed by growth initiative plans, like in many of the other regions.
I predict the growth in Europe and South Pacific will grow slightly above the GDP rate The World Bank has estimated. I also believe operating margins for this year will remain at 25.5% and increase around 20bps each year. I don't see why Europe can't get close to mimicking North America in the long run, because they are for the most part developed/matured.

(Source: World Bank Global Economic Prospects)

Asia/Africa/Eurasia
Before 2010, Asia and Africa were reported on the statements as "Asia/Africa." In 2011, we will see Asia on its own and Africa now with Eurasia. I want to take a quick historical look at Asia/Africa/Eurasia. That is, The Asia/Africa segments from 2004-2010, and a combination of Asia and Africa/Eurasia from 2011-2013.

(Source: 10-K Filings)
This has been the fastest-growing segment most recently (combined that is). It has the 2nd-highest 10-year CAGR. Now I just want to focus on the last 3 years, so we will look at Asia and Africa/Eurasia separately.
Asia
Net Sales in Asia have increased 9% in both 2013 and 2012, with 10.5% organic growth in 2013 offset by 1.5% in negative foreign exchange rates. This volume is much stronger than the 7.5% reported in 2012. In 2012, we also saw 4.5% in pricing increases which was partially offset by 3% in negative foreign exchange impact.
In the first earnings call this year, we were warned about slowing growth and again warned about it this quarter as well. I do predict strong growth this year, followed by a taper of 1% each year. I've also kept operating margin constant, because the primary reason it jumped 14% from 2012-2013 was from their growth initiative plans.

Africa/Eurasia
Not too much was reported about Africa/Eurasia in the last earnings call. While there is conflict in Russia, there is still growth, with Colgate reporting increased market shares for various oral care products. 2013 volume growth was up 8%, but total net sales increased only 1.5% due to decreasing price costs and a 5% negative foreign exchange impact. Total net sales rose 3% from 2011-2012.
Despite being told volume has growth in the region, there is negative growth so far this year and the operating profit for this sector has gone below 20%, making it the least profitable. This region has experienced high growth rates and just as high foreign exchange impact, causing recent growth to stunt. I believe net sales may pick up this 2nd half of 2013, which seems to be the case in the past, causing slight growth overall. While operating margin has become negative, I think by the end of the year it will remain fairly flat at 20.2%.

Hill's Pet Nutrition
I never understood this segment. To me it just doesn't fit its portfolio of products. In 2013, it contributed 12.7% of net sales. The 3yr and 5yr CAGR are both at .9%. Hill's has recently launched in the U.K and Germany, so I do believe this will help contribute to a slight increase in growth. While Colgate says the slow growth has been caused by a softening in the pet industry, I have found a report online stating the opposite. Pet food, especially specially food, is the current driver in the industry:
Natural pet foods are driving category growth, according to GfK, at 11.7% year-over-year, and account for US$4.6 billion in sales annually. Two-thirds of all dog food sales were natural in 2013, as well as 41% of all cat food sales.
You can read more here. In May, the TTM growth of natural dog food is up 8.8% and 10.2% for cats.
So if the industry is doing really well, why is Hill's slacking? I'll give them very modest growth rates. They will end 2018 with 11.7% of total net sales.

Corporate
In 2013, the company reported -$1.09B for the corporate division. This was drastically different than the -$597B we saw in 2012. About $172M came from a one-time charge of the Venezuelan Bolivar and another $371M came from the first charge to the restructuring program. This year, I expect to see that charge to remain fairly constant, followed by a dramatic taper in the next two years until the program ends in FY2016.
I'm estimating this year's corporate spending will be about a billion, followed by a taper to around 700M by FY2018.

Wrapping it all up
Now here are my the total estimates for 2014-2018. Enjoy.

Looking back at my last DCF model I have estimated net sales to grow at 3%, 4%, 5%, 4% and 3% for 2014, 2015, 2016, 2017 and 2018, respectively. Some of the segments reported fairly slow growth this first half, which I over-estimated on. I also believed that growth by 2016 would be stronger than I now have forecasted. I did have sales at about $21,000 for 2018 in my first model, this model shows I'm not too far off.
As for operating income, I have now projected $400M more in 2018 than I did in my previous model. If Colgate really does project its savings to be upwards of $435 from the restructuring program, then this is where the additional $400M comes from in this model.
With these new projections, I now have Colgate-Palmolive valued between $57.94-$72.24.
Disclosure: The author has no positions in any stocks mentioned, and no plans to initiate any positions within the next 72 hours. The author wrote this article themselves, and it expresses their own opinions. The author is not receiving compensation for it (other than from Seeking Alpha). The author has no business relationship with any company whose stock is mentioned in this article.