McDonald's (NYSE:MCD), the worldwide fast-food power house, has paid a dividend that has increased each of the previous 38 years. Due in September is yet another probable increase. The last several years have seen several hefty increases; last year's rang in with only a 5.1% rise, well enough however, to beat the pace of inflation. Though this year's announcement might not beat 2013's increase, I have little doubt that it will best the current inflation rise. As the shares of Mickey D's, as it is affectionately known, march toward the next dividend increase, we will explore the income history of this fast-food behemoth.
Dividend Increase History
McDonald's dividend history for the past 30 years is graphed below: a beautiful increase from one year to the next. A chart of dividend increases, as shown below, should make the normal dividend investor wish for a portfolio filled with such quality companies on which to retire. The drop on the line chart reflects a change in 2008 from an annual dividend payment to quarterly, not a dividend reduction.
MCD Dividend data by YCharts
Earnings
It is almost repetitive to say it, but without a long and steady rise in earnings per share, that a corresponding long and steady increase in dividends would never occur. Two things are required for steady dividend growth. First, we must have growth in profitable restaurants and second, a commitment by management to pay dividends to shareholders. McDonald's has grown from a single unit in the United States in 1940 to over 35,000 today, spread across the world. In several trips overseas, I have never failed to see a McDonald's in any city I visited. The chart below graphs the earnings per share.
The following graph plots the EPS since 1984. Despite a rough spot or two in earnings, the path has been upward for the past 30 years.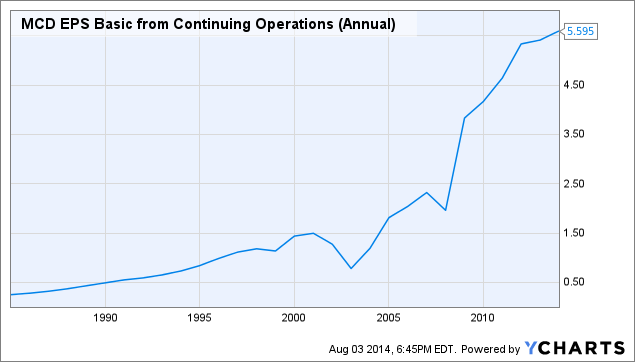 MCD EPS Basic from Continuing Operations (Annual) data by YCharts
Payout Ratio
A primary concern for dividend investors is the ever-climbing percentage of dividends that McDonald's has paid out of earnings. Therefore, a large part of the dividend payments have come from sharing more earnings with shareholder, rather than by increased profits.
The cash dividend payout ratio (payout ratio, after preferred stock is paid) has climbed, reaching a 68% level. Unless McDonald's wishes to start paying even higher levels of payouts, it is my fear that future dividend increases, without larger jumps in EPS. are doomed to be in the 4%-6% range.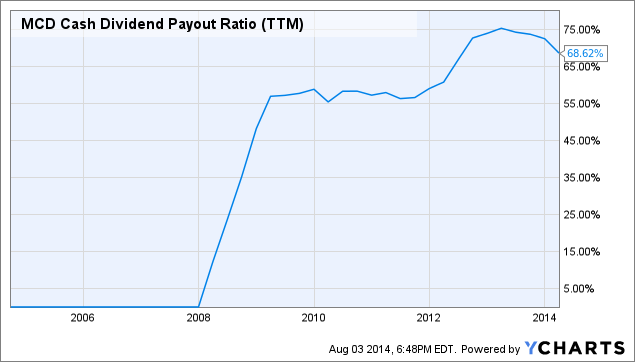 MCD Cash Dividend Payout Ratio (TTM) data by YCharts
Current News of Concern
Last week, it was announced that McDonald's and other restaurants had purchased tainted meat from a China supplier. Many restaurants are only serving fish as the problem is sorted out. It does not appear that this issue is a long-term concern.
Another and perhaps greater concern is poor growth in the United States. It is similar to issues that occurred in the early part of 2000, but eventually management won the day. Estimates for earnings per share for 2014 are $5.62, and $6.08 for 2015, according to street estimates.
Valuation of Shares via P/E and Yield
My two favorite ways to judge many longer-term quality stocks is by examining the historical levels of P/E and current yield. They often illustrate levels of poor or excellent value. Either is not especially useful in a vacuum, but must be compared in some way to alert us to possible opportunities for investment.
Although the historical dividend yield of MCD's does not fit into some tiny band of highs and lows, it nevertheless gives us an area of interesting analysis. Other than the spike in yield in the 2009 timeframe, the current yield has shown a steady climb for the past 30 years. Notwithstanding the 2009 spike, it appears that a good value presents itself in the 3.5%-4.0%. The current yield is 3.4% (COB 8/1). If the dividend increase next month is four cents per quarter, which is my guess, then the yield would be boosted to 3.6%. If the shares decline to $91-$92, a level at which I would purchase, the yield would be 3.7%. Not bad in my opinion for a quality issue such as McDonald's.
The P/E chart is another matter. Currently trading at a P/E of 17, MCD represents, to my analysis, only fair value. Not a bargain, but not too expensive. Based on earnings per share estimates for 2015, the P/E drops to the 15.5 range. Better, but not great either. What one desires to see on this chart is yield on the upper levels and P/E on the low end of historical levels, which the chart below illustrates.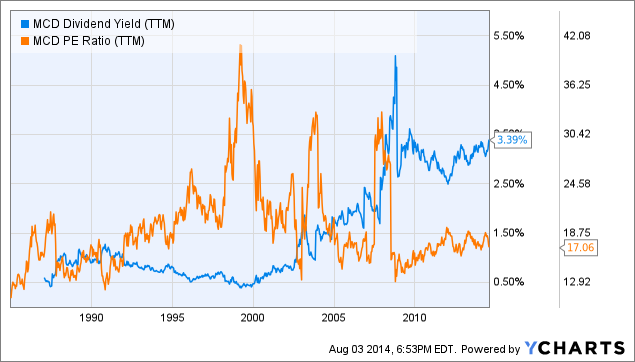 MCD Dividend Yield (TTM) data by YCharts
Technical Analysis
Though the fundamentals and valuation of a company rank highest in my book for an investment analysis, a look at the technical position should also be examined. From the chart below, it is easily seen that the shares have found support over the last several months in the $91-$92 area. In addition, the shares are oversold as measured by the 14 day relative strength index. The next support level is in the mid-$80s. For the shares to test the low $80s area, I think that poor news concerning the shares, or a general stiff decline in the overall market would have to occur, but should not be dismissed. However, it can also be viewed as an excellent point of entry to add to positions.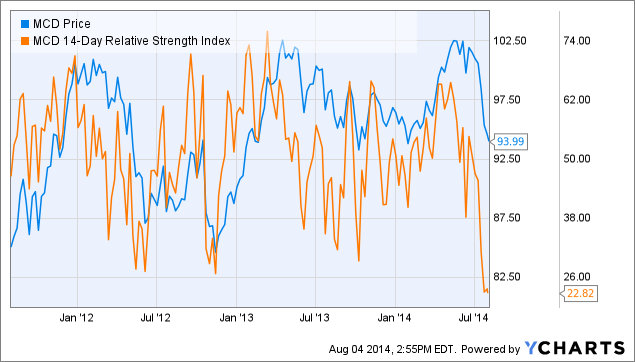 MCD data by YCharts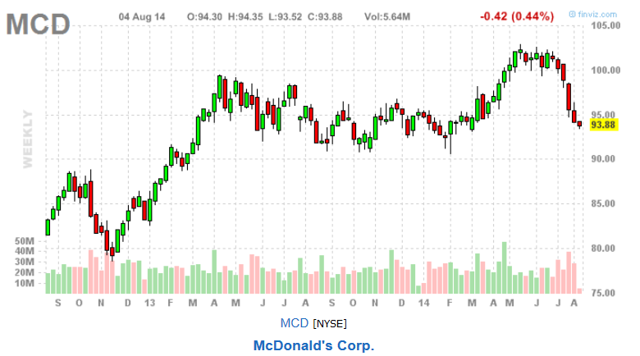 Conclusion
A quality company such as McDonald's with a long-term history of 38 years of increasing dividend payments, year after year of earnings growth, a management committed to paying dividends, and a management team committed to growth has to be viewed as a core holding in one's dividend portfolio. The current level of yield, with the expectation of an upcoming increase, makes the current price fairly attractive. For an investor with no current position, the shares can be bought at the $91-$92 area. For those that have a full position but wish to increase their holdings, then waiting until a further decline to the low $80s might be appropriate. However, I do not feel that the shares offer any large hopes of capital gains beyond market returns until earnings improve.
Based on the fundamental value, I place the shares at a 7.5 to 8 on a scale of 1-10, a buy for long-term investors.
Disclosure: The author is long MCD. The author wrote this article themselves, and it expresses their own opinions. The author is not receiving compensation for it (other than from Seeking Alpha). The author has no business relationship with any company whose stock is mentioned in this article.