This year hasn't exactly been the best for U.S. Web portal Company Yahoo (YHOO).
Revenue has dropped since last year, especially search revenue - the company's main source of income - which dipped at least 8 percent. Yahoo is technically selling an increasing number of display advertisements, but the price has to inevitably be lowered for each ad. The company says its price per ad has fallen almost 24 percent since last year. Yahoo CEO Marissa Mayer has succeeded in getting search-related revenue to increase. Despite being locked in that relationship, she needs to maintain the search-related growth in addition to increasing display ads.
Comprehensively, Yahoo's enterprise has an estimated worth of around $33 billion. After the net cash deduction, the company's businesses are worth around $6 million.
CFO Notes Progress
"We have made a lot of progress," Chief Financial Officer Ken Goldman recently told informed investors during the JPMorgan conference in San Francisco. "We are seeing some stability in the revenues. We really haven't grown revenues, obviously, like we would have liked. We are very, very focused on that. ... We obviously have some work to still do on display ads, and we are working on that."
Alibaba IPO Could Ease Enormous Challenges Ahead
Marissa Mayer and Yahoo have a somewhat rough road to travel, but Yahoo plans to make some significant changes in the upcoming months that may help smooth that road. The change is especially favorable to shareholders.
This anticipated change is due to Chinese e-commerce company Alibaba (NYSE:BABA). Alibaba is ready to go public in what most think is potentially a larger IPO than Facebook's (FB). See F-1.
Yahoo bargained to reduce the maximum number of Alibaba shares it will release to sell during the IPO. But even with this reduction, the company still stands to bring in over $5 billion after tax, which will double Yahoo's cash and marketable securities. The company will now release 140 million shares at Alibaba's debut, less than the original figure of 208 million.
Alibaba's Valuation
Alibaba currently is worth more than $168 billion without counting other monies, based on its most recent internal valuation. In the event Yahoo eventually pays a 30 percent tax above the initial purchase price, the value of the Alibaba stake is more than $20 billion.
Yahoo Must Spend Wisely
Ken Goldman, Yahoo's chief financial officer, already has plans for the funds. "We are committed to return at least half of the after-tax IPO proceeds to shareholders, in line with our overarching commitment to maximizing shareholder value through prudent capital allocation," Goldman said in the statement. "Yahoo's initial sale of Alibaba shares will be fully taxed, and the company will seek ways to reduce how much it must pay in the future," Goldman said on a conference call.
Macquarie Research analyst Ben Schachter commented on Yahoo's plan to return half of the after-tax IPO proceeds to shareholders. "The idea is that Yahoo shareholders can participate and benefit from the upside to Alibaba post the IPO, as opposed to just having to sell more stock in the IPO."
Current Comparisons: YHOO vs. Industry
At this point, Yahoo's Price to Sales ratio is at 7.82. The Internet and Computer Services industry's Price to Sales ratio is at 7.74. Yahoo Price to Book Ratio is 2.85 lower than the industry average of 4.99. and lower than S&P 500 average of 3.51. Yahoo realized cash outflow of $ -0.03 per share in the trailing twelve-month period.
Yahoo's sales fell by -4.5% in the second quarter, compared with the same quarter a year ago.
Yahoo's net profit decreased by -18.64% in the second quarter.
For YHOO Shareholders
While the (at-times) ill-defined Internet giant YHOO has obviously struggled to monetize aspects of its business, shareholders should cheer the likely upcoming payout and infusion of capital.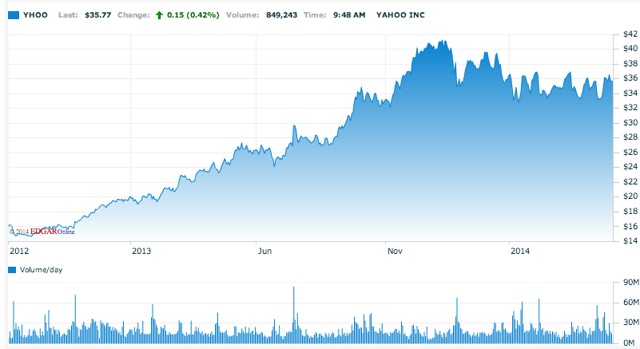 (Nasdaq.com)
Near-term, we are positive on YHOO. After the Alibaba IPO event, investors should watch the company's expenditures and results closely to infer a possible new direction.
Disclosure: The author is long YHOO. The author wrote this article themselves, and it expresses their own opinions. The author is not receiving compensation for it (other than from Seeking Alpha). The author has no business relationship with any company whose stock is mentioned in this article.