The following is a list of stocks with a high short float, meaning that a significant portion of the company's shares outstanding have been shorted. All of the stocks mentioned in this list have short floats higher than 15%.

Additionally, all these stocks have been more profitable than their competitors over the past five years, based on gross and net profit margins.

Do any of these names present an opportunity for a short squeeze? We're not going to go into detailed analysis for each company. The goal here is to give you a starting point for your own analysis.

Profitability data and industry comps sourced from Reuters, short float and moving average data sourced from Finviz (data sourced on Sunday eve).
(Click for expanded images)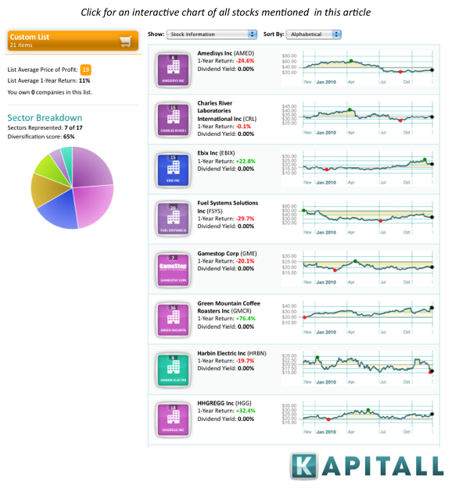 The list has been sorted by the short float.

1. PetMed Express Inc. (NASDAQ:PETS): Drug delivery industry. Market cap of $395.46M. Five-year average gross margin at 39.15% vs. industry average at 17.56%. Five-year average net profit margin at 10.1% vs. industry average at 2.0%. Short float at 32.17%, which implies a short ratio of 37.11 days. The stock has gained 6.11% over the last year.

2. Mindray Medical International Limited (NYSE:MR): Medical instruments & supplies industry. Market cap of $2.87B. Five-year average gross margin at 54.92% vs. industry average at 47.26%. Five-year average net profit margin at 22.21% vs. industry average at 6.6%. Short float at 20.04%, which implies a short ratio of 18.08 days. The stock has lost -9.52% over the last year.

3. Harbin Electric, Inc. (NASDAQ:HRBN): Industrial electrical equipment industry. Market cap of $503.44M. Five-year average gross margin at 39.65% vs. industry average at 31.62%. Five-year average net profit margin at 19.82% vs. industry average at 6.83%. Short float at 20.76%, which implies a short ratio of 5.92 days. The stock has lost -21.72% over the last year.

4. Ritchie Bros. Auctioneers Incorporated (NYSE:RBA): Business services industry. Market cap of $2.11B. 5-year average gross margin at 85.89% vs. industry average at 37.89%. Five-year average net profit margin at 25.2% vs. industry average at 8.96%. Short float at 20.43%, which implies a short ratio of 63.45 days. The stock has lost -15.96% over the last year.

5. GameStop Corp. (NYSE:GME): Electronics stores industry. Market cap of $3.1B. Five-year average gross margin at 26.54% vs. industry average at 21.47%. Five-year average net profit margin at 3.96% vs. industry average at 1.53%. Short float at 23.28%, which implies a short ratio of 9.33 days. The stock has lost -19.92% over the last year.

6. True Religion Apparel Inc. (NASDAQ:TRLG): Textile industry. Market cap of $577.18M. Five-year average gross margin at 58.09% vs. industry average at 40.4%. Five-year average net profit margin at 16.01% vs. industry average at 6.3%. Short float at 22.78%, which implies a short ratio of 12.12 days. The stock has gained 19.5% over the last year.

7. STEC, Inc. (NASDAQ:STEC): Data storage devices industry. Market cap of $802.18M. Five-year average gross margin at 35.58% vs. industry average at 13.89%. Five-year average net profit margin at 9.59% vs. industry average at 4.17%. Short float at 20.45%, which implies a short ratio of 3.68 days. The stock has gained 22.36% over the last year.

8. Strayer Education Inc. (NASDAQ:STRA): Education & training services industry. Market cap of $1.9B. Five-year average gross margin at 66.42% vs. industry average at 56.83%. Five-year average net profit margin at 20.53% vs. industry average at 9.64%. Short float at 25.15%, which implies a short ratio of 9.05 days. The stock has lost -27.34% over the last year.

9. Synaptics Inc. (NASDAQ:SYNA): Computer peripherals industry. Market cap of $965.74M. Five-year average gross margin at 40.9% vs. industry average at 13.89%. Five-year average net profit margin at 8.85% vs. industry average at 4.17%. Short float at 33.47%, which implies a short ratio of 14.94 days. The stock has gained 5.99% over the last year.

10. ITT Educational Services Inc. (NYSE:ESI): Education & training services industry. Market cap of $1.91B. Five-year average gross margin at 59.62% vs. industry average at 56.83%. Five-year average net profit margin at 18.97% vs. industry average at 9.64%. Short float at 24.92%, which implies a short ratio of 6.97 days. The stock has lost -34.36% over the last year.

11. Ebix Inc. (NASDAQ:EBIX): Business software & services industry. Market cap of $726.9M. Five-year average gross margin at 79.76% vs. industry average at 67.43%. Five-year average net profit margin at 33.16% vs. industry average at 17.51%. Short float at 27.76%, which implies a short ratio of 12.74 days. The stock has gained 18.89% over the last year.

12. Amedisys Inc. (NASDAQ:AMED): Home health care industry. Market cap of $841.87M. Five-year average gross margin at 52.99% vs. industry average at 48.15%. Five-year average net profit margin at 8.25% vs. industry average at 4.53%. Short float at 21.11%, which implies a short ratio of 10.33 days. The stock has lost -26.21% over the last year.

13. Travelzoo Inc. (NASDAQ:TZOO): Internet information providers Industry. Market cap of $648.56M. Five-year average gross margin at 97.09% vs. industry average at 53.73%. Five-year average net profit margin at 13.16% vs. industry average at 7.87%. Short float at 30.88%, which implies a short ratio of 6.72 days. The stock has gained 168% over the last year.

14. hhgregg, Inc. (NYSE:HGG): Electronics stores industry. Market cap of $990.26M. Five-year average gross margin at 30.97% vs. industry average at 22.53%. Five-year average net profit margin at 2.29% vs. industry average at 1.65%. Short float at 29.87%, which implies a short ratio of 16.51 days. The stock has gained 29.96% over the last year.

15. Lumber Liquidators Holdings, Inc. (NYSE:LL): Home improvement stores industry. Market cap of $642.18M. Five-year average gross margin at 34.53% vs. industry average at 26.36%. Five-year average net profit margin at 4.18% vs. industry average at 3.21%. Short float at 21.51%, which implies a short ratio of 13.12 days. The stock has lost -4.68% over the last year.

16. Quidel Corp. (NASDAQ:QDEL): Diagnostic substances industry. Market cap of $376.9M. Five-year average gross margin at 60.7% vs. industry average at 50.55%. Five-year average net profit margin at 12.81% vs. industry average at 10.26%. Short float at 20.27%, which implies a short ratio of 21.54 days. The stock has gained 2.08% over the last year.

17. Fuel Systems Solutions, Inc. (NASDAQ:FSYS): Auto parts industry. Market cap of $601.72M. Five-year average gross margin at 27.83% vs. industry average at 20.53%. Five-year average net profit margin at 5.46% vs. industry average at 4.75%. Short float at 37.37%, which implies a short ratio of 18.8 days. The stock has lost -29% over the last year.

18. Quality Systems Inc. (NASDAQ:QSII): Healthcare information services industry. Market cap of $1.84B. Five-year average gross margin at 64.73% vs. industry average at 43.82%. Five-year average net profit margin at 19.11% vs. industry average at 16.68%. Short float at 29.83%, which implies a short ratio of 23.74 days. The stock has gained 6.03% over the last year.

19. Green Mountain Coffee Roasters Inc. (NASDAQ:GMCR): Processed & packaged goods industry. Market cap of $4.97B. Five-year average gross margin at 34.29% vs. industry average at 31.97%. Five-year average net profit margin at 5.41% vs. industry average at 5.39%. Short float at 23.18%, which implies a short ratio of 5.65 days. The stock has gained 78.17% over the last year.

20. Charles River Laboratories International, Inc. (NYSE:CRL): Biotechnology industry. Market cap of $1.89B. Five-year average gross margin at 38.0% vs. industry average at 35.31%. Five-year average net profit margin at 0.21% vs. industry average at -111.3%. Short float at 21.46%, which implies a short ratio of 9.47 days. The stock has lost -0.06% over the last year.

Disclosure: No positions