The U.S. Economy
The first estimate of second quarter growth in domestic economic output provided confirmation that substantial weakness at the start of the year was a mostly weather induced phenomenon. U.S. real gross domestic product (GDP) expanded at a 4.0% annualized pace during the April through June period, according to the Bureau of Economic Analysis. While consensus among economists was for a decisive return to growth, the 4% figure still exceeded their generally optimistic forecasts. Also in the report, the previously estimated first quarter contraction was adjusted to -2.1% from -2.9%.
Helping to fuel the snap back in growth during the second quarter were healthy gains in business investment and consumer spending. Nonresidential fixed investment is a proxy for business spending and it advanced at a 5.5% annual rate during the second quarter, markedly faster than the 1.6% yearly pace experienced from January through March. In fact, the contribution to growth in overall GDP from the Investment component was the main driver for the quarter. Personal consumption expenditures were the quarter's second biggest growth driver. Spending in this category grew 2.5% annualized, more than twice as fast as during the first three months of the year.
With respect to the government spending component, it has detracted from economic growth in 14 of the past 20 most recent quarters, but ongoing improvement in the fiscal health of state and local entities helped this factor add to growth during the April through June period. Rising 3.1% annualized, spending at the state and local level drove the positive contribution from governments, whereas spending at the federal level declined as compared to the same time last year and detracted from growth.
The important question now is what will happen to growth during the year's second half. The weight of evidence from incoming data and our economic indicators suggests growth should continue to meander forward slowly. A low single digit pace seems reasonable in our view.
Some investors are worried about the age of the current economic expansion. At the end of July, this expansion was 61 months old, whereas the average duration of domestic expansions since 1854 is 39 months. By this comparison, the present growth phase certainly appears long in the tooth.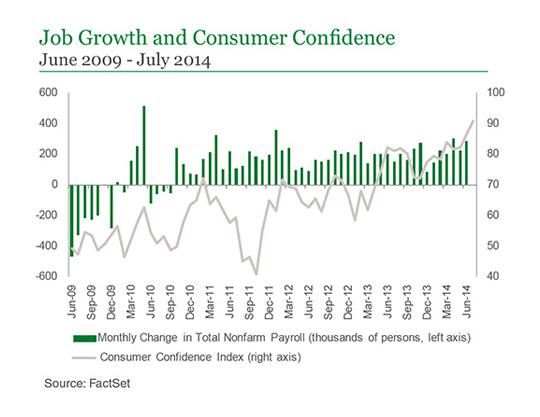 Simply because the current expansion is old relative to historical experiences does not mean the economy is poised to roll over. The pace of growth since activity troughed in mid-2009 has been very slow. It took several years and unprecedented stimulus to dig out of the hole created by the financial crisis. Given this, it should not come as a surprise that it is taking much longer for the economy to hit its stride this time. We continue to see little evidence of the types of economic excesses that are typically a prelude to recession.
Other recent signs that the domestic growth environment should continue to find support in the near-term are related to data on foreign trade and personal income. Growth in imports exceeded that of exports during the second quarter which made net trade a drag on growth. That being said, acceleration in spending on goods and services delivered from abroad can be viewed as an indicator of healthy demand in the U.S. Additionally, the second quarter GDP report showed that real disposable personal income grew at a solid 3.8% annualized rate, up from the first quarter's 3.5% growth pace. Coupled with evidence of diminishing slack in labor markets that was underscored by June's 288,000 rise in non-farm payrolls and the Conference Board's measure of consumer confidence rising to a new post-recession high of 90.9 during July, consumers' improving attitude and financial health put them in a position to help sustain growth going forward.
Global Economy
Earlier this year, the German cabinet adopted a bill that would establish a national minimum wage of €8.50 per hour. That bill was approved by Germany's parliament in early July with little modification from its original form. The new statutory pay minimum should go into effect across most economic sectors next year. Some workers such as interns and seasonal workers will be exempted from the wage floor, as there was concern that these types of employees might get priced out of the labor market by a large pay increase.
We view the policy change as an incremental negative for the German economy as it is expected to increase the cost of labor and decrease competitiveness over time. While the new minimum wage has broad support among the German population, and should boost the earnings of nearly four million workers, we think it could present a headwind to German employment in the future as businesses may be less willing and able to hire. German companies might also transition certain operations to other geographies where labor costs are more attractive. It is worth noting, however, that Germany was among a distinct minority of European Union member states that did not previously have a statutory wage floor in place.
Elsewhere, the situation in Ukraine took a tragic turn during recent weeks when a commercial jetliner traveling from Amsterdam to Kuala Lumpur was shot down by a surface to air missile while flying through Ukrainian airspace.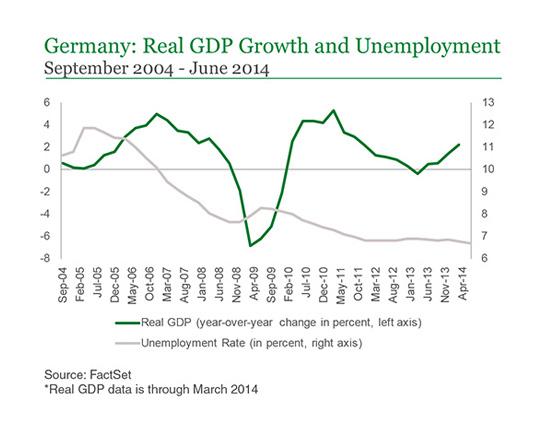 Predictably, neither side in the conflict claimed responsibility, but the global consensus appeared to lay the blame on Russia. The event is likely to meaningfully impact current efforts to resolve the dispute between Russia and Ukraine. Prior to the plane crash, the U.S. had moved forward with a new round of sanctions against Russia while Europe balked. However, because many of the victims in this tragedy were European, Europe subsequently moved forward with new Russian sanctions as well. Despite the turn of events, we doubt we are any closer to an ultimate resolution. What is clear is that Putin and the Russian economy have a challenging road ahead as major world powers seek to further isolate the country.
Our Perspective
While valuations in the broad domestic market remain elevated as compared to recent years, we see the risk of a meaningful correction in stock prices as quite low. The economic, sentiment, and valuation indicators we scrutinize continue to show little evidence of the types of extremes that typically lead to large and lasting sell-offs. That being said, there are signs of complacency in the market that we are monitoring closely. Volatility could return if data or developments run counter to investors' generally optimistic outlook. In this environment, discernment and flexibility are critical.
In portfolios geared toward investors that need capital growth, our main focus is on identifying companies that can grow in an otherwise growth-challenged global economy. We are looking for businesses that have control of their own destiny and are taking share in large established markets or are creating new markets on their own. The goal is to identify companies trading at attractive valuations relative to their growth potential. In our view, reinvestment rate risk remains the key challenge facing long-term investors that need capital growth. Investing in companies with good fundamentals and tailwinds at their back should help investors combat this risk. For fixed income investors and investors with a shorter time horizon or current income needs, we continue to focus on opportunities we are seeing in investment-grade corporate bonds. A selective approach to the below investment-grade corporate space is helping us find value there as well, however, opportunities are becoming more scarce as investors reach for yield. With regard to government debt, we continue to favor Agencies over Treasuries. In an effort to limit the sensitivity of clients' fixed income investments to a rising rate environment, portfolios are tilted toward shorter-duration securities. In our view, short-term and income-oriented investors should also explore equities that display stable fundamentals and are trading at attractive valuations. We believe companies that generate strong, stable cash flows, and pay an attractive dividend could be compelling options for these types of investors in the current environment.