Del Monte Foods Company (DLM) has agreed to be acquired by a consortium formed by pooling funds from Kohlberg Kravis Roberts & Co. (NYSE:KKR), Vestar Capital Partners and Centerview Partners. Per the agreement signed, the consortium will acquire Del Monte for $5.3 billion or $19.00 per share in cash. The transaction price includes assumption of approximately $1.3 billion in net debt.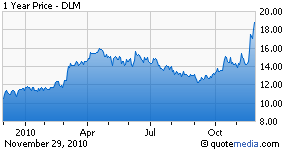 According to the agreement Del Monte can solicit alternative proposals from third parties through January 8, 2011.
With the acquisition, Del Monte's premium pet-food brands such as Meow Mix and Kibbles 'n Bits will now belong to Kohlberg. The pet-food business of Del Monte has thrived over the past few years. In the fiscal first quarter of 2011, the Pet Products segment reported a 3.6% year-over-year improvement in sales.
Del Monte's fiscal first-quarter 2011 earnings marginally slipped by a penny to 29 cents a share over the year-ago period and also missed the Zacks Consensus Estimate by 9 cents. The quarter highlights a marginal increase in marketing investment, consistent with the company's plan and a decline in top-line growth, offsetting savings from productivity initiatives.
On the conference call, Del Monte guided to a fiscal 2011 revenue growth of 1% – 3% over fiscal 2010 sales. It also expects fiscal 2011 earnings of $1.38 to $1.42 per share, consistent with the company's long-term EPS annual growth target of 7% to 9%.
The quantitative Zacks #3 Rank (short-term Hold rating) indicates no clear directional pressure on the shares over the near term.
Headquartered in San Francisco, California, Del Monte Foods Company, together with its subsidiaries, produces, distributes and markets branded pet products and food products for the United States' retail market.