My previous article on Oritani Financial Corp. (NASDAQ:ORIT) was far too bullish. New information suggests a more neutral stance is in order. The New Jersey financial faces enormous challenges. During the KBW Community Bank Investor Bank Conference, management noted fierce competition. In Oritani's opinion, rival institutions are making dangerously low-margin loans as too many banks chase too few borrowers. In addition, Oritani has not been able to tilt away from costly borrowings to fund its loan portfolio. While the bank is well-run (efficiency ratio a spectacular 37%), Oritani's reliance on expensive borrowings creates a drag on net interest income, by far its largest earnings contributor. Originally, I was optimistic that management could shift toward deposit funding. Those high hopes have been dashed by the bank's recent quarter results and by management's frank discussion at the KBW Conference (more on that later).
The Dilemma: Too Few Depositors For Too Many Loans
Here's the crux of the funding problem. When most banks have moved to low-cost deposits to fund their loans, Oritani continued to lean heavily on expensive borrowings. Last quarter, Oritani paid a colossal 1.29% rate for its interest-bearing liabilities, due to its oversized dependence on costly borrowings (37%). The borrowings have become a major earnings headwind, turning a strong 4.37% asset yield into a very mundane 3.27% net interest margin. In contrast, other banks made the crucial switch to cheaper deposit funding. For instance, at Parke Bancorp (NASDAQ:PKBK) and Lakeland Bancorp (NASDAQ:LBAI), borrowings account for less than 10% of liabilities; as a result, these banks paid much lower rates (0.86% and 0.36%) to fund their loans.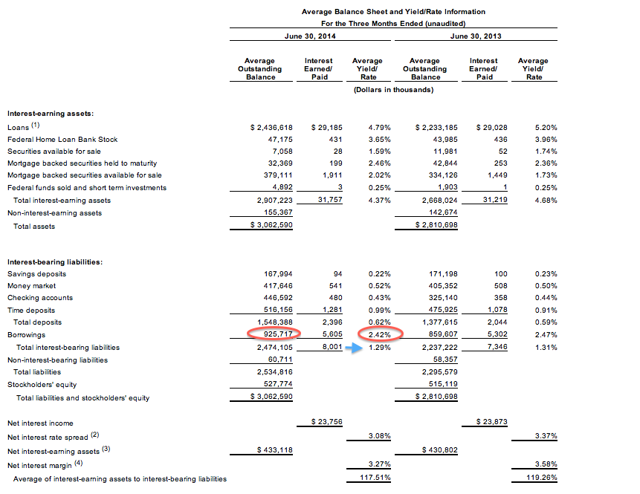 Oritani is very aware of its liability problem, and has been trying to recruit deposits with some success. It boosted deposits by almost a $100 million, or 6.3%, from the previous quarter. Unfortunately, this was a case of one step forward and two back. Even as Oritani added deposits, the bank had to raise its borrowings by 10%. To put this in perspective, a $100 million of new deposits in one quarter took off 1 basis point of liability costs.

The problem: The bank offers some customers attractive deposit rates - but only if they become engaged through direct deposits and online banking. Oritani does not want to pursue deposits for their own sake, opting to reward only high relationship customers. This will not be enough to bridge the gap. Without a new strategy, the bank's deposit base is not sufficient to fund its loans without substantial input from borrowings.
Moreover, the bank's deposit base is too small. While Oritani lends in 4 states, it draws deposits from just 4 New Jersey counties. On average, each of its 26 branches holds an already substantial $60 million of deposits - not leaving too much room for upside. For instance, to increase the bank's deposits by $400 million would require another $15 million in deposits at each branch. That additional 25% in deposits is most unlikely, given Oritani's only mildly promotional deposit plan.
Could An Acquisition Solve Oritani's Problem?
The bank is seeking an acquisition to increase its deposit base. According to management, Oritani has only looked at other banks in its 4-county service area and found no attractive targets. While Oritani is considering expanding its search, a deposit-rich acquisition is not imminent. Further, the bank is a total M&A newbie, having never completed a deal. I would not count on M&A to solve Oritani's funding needs.
At the same time, Oritani faces a tough lending environment. Loan rates are declining as banks compete to win new mortgages. In its KBW conference, management complained that other banks are pricing loans too low. We saw the results of the fierce competition last quarter: Oritani's loan yields dropped 20 basis points sequentially, while liability costs fell only 1 basis point. It will be tough to maintain earnings, even if the bank brings in more loans.
Bottom Line
Caught in a pincer movement between lower loan yields and high borrowing costs, Oritani is going to be hard pressed to maintain earnings. Moreover, the bank has already managed stellar operational efficiency. As a result, management won't be able to wring out costs from its noninterest expenses to boost the bottom line. As far as I can see, the bank needs to make a deposit-rich acquisition - and soon. Even down 8% year-to-date, the financial is not yet cheap, trading at 16X earnings. While Oritani has an appetizing 4.75% dividend, the stock will be hard pressed to deliver much else. Shareholders should be prepared for market underperformance. Hold.
Disclosure: The author has no positions in any stocks mentioned, and no plans to initiate any positions within the next 72 hours. The author wrote this article themselves, and it expresses their own opinions. The author is not receiving compensation for it (other than from Seeking Alpha). The author has no business relationship with any company whose stock is mentioned in this article.
Additional disclosure: The opinions in this document are for informational and educational purposes only and should not be construed as a recommendation to buy or sell the stocks mentioned. Past performance of the companies discussed may not continue and the companies may not achieve the earnings growth as predicted. The information in this document is believed to be accurate, but under no circumstances should a person act upon the information contained within. We do not recommend that anyone act upon any investment information without first consulting an investment advisor as to the suitability of such investments for his specific situation.