Mondelez (NASDAQ:MDLZ) is the world's largest publicly-traded confectioner, with a market cap of $60 billion. The company's closest competitor is Hershey's (NYSE:HSY), which has a market cap of about one third of Mondelez's market cap. Mondelez was spun-off from Kraft (KRFT), after Kraft was spun-off from cigarette giant Philip Morris. Mondelez boasts 9 brands with over $1 billion in annual sales: Cadbury, Cadbury Dairy Milk, Milka Chocolate, Jacob's Coffee, LU, Nabisco, Oreo, Tang, and Trident Gum.
When I last covered Mondelez, the company had announced first-quarter organic revenue growth of 2.8% versus the same quarter a year ago. Mondelez released its second-quarter earnings today. The company managed to grow organic net revenue 1.2% versus the 2nd quarter of 2013, for another quarter of positive growth.
2nd-Quarter Results
Mondelez's management has decided to make the company be the price leader in its industry. Mondelez's products will trade at a higher price than its peers. The second quarter of 2014 shows the impacts of this decision. Volume was down on the quarter, but revenue and operating profits both increased as price increases and efficiency gains offset lower volume.
Mondelez's organic net revenue decreased by over 8% in the Asia Pacific region. The company is rapidly losing ground in China. Australia and New Zealand are also proving difficult markets for Mondelez due to significant competition. The company's revenue was down over 8% in the region despite double-digit growth in India. Mondelez lowered its growth outlook for 2014 from 3% to between 2% and 2.5% in part due to the company's declining Asian revenues.
Source: Mondelez 2nd-Quarter Earnings Release
Mondelez is slowly losing share in many of the markets in which it competes. The company's snack revenue grew 1.7% for the first half of 2014, versus global category growth of 4.5%. The company projects further 'softness', or declines in market share in the 2nd half of 2014.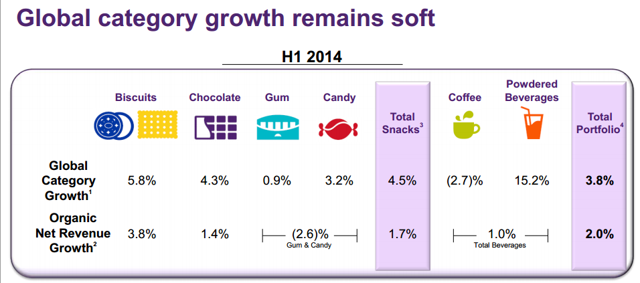 Source: Mondelez 2nd-Quarter Presentation
Future Growth
Mondelez's growth is stagnating due to market share losses. The company's increased prices will only strengthen the brand if they can achieve the perception of higher quality. If Mondelez cannot grow revenues faster than overall market growth in the confectionery, coffee, and snack businesses then the company will continue on its path of stagnant growth.
The company is growing earnings per share more quickly than revenue due to the success of its cost cutting plan. The company's cost cutting and restructuring plan is expected to save Mondelez about $1.5 billion per year starting in 2018. Initial results of the plan have already proven accretive to shareholders in this quarter.
Mondelez's future growth could be driven by combining its coffee division with D.E. Master Blenders. The companies announced their intentions to combine their coffee divisions into a new company in May of 2014. Mondelez would have a 49% stake in the proposed business. The combination of D.E. Master Blenders coffee brands with Mondelez's coffee brands will create the largest pure play coffee business in the world. The combined business could provide a boost for Mondelez shareholders by increasing the company's growth.
Shareholder Return
Mondelez announced a 7% dividend increase for shareholders of the company. In addition, the company has repurchased $0.9 billion shares so far in 2014, and may purchase up to $1.1 billion more. Shareholders of Mondelez can expect to receive a compound annual growth rate of between 5% and 8.5% from share repurchases (1.5% to 3%), dividends (1.5%), and organic revenue growth (2% to 4%).
Comparison to Other Dividend Growth Stocks
Mondelez is a leader in the confectionery industry. How does the company stack up to other investment options outside of the snack industry? Mondelez will be compared to other businesses with a long history of dividend increases using the 5 buy rules from the 8 Rules of Dividend Investing to show how the company compares to other dividend paying investment options.
Consecutive Years of Dividend Increases
Mondelez was spun off from Kraft in 2012. It has increased its dividend each year since the spin off. Further, Kraft company did not reduce its dividend since its spin-off from Altria in 2007. If you trace Mondelez's history through its parent companies, it has a very impressive 39-year record of dividend payments without a reduction.
Why it matters: The Dividend Aristocrats (stocks with 25-plus years of rising dividends) have outperformed the S&P 500 over the last 10 years by 2.88 percentage points per year.
Source: S&P 500 Dividend Aristocrats Factsheet
Dividend Yield
Mondelez currently pays a dividend of 1.56%. The company has the 113th highest dividend yield out of 132 businesses with 25+ years of dividend payments without a reduction.
Why it Matters: Stocks with higher dividend yields have historically outperformed stocks with lower dividend yields. The highest-yielding quintile of stocks outperformed the lowest-yielding quintile by 1.76 percentage points per year from 1928 to 2013.
Source: Dividends: A Review of Historical Returns
Payout Ratio
Mondelez has a payout ratio of about 32%, which is the 31st lowest out of 132 businesses with 25+ years of dividend payments without a reduction.
The company's low payout ratio is puzzling considering its slow growth. Slow growing businesses with large cash flows can better reward shareholders by paying out a higher percentage of their earnings as dividends. Mondelez would be wise to increase its dividend significantly faster than overall business growth for the next several years.
Why it Matters: High-yield, low-payout ratio stocks outperformed high-yield, high-payout ratio stocks by 8.2 percentage points per year from 1990 to 2006.
Source: High Yield, Low Payout by Barefoot, Patel, & Yao, page 3
Long-Term Growth Rate
Mondelez has a long-term revenue per share growth rate of about 4.5%. The company has the 69th highest growth rate out of 132 businesses with 25+ years of dividend payments without a reduction. This growth rate is in line with Mondelez's future expected growth rate taking into account share repurchases.
Why it Matters: Growing dividend stocks have outperformed stocks with unchanging dividends by 2.4 percentage points per year from 1972 to 2013.
Source: Rising Dividends Fund, Oppenheimer, page 4
Long-Term Volatility
Mondelez's low volatility of just 20.15% is the 18th lowest out of 132 businesses with 25+ years of dividend payments without a reduction. The company's low volatility is due to its stable earnings and relatively slow changing industry.
Why it Matters: The S&P Low Volatility index outperformed the S&P 500 by 2 percentage points per year for the 20-year period ending September 30th, 2011.
Source: Low & Slow Could Win the Race
Conclusion
Mondelez sells branded food and drink products in a slow changing industry. It is a slow growing business that generates stable earnings for shareholders. Mondelez is at 39 out of 132 businesses based on the 8 Rules of Dividend Investing. The company's low volatility and stable earnings make it a lower risk investment, but its low dividend yield and slow growth rate do not offer high returns for shareholders going forward. To answer the question in the title, Mondelez is not currently a buy.
Disclosure: The author has no positions in any stocks mentioned, and no plans to initiate any positions within the next 72 hours. The author wrote this article themselves, and it expresses their own opinions. The author is not receiving compensation for it (other than from Seeking Alpha). The author has no business relationship with any company whose stock is mentioned in this article.