Company Overview:
Walgreens (WAG) is one of the largest drug store chains in the US with over 8500 locations (more on this later). The company was originally founded in 1909 in Chicago's South Side and has morphed itself from a popular neighborhood store with a thriving ice cream business into a nationwide powerhouse in the retail drug and grocery business. In FY13, the company filled over 720 million prescriptions in the US, which represents roughly 19% of the domestic retail prescription market. In the past few years, WAG has continued this growth push with M&A, acquiring Stephen L LaFrance Holding in September 2012 (144 stores and $825M in sales), Kerr Drug late last year (76 stores and $381M in sales), and the gorilla in the room, the completed merger with Alliance Boots (over 3000 stores and a much larger international whole sale drug distribution supply business operating in more than 20 countries, serving as a supplier for more than 170,000 pharmacies) announced yesterday (August 6th, 2014) which is the talk of the town now due to the market's reaction to WAG's decision not to use this large British company as a means of inversion. With the Alliance Boots merger WAG has transformed itself from a company with significant domestic influence to an international powerhouse. The move is still subject to shareholder and regulatory approval, but it seems as though management is confident the deal will go through and is looking forward to both the immediate and long-term synergies that Alliance Boots offers.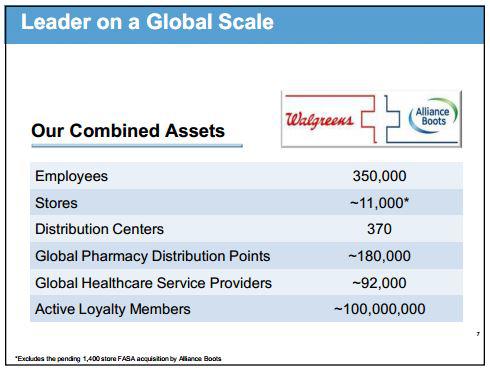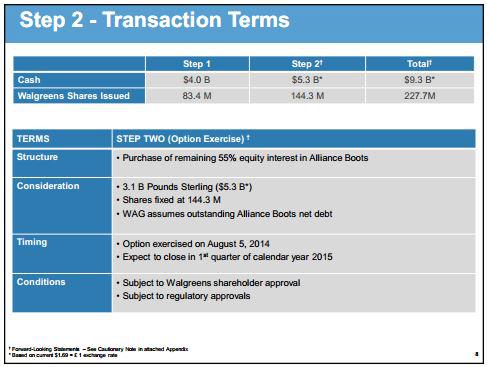 Market Reaction:
Wednesday WAG's stock price took a huge hit, falling from $70/share to $58 on what would otherwise seem to be good news for a long-term shareholder because of the 5th slide in the company's presentation stating that, "The company and Board undertook a balanced, rigorous, and extensive analysis of the inversion question" and that, "The company and Board looked at the full range of issues, including the potential opportunities and benefits, as well as the risks associated with an inversion, and determined that an inversion was not in the long-term best interests of our company and its shareholders." With so much news lately focused on inversions, the US corporate tax system, the president addressing these concerns and the social responsibilities that CEOs should have towards this country and its citizens, and the very large quantities of money that companies can save by seeking tax haven, the 15% pullback in share price is a clear statement being made by the market against WAG's decision. Personally, I'm torn on this issue. I agree that upper management of large US corporations should feel a patriotic sense of social responsibility but I also understand their fiduciary responsibility to shareholders and it is clear that the corporate tax system in this county just doesn't compete with the much more favorable rates that can be found elsewhere.
I think a major difference between Walgreens and many of the other recent inversion stories is the fact that WAG is a retail business with a very large brick and mortar footprint in this country, meaning that they face a larger risk of public protest, picketing and the like, compared to a Medtronic (NYSE:MDT), for instance. I also think that the potential risk of legislation against inversion actions taken by American companies weighed heavy on WAG's management due to the high percentage of their earnings that come from the US government via Medicaid and Medicare.
To put icing on the pullback cake, Moody's announced that WAG's ratings were being put on review in response to the company's $3B buyback and 2016 EPS guidance. In their report, Moody's states, "Moody's estimates that Walgreens 2016 EPS guidance of $4.25 to $4.60 per share is roughly 20% below its previous 2016 operating income target." This 2016 number is lower than previous expectations which had the inversion baked in, but still represents solid Y/Y growth considering that WAG's 2014FY EPS is estimated to come in around $3.35/share.
In their Walgreens-Alliance Boots presentation, WAG warned of short-term troubles in terms of gross profit margin compression, but highlighted what it believes to be long-term catalysts that this deal creates: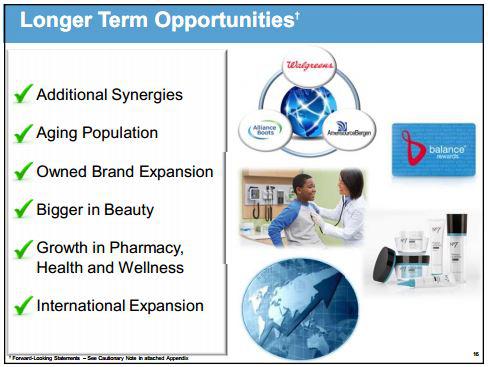 To end the presentation, WAG highlighted its new "global outlook" with a strong closing statement:
"Two Iconic Retail Pharmacy Brands Focused on Creating Shareholder Value"
Source: all graphics taken from Walgreens-Alliance Boots Investor Call Presentation
My Reaction:
Ultimately, I agree with management's forward-looking sentiment and think that Wednesday's pullback was a stark over-reaction. I know this "Two iconic retail pharmacy brands focused on creating shareholder value" is management-speak but I always like to see an American company add international exposure because of the potential growth synergies that can be found in other markets. This, combined with the aging American population with high expected healthcare costs puts WAG into a nice position moving forward, even without an inversion that better protects both domestic and foreign profits, into the foreseeable future. I bought the stock this afternoon at $58.94/share and would be happy to hold for the long term. This purchase was ½ of a full position and I will continue to monitor the stock and the pullback with a mind to buy more if the stock continues to fall into the low 50s. WAG is known as a high quality dividend growth stock, boasting a 5-year DGR of 23.46%. The stock currently yields 2.28% with a 32% payout ratio. I don't expect management to continue its recent streak of 20+% dividend increases as the payout ratio grows higher, but I do think that WAG has the potential to continue to grow its payout in the 10% range annually for years to come. Today the company announced a 7.1% increase to $0.3375/share quarterly in conjunction to the $3B buyback that Moody's is investigating. It should be noted that because of the strength of the brand and the aforementioned aging population demographic in this country serving as a revenue growth driver, WAG has demanded a high valuation premium for some time now trading with an elevated P/E compared to many other DGI stocks with similar yields. Even with a 15% pullback, the stock trades at 23x ttm earnings (17.6x projected forward), which is more than I'd typically like to pay. That being said, WAG's current valuation falls significantly below its historical premium and now trades in line with its major competitor, CVS Caremark Corp (NYSE:CVS), who doesn't have the international growth prospects that WAG has gained through the Alliance Boots merger.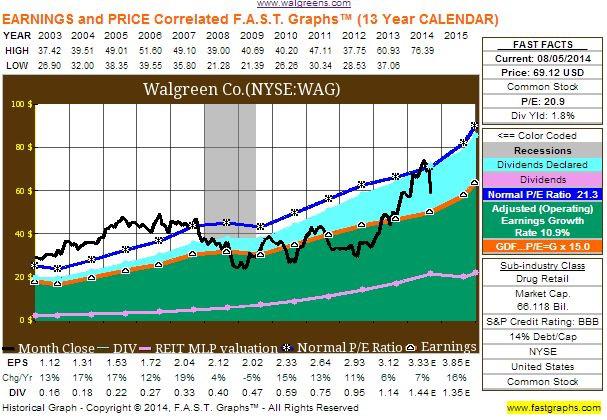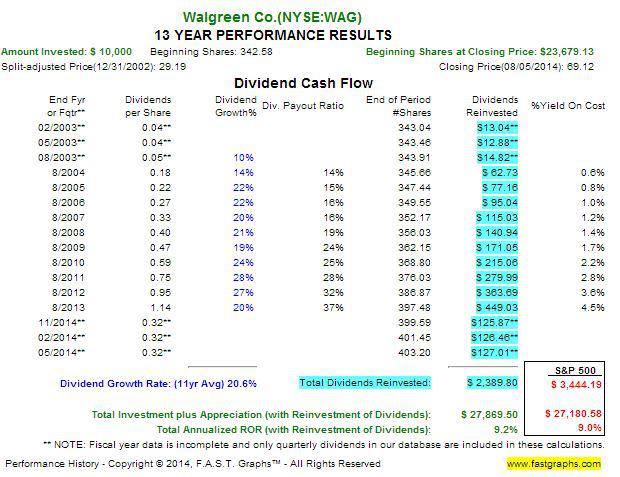 Disclosure: The author is long WAG. The author wrote this article themselves, and it expresses their own opinions. The author is not receiving compensation for it (other than from Seeking Alpha). The author has no business relationship with any company whose stock is mentioned in this article.