In my recent article about Cheniere Energy (NYSEMKT:LNG), I touched on the Sabine project's midsteam infrastructure and the long-term contracts that have nearly $60 B in revenues locking in over the next 20 years. Perhaps appropriately, a commenter mentioned CEO Charif Souki's compensation issue: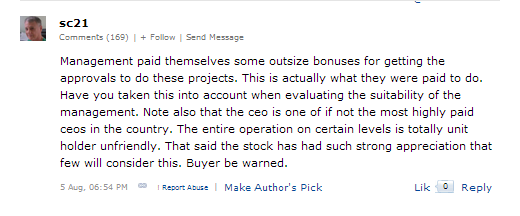 "Buyer be warned."?
I did some digging and found CEO Charif Souki was indeed the highest paid CEO in 2013, where he was awarded a $142 M "pay package". In fact, even after a recent 30,000 share sale worth $2,122,500.00, he still owns 6,210,445 shares of the company's stock, valued at approximately $439,388,984. Obviously this is much higher than the CEO's of comparable companies, and suprisingly about 5x more than the CEO's of the conglomerate giants Chevron (NYSE:CVX) and Exxon (NYSE:XOM).
But are these comparisons relative? Perhaps it's better to evaluate stock performance and shareholder value creation, not value maintenance. Let's go back to 6 years ago to August 2008, the bottom of the market. Since then, shares in LNG are up nearly 2500%, while CVX is up about 50%. and XOM is up about 25%.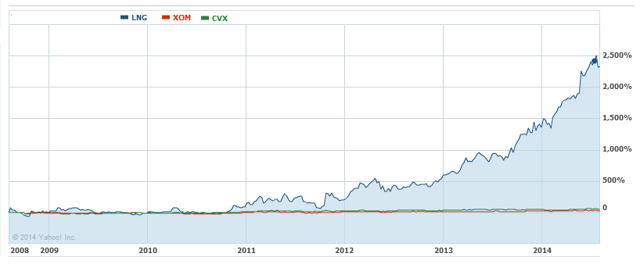 Does this amazing performance make me feel better? I admit I'm still jealous of his wealth, but we must agree the angry commenter failed to mention shares of LNG have done very well compared to most other companies during this period under Souki's watch.
Another consideration here is Mr. Souki CO-founded Cheniere, and has been there since 2002 as CEO. It's not as if he entered the baseball game in the bottom of the 9th as the closing pitcher with a five run lead and booked the easy win. Under Souki's watch LNG has secured a total of $60B in revenues for Sabine over the next 20 years.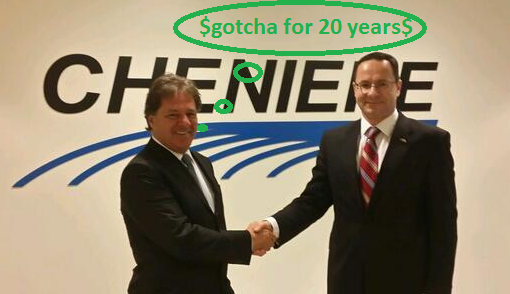 Not to get philosophical, but how do you compensate someone for that much revenue creation? Personally, I used to be in construction sales, where I was compensated with 10% of the sale price of a contract. By this same incentive math, Souki would be paid $6 Billion! Investors must come to terms with the board's incentive package, which correlated stock awards to project completion milestones. It's a fact that if Souki hadn't executed on these deals, he wouldn't have gotten paid.
Souki has gotten very rich off his work at Cheniere, yes. Are there other people in the world with a higher IQ? Yes. Could another CEO have done a similar bang up job? Yes. However, stepping back and considering the outstanding job he has done since he began as CEO, I feel he has earned his pay, unlike many CEO's in the corporate world earning millions just for entering in the 9th inning as a closer, or even better: as they destroy shareholder value!
To summarize the whole picture: LNG shares have increased >2,000% over the past 6 years, the first LNG export facility (sabine) has been approved and is due to open in the US, and long-term contracts totaling $60 B in revenues are locked in over the next 20 years. I say investors should be kissing Souki's feet, not putting a bullseye on his back.
Disclosure: The author has no positions in any stocks mentioned, and no plans to initiate any positions within the next 72 hours. The author wrote this article themselves, and it expresses their own opinions. The author is not receiving compensation for it (other than from Seeking Alpha). The author has no business relationship with any company whose stock is mentioned in this article.