One of the best turnaround stories in 2010-2011 is that of Brigus Gold (BRD).
There is a storied history behind this company in which Linear Gold (OTC:LGCFF) absorbed Apollo Gold (AGT-OLD) through equity financing. This was a win-win for both companies, as Apollo had a less-than-mediocre balance sheet and had an enormous hedge book relative to the size of the company. Linear, on the other hand, was able to acquire some high quality assets relatively cheaply, enhancing its net asset value, immediate production, long term growth and great upside potential. Brigus has been very aggressive in both strengthening its balance sheet and eliminating its hedge book -- which will be completely eliminated by December.
The combined company had a little over $70 million in debt as well as convertible debentures:
August 2010: Repaid $4.7 million to retire convertible debentures.

October & November 2010: Repaid $34.7 million.

$10 million of debt repayment of $10 million via private placement.

$8 million of debt repaid via unwound currency hedge.

$12 million debt repayment upon closing of Apollo and Linear merger.

Approximately $6-7 million left by December 2010.

Hedge book will be gone by December 2010 through raising nearly $60 million through the sale of a 12% royalty for $56.3 million to Sandstorm Resources (SNDXF.PK) on the Black Fox Mine and its extension, beginning in January 2011.

Brigus has the option to reduce the 12% royalty to 6% by Jan 1, 2013 by paying approximately $37 million to Sandstorm.
Brigus Gold is a junior gold producer with projects in Ontario, Saskatchewan, Mexico and the Dominican Republic. The Company's primary producing property is the Black Fox project, located near Matheson in the Timmins Mining District of Ontario. Though the hedge book cost it a 12% royalty, I see it as a blessing for investors to buy a company with a very attractive valuation (more on that later), as it has not participated in the bull market in the mining industry.
The Black Fox Mine: Located in the Timmins District of Matheson, Ontario, adjacent to the Grey Fox- Pike River Property. These properties in aggregate have vast potential to grow total resources, reserves and production over the next five years. In total, this operation had the potential to produce up to 250,000+ ounces annually. The Black Fox Mine began production in 2009, initially producing 52,000 ounces, increasing thereafter. Brigus began underground operations in Q3 of this year. It also plans to initiate a 24km Black Fox Mill/Stock Mine Property exploration program in the coming year. Black Fox and the adjacent properties are the flagship operations with increasing grades (currently over 4g/t, with 1.3 million ounces of reserves having an average grade of 6.4 g/t.
Goldfields: Advanced stage project set to commence commercial production in 2013. It is located in Uranium City, Saskatchewan, which is host to the Box and Athora Projects. The Box mine will produce an average of 70-75,000 ounces for 14 years at cash costs of $420/oz. and an expected LOM of 14 years. The Athora project has 344.5,000 ounces of reserves grading 1.0g/t, and the Box Mine has reserves of 686,000 ounces grading 1.4g/t.
Ixhuatan Project: This is the company's only advanced stage exploration project, not set to commence production for several more years. To date, Ixhuatan has total resources of approximately 900,000 ounces of M&I resources grading 3g/t.
Early Exploration Projects: Huizopa Project in Mexico and one in the Dominican Republic.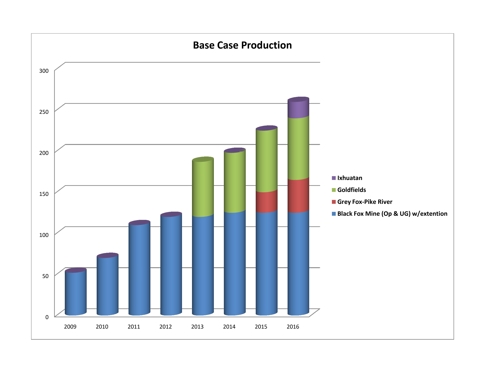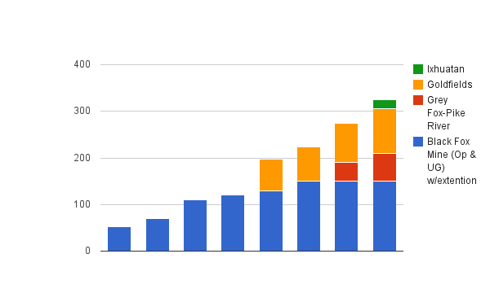 The above charts refer to both the base case production scenario as well as the potential production. The potential production comes into play if the company either finds positive results from the Black-Fox mine or increases the mill throughput. The same applies to Goldfields with regards to a bigger mill, which will increase production and reduce the mine, increasing the internal return of return.
Much of this depends on how much OCF, which is a function of both production and the price of gold, it can generate. If you believe (as I do) that gold will see $2,000 by 2013-2015, then the potential production is a more likely scenario. Another scenario would involve exploring either Huizopa or more drilling at Ixhuatan, then selling those assets off to fund further exploration at Black Fox, Grey Fox-Pike River and Goldfields and/or increasing the size of the mill at one those properties.

Valuation: Done using $1,300 Gold, 10% required Rate of Return and fully diluted shares.
MC/2P = $161.69/oz. (How much you are paying for each ounce of proven/probable reserves) and applying to value to M&I resources. The average for the industry is $339/oz., meaning fair value is $3.35/share.
MC/2011 = $3,476.36/oz. (How much you are paying for each ounce of the current year production.) Industry average is $7,073. Fair value would then be $3.26/share.
MC/OCF = $4.08x. This is the gross revenue multiple the company is currently trading for. Industry average is 9.9, meaning fair value is $3.87/share.
Discounted Cash Flow: $4.01/share.

Blended Valuation: $3.62/oz.
Margin of Safety: 123 percent.
In short, Brigus Gold is a great opportunity to take advantage of, due to the poor investor sentiment as (up until this December) all production has been hedged under $900/oz. It also provides excellent exploration potential and a great growth profile. Cash Costs will decline as well, as the underground mine ramps up production from approximately $520/oz. in 2010 to $470/oz. in the coming year.
I have been long Brigus for the last 25 cents, being a bit hesitant to put on a full position until I saw either some insider buying, hedge fund/mutual fund buying, or one of the great investors of our time buying (by looking at 13-F filings). When billionaire investor Eric Sprott took an 11% stake in the company, my initial instinct was that Brigus was grossly undervalued.

Disclosure: Long BRD, SNDXF.PK.