Back in April, I wrote on Seeking Alpha that when "the weather warms...the extent of the improvement will be exaggerated, critical analysis will be largely forgotten and the usual shouting of the bulls will resume that a month or two's worth of minor rebound this time is the real thing." At the time, I thought that the warm weather improvement would come earlier, but April was seasonally cool and things didn't really start to get going until May.
It has come true. I would also add here and now in early August that for some time now it has looked to me as if we were in a late stage of the warm-weather rebound. It is probably ending now. Yes, just as there was a negative weather effect in the first quarter that people still haven't stopped talking about, there is also a rebound effect that few are talking about, instead calling it the real thing (again).
Some serious misinformation is going around that I want to call your attention to, along with putting some of the latest real data - not the stuff made up on the spur of the moment by over-excited bulls - into context. It could be important for two reasons, the first being the current corrective posture doesn't yet look like anything truly grave to me. No, I don't believe the market's window of vulnerability has passed yet, and Mr. Putin could certainly help us complete the road to the ten percent-correction neighborhood. The air is so thick with blasé shrugs that it will all pass quickly and easily that it makes me want to run out to the back yard and start digging a fallout shelter, on the theory that the gods could not possibly let so much smug complacency go unpunished (though there is always the chance that the gods could be sneaking some long index calls).
We could still lose another percent or two, but something big is going to be needed to get us to ten percent-land. Russian tanks invading the Ukraine would probably do it, but I make no predictions there.
The reasons that I don't believe that the correction is likely to get any traction into something bigger are two-fold. The first is that although the warm-weather rebound effect is probably ending, it should still show up here and there in the data for a wee bit longer. The second is that while August and September can be tricky months for the markets, I don't see the conditions as being right for a serious penetration of the S&P's 200-day exponential moving average (NYSEMKT:EMA). I can see a test of the 150-day EMA, currently about 1887, and even one of the 200-day EMA (1857). The latter would take us into the 7% correction zone, and without Russian tanks the lure of those two support lines would probably still be too much for traders in the current environment.
The second is that the exaggeration going around now increases the risk of something rather more sinister happening in the fall. Let me address the number one wish-fact going around, namely that earnings are growing 10% in the second quarter.
This rumor seems to have gotten started on television, and there are now an awful lot of people quoting it as gospel. According to the latest FactSet for July 25th, earnings growth for the second quarter is tracking at 7.5%. The next day, Barron's - which also has a Friday deadline - quoted FactSet at saying earnings were growing 10%. It's not what the people there wrote, but why let that spoil a good story? All week long, I have been hearing "5% revenue growth" and "10% earnings growth" for the quarter, but according to FactSet, it's 4.1% for revenue and 7.5% for earnings. In the meantime, downward guidance for the third quarter is running above average.
Today one reads that the lowered estimates for June imports are going to add to second-quarter GDP. There are two ways for trade data to add to GDP, and the clearly better way is for growth in exports. Lower spending on imports is the evidently worse way, since it usually reflects weaker domestic spending. The June revision added a token amount to exports and took a big chunk out of import sales.
This led to at least one tracking estimate for third-quarter GDP being upgraded to 3.2%, retransformed a moment later by CNBC into 4%-plus to a startled Atlanta Fed president Dennis Lockhart, who felt obliged to correct the view. After you watch that, here is a view of non-petroleum import goods: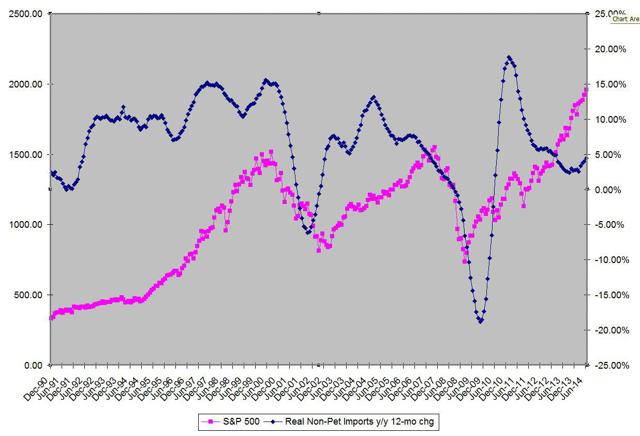 source: US Census Dept, Avalon Asset Mgmt Co
It's more than a little ominous to see such a divergence between stock market strength and an indicator of domestic consumption. Beyond that, we also see exactly what should have been expected - a rebound effect in spending. Whether or not it continues is as yet unknown, but the downward guidance ratio for the third quarter is a clue. Retail sales for July, due out next week, should offer another clue - the weekly chain store sales data was inconclusive, with one series suggesting strength and the other a decline.
Another series coming in for some heavy promotion was the latest ISM non-manufacturing reading. At 58.7, it was the highest reading since 2005 (avoid those who wrote "grew the fastest" or "strongest," as they clearly do not understand diffusion surveys like the ISM series).
Don't jump to conclusions. The original August 2013 reading for this index was 58.6, later revised down to 57.9. That didn't translate into any extra momentum. Moreover, the ISM surveys are not great leading indicators. The older "business activity" component of the non-manufacturing survey, for example, printed up a stellar reading of 60.1 in June 2007 - six months before the recession began. Like the inventory cycle, the pattern of this survey in recent years has been a few months of good numbers followed by a few months of modest ones.
The real damage from these impressions could come in the fall. Imagine, for example, the effect if the inventory bump from the second quarter is neutral-to-negative for the second quarter (as Lockhart suggested was possible), and housing continues its present course. Then we could see a month in which the Fed announces it is done with buying bonds, followed by a first estimate of third-quarter GDP at 3% or less. That would mean a 2014 year of 2% or less GDP growth was virtually in the bag. Third quarter earnings could revert to 5% growth or less without any real change in business conditions beyond the rebound effect disappearing, and we could be looking at a market sitting on both all-time highs and the highest valuations since 2000.
So I wouldn't rush in to buy the current dip early - guessing policy decisions (in this case, Putin's) is notoriously easy to get wrong, and it's a weak time still on the stock market calendar. Neither do I yet see any signs that the market is about to do more than repeat the anxiety of the early first-quarter selling. If the market did fall ten percent, I'd probably be a buyer myself - probably another reason that it won't (and another reason you should all be worried). The most important thing to realize is that the economy is still not as good as the hype - just like the stock market.
Disclosure: The author has no positions in any stocks mentioned, and no plans to initiate any positions within the next 72 hours. The author wrote this article themselves, and it expresses their own opinions. The author is not receiving compensation for it (other than from Seeking Alpha). The author has no business relationship with any company whose stock is mentioned in this article.