In my previous article on Arcos Dorados (NYSE:ARCO), the world's largest McDonald's (NYSE:MCD) franchisee, I argued that in spite of favorable long-term indicators and good operational performance, currency depreciation and political risks in Latin America undermine ARCO's case for being a good investment. At the time of writing, ARCO was trading in the $9-$9.5 range, and I was surprised that my valuation indicated that there was downside to these prices. However, the financial results over the past few months appear to have borne out my thesis, at least in the short term. The chart below shows ARCO's performance relative to the market since my article: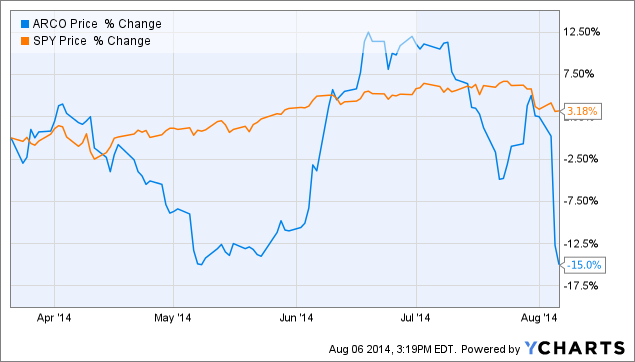 As you can see, ARCO's stock has had quite a ride over the past six months. However, following the second-quarter results, it is trailing the S&P 500 by 18 points at the time of writing.
Business performance
In Q2, ARCO realized revenues of $917.9M, down 7.2% YoY. Excluding currency impacts and the Venezuela business, revenues grew 9.6%, with comparable store sales growing 7.8%. This dichotomy between underlying business performance and reported USD results is one of the key risks I had highlighted in my prior article, and unfortunately this seems to be ongoing. Of course, this could work the other way as well; however, the recent events in Argentina and Venezuela do not lead confidence to that eventuality. In Q2-2014, ARCO grew revenues organically by $115.5M, and this was entirely wiped out (and more) by negative currency translation effects of $186.8M.
Profitability also took a significant hit in the quarter, with adjusted EBITDA declining 37.8% (-14.8% on an organic basis). This was again primarily driven by the Venezuela business - excluding that impact, adjusted EBITDA shrank 1.7% on a reported basis and was down only 0.1% on an organic basis.
Performance by region:
The Brazil division is the largest at ARCO, and saw organic revenue growth of 7.7% (reported revenue was flat YoY, due to the depreciation of the real). This level of top line performance is pretty disappointing for a quarter in which I would have expected the World Cup to drive tourist traffic and revenue. Restaurant units grew 10.5% YoY, indicating the growth potential of the market. Adjusted EBITDA grew 5.1% on a reported and 8.7% on an organic basis.
The NOLAD division saw a 4.8% decline in reported revenue (-0.2% organic), but a 22.1% growth in reported adjusted EBITDA (28.1% organic). Restaurant growth was fairly low at only 1.4%.
The SLAD division saw organic revenue growth of 21.1% but reported decline of 13.5%, driven by the depreciation of the Argentine peso. Comps increased by an impressive 19.1%. Adjusted EBITDA grew 8.5% organically but declined 25.5% on an as-reported basis. The restaurant base grew 2.4%.
The Caribbean division saw 15.8% organic revenue growth but a decline of 17.9% in reported growth, driven by the devaluation of the Venezuelan operation. This also drove the adjusted EBITDA of -$10.2M. Restaurant growth was 2.8%.
The company has been slowing down the rate of restaurant openings, with only 6 restaurants (net) opened in Q2 of 2014.
Cash and equivalents were $101M at the end of the second quarter, with net debt of $790.3M.
Guidance revision
Due to the lackluster performance in the first half of 2014 and citing macroeconomic concerns, ARCO has called down its revenue numbers from prior expectations. It is now expecting 9-11% organic revenue growth (from 13-16%), and only 5-8% EBITDA growth (down from 15-18%). Accordingly, it decided to reduce Capex by $20M and planned restaurant openings from 90 to 84.
Valuation
I made several updates to my valuation model for ARCO. I moderated the store growth to 3% from 2014-2020. After FY14, I am assuming reported comp growth of 5%. I believe this is a reasonable balance between the risk of currency depreciation and the upside of organic revenue growth. I am also assuming that operating margins recover from breakeven in FY14 to 6% in FY15 and expand to around 8% by FY17. McDonald's operates its company-owned restaurants at margins of 18%, so there is definite upside here for ARCO if it can get more efficient.
Using a discount rate of 12% and terminal value growth rate of 3%, I get an FMV of $6.7/share for ARCO which is 21% below the current valuation of $8.5. This suggests that ARCO is overvalued even under assumptions of increasing margins, healthy comps and limited currency fluctuations. The valuation is of course highly sensitive to the operating margin - should ARCO succeed in reaching and sustaining double-digit operating margins by 2020, the stock could be worth $9/share. I consider this highly unlikely however, in light of recent performance. The complete valuation model is attached below.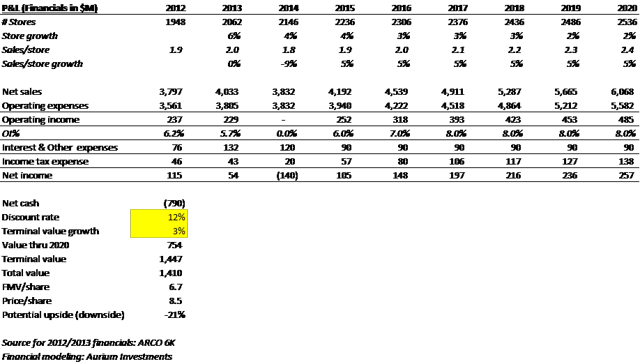 Summary
ARCO's performance has been buffeted in the recent past by factors beyond its control. However, if past history is any guide, investing in Latin America region will always carry significant political and currency risks. Even something as simple as running McDonald's restaurants is fraught with danger in this region. ARCO's increasing debt load and deteriorating business performance are more reasons to stay away from this stock, and even assumptions of improving operating margins do not justify the current valuation. I would recommend staying away.
Disclosure: The author has no positions in any stocks mentioned, but may initiate a short position in ARCO over the next 72 hours. The author wrote this article themselves, and it expresses their own opinions. The author is not receiving compensation for it (other than from Seeking Alpha). The author has no business relationship with any company whose stock is mentioned in this article.
Additional disclosure: I am short ARCO $10 calls.