Priceline (PCLN) announced today that it has expanded its existing relationship with Ctrip (NASDAQ:CTRP) and agreed to invest $500m into CTRP through convertible bond. PCLN can acquire CTRP shares in the open market and may hold up to 10% of CTRP's outstanding shares when combined with the convertible bond. In addition, PCLN can appoint a board member in CTRP.
CTRP and PCLN have a partnership agreement dating back to 2012 but PCLN did not take a minority stake in CTRP until now. In my view, this agreement is a win-win deal for both PCLN and CTRP in that each side can leverage off the other's travel inventories thereby greatly expanding their product offerings to the customers. In addition, PCLN's purchase of a stake in CTRP could point to more investments in China's OTA space, and those that are leaders of specialized verticals could become attractive investment or takeout target. Reiterating my bullish view on Tuniu (NASDAQ:TOUR) as the company is a leader in China's outbound packaged tours. (Please see: Tuniu: Your Vacation Package Is Ready)
The best have gotten better
PCLN and CTRP are leaders in their respective market. PCLN's market positioning is strong in North America and Europe but lack significant traction in China. On the other hand, CTRP is the clear leader in China, but lack the necessary scale to expand globally. As such, I see PCLN and CTRP's expanded relationship to result in natural synergy as each side cross promote each other's travel product inventories.
As for PCLN, CTRP's inventory of air ticketing (the largest in China) and hotel booking (2nd largest in China) allows foreign tourists visiting China to find more affordable local Chinese airlines and hotels. Under this deal, PCLN can have access to over 100k of CTRP's hotel inventories as well as ticketing services for both airlines and destinations. The expanded inventory gives foreign tourists more travel choices, which enhances PCLN's platform. For example, a search of China's budget hotel, Hanting (NASDAQ:HTHT), yielded close to zero result on Priceline. However, under this partnership and assume favorable pricing, foreign tourists in China could book a room at Hanting for as little as $50/night in large cities such as Beijing or Shanghai.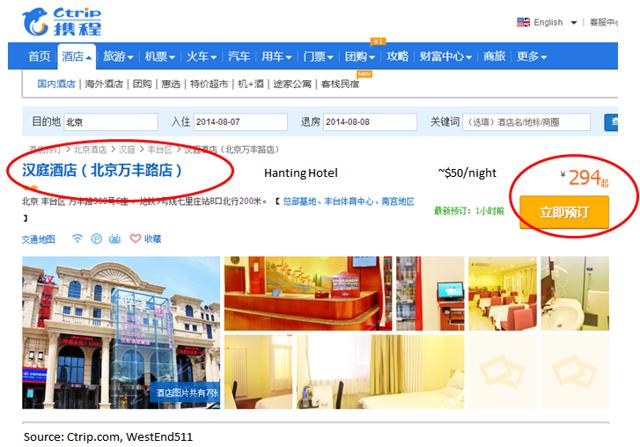 From CTRP's perspective, the key component of the deal is to gain access to PCLN's global inventory to expand CTRP's overseas offering. The other key factor is by taking on a board member appointed by PCLN to gain the necessary expertise so CTRP can eventually become a true global OTA player. Under the deal, CTRP gains access to PCLN's global portfolio of over 500K accommodations outside of China, PCLN's car rental services and restaurant booking via OpenTable (NASDAQ:OPEN). This creates a comprehensive travel package for mainland tourism visiting overseas destinations in which they can book their air tickets, arrange a hotel from PCLN's overseas inventory, and book a car rental and various restaurants at the destination. The addition of PCLN's overseas inventory could greatly enhance CTRP customers' overall experience and allow CTRP to take market share away from rival eLong (NASDAQ:LONG), partially owned by Expedia (NASDAQ:EXPE), given the larger scale of PCLN-CTRP partnership.
More M&A ahead?
Shares of competing OTA players such as LONG and TOUR could see some selling pressure due to competitive concerns from the PCLN-CTRP partnership and that TOUR's M&A value is diminishing as CTRP is able to expand its overseas inventory via its partnership with PCLN.
On the contrary, I believe that near-term selling pressure on TOUR presents an even more attractive buying opportunity in that this deal validates my view that M&A is well and alive in the space. TOUR could become attractive to Baidu (NASDAQ:BIDU) or Alibaba, both of which are expanding beyond their core businesses to capitalize on rising usage of mobile internet, and online travel is a critical part of that trend.
In conclusion, I see the deal beneficial to both PCLN and CTRP in that cross-selling can greatly enhance their product offerings and compete effectively against rivals. However, that is not to say that the smaller players are under threat. Instead, I believe that the smaller players are becoming even more attractive as the untraditional OTA players (i.e. BIDU and Alibaba) begin to consolidate the industry via M&A.
Disclosure: The author has no positions in any stocks mentioned, and no plans to initiate any positions within the next 72 hours. The author wrote this article themselves, and it expresses their own opinions. The author is not receiving compensation for it (other than from Seeking Alpha). The author has no business relationship with any company whose stock is mentioned in this article.