When one thinks about high margin businesses, one rarely thinks of technology companies, and even less so the Voice over IP market. But today we will look at Israel-based magicJack VocalTec Ltd (NASDAQ:CALL), a company which has managed to carve out a nice income for itself by offering VoIP as an alternative to landline phone service.
magicJack: The broadband alternative to landline phones
The first versions of the magicJack device were offered to the public in 2007. Plugged into a personal computer, the small device offered telephone service through existing broadband connections at a small fraction of the cost of a traditional landline.
Over the years, magicJack VocalTec has grown quite a bit, and has broadened its array of products to include stand-alone (no PC required) offerings and applications for mobile phones. Just like the devices, the app allows unlimited VoIP-based calling to the United States and Canada, and low-cost calling by the minute to other countries.
In addition to growing the business, they've changed how they sell their product, shedding their direct sales beginnings. 70% of its device sales are now going through traditional retail channels as of FY2013. Their magicJack products are now ubiquitous across major retailers, from Wal-Mart (NYSE:WMT) to Best Buy (NYSE:BBY).
It may sound like a dangerous shift, but magicJack VocalTec has managed to avoid relying too much on any one retailer, and no single retail chain accounts for any more than 10% of device sales.
Access fees and staggering margins
Starting out, magicJack's revenues were almost entirely generated by device sales. As the company matures, it is changing. They're now to the point where in FY2013, access renewal fees actually surpassed sales for the first time. Customers who buy a magicJack device get a free period of service with the purchase, but then must renew. As the number of devices in use grows, the access renewal stream will grow with it.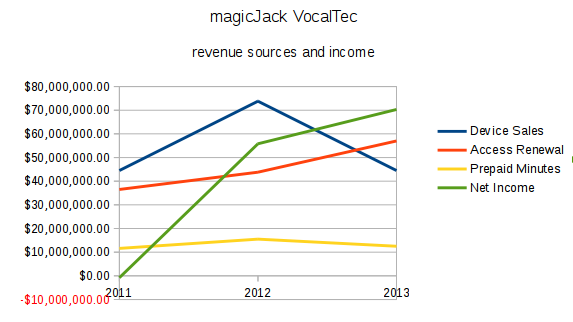 Though the access fees are trivial compared to the cost of a landline phone, the extremely low cost of offering VoIP services means this is a very high margin industry. As unit costs of computer power continue to drop, the cost of providing those services will continue to drop, and margins will grow.
In 2013, magicJack VocalTec had $143 million in net revenues, and an operating income of $47 million. That's a 32.8% operating margin. The net income was even better, at $70.3 million, giving them a 49.1% profit margin.
The Q1 miss: Rising advertising costs
Obviously those margins would usually command quite a premium, and until recently, they did. Then, in Q1 of 2014, magicJack VocalTec missed estimates by $0.19 and the stock dropped like a rock. Cuts in earnings estimates for FY2014 that followed sent it down further.
What happened? Basically nothing on the revenue side, as they were roughly flat with Q1 of FY2013, except for a continuation of the trend toward access being higher percentage of overall revenues. Rather, the $0.19 miss, which adds up to $3.3 million, was chiefly attributable to increased research and development costs and a $1.48 million increase in advertising expenses in the lead-up to the launch of the magicJackGO, their latest VoIP device.
Conclusion
Q2 earnings are expected next week, and another miss can't be ruled out, as the magicJackGO didn't really start making it into the retail channels until after this period. The upcoming EPS won't tell the whole story, however.
Investors instead should be watching for the continued revenue streams that underpin the company, along with any guidance the company may offer in their conference call on how magicJackGO is selling in early days. Temporary increases in research and development, along with advertising, are simply part of the new product launch.
Meanwhile, magicJack VocalTec doesn't pay dividends, but has shown a commitment to returning earnings to shareholders with stock buybacks. The number of outstanding shares peaked around 21.1 million in 2011, and has steadily declined to only 17.8 million today. For long-term investors, continued buybacks can be even more tax advantageous than dividends. At these levels, it's tough to deny they're making the prudent move to increase shareholder value with more buybacks.
The Q1 miss has created a buying opportunity, and even after downward revisions the FY2014 earnings estimates are still floating around $1.35-$1.45, giving them a PE ratio of 10. With the mobile business growing, and magicJackGO yet to be fully realized in the bottom line, that's a bargain basement entry price.
Disclosure: The author has no positions in any stocks mentioned, and no plans to initiate any positions within the next 72 hours. The author wrote this article themselves, and it expresses their own opinions. The author is not receiving compensation for it (other than from Seeking Alpha). The author has no business relationship with any company whose stock is mentioned in this article.