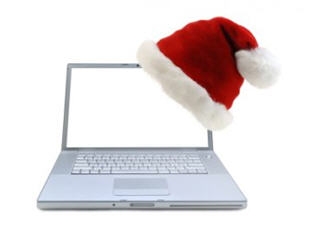 Black Friday 2010 may go down as the year in which retailers finally jumped the shark in unending quest to convince deal-seekers to spend their precious shopping dollars on a myriad of "doorbusters". Online shopping on Thanksgiving Day of course is nothing new, but several retailers, (Toysrus for example) this year opened their physical doors on the heretofore sacrosanct day of turkey itself! Is nothing holy?
Judging at least from an online perspective, it appears that many retailers, particularly the largest, are in for a happy holiday season. Facing continued economic uncertainly, deal seekers have continued the trend of concentrating their online purchases on the largest online retailers which offer a wide assortment of product categories. Amazon.com, which averages 70M visitors a month (or 1 in 3 people online in the U.S.) to just its parent website is off to a blistering holiday season. On Black Friday 1 in 5 online retail purchases (excluding auction sites such as ebay.com) were made on Amazon.com, while #2 walmart.com captured 12.9%. In total, the top 10 online retailers accounted for 56.7% of all online retail transactions on Black Friday 2010 (up from 50.2% in 2009)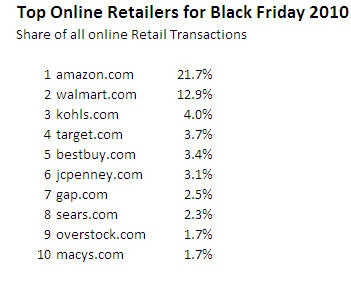 Across the various retailer categories, visits to Mass Merchant & Club Stores as well as Electronics Retailers accounted for half of all online shopping visits as popular electronics and gadgets once again were popular among shoppers. Department stores captured 10% of all online shopping visits.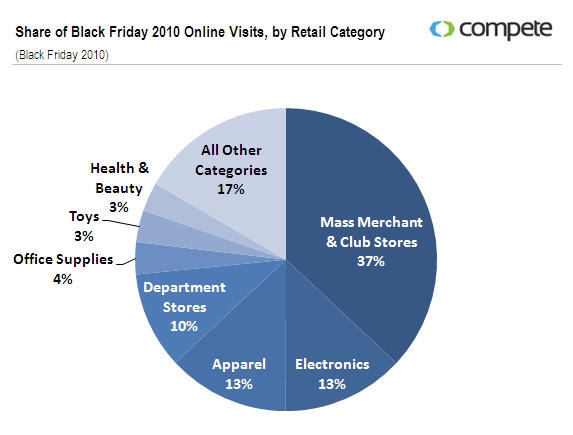 Turning back to actual online purchases, consumers demonstrated with their wallets that one-stop shopping and low prices are key considerations. Mass Merchants captured nearly half (46%) of all online retail purchases on Black Friday (measured by share of transactions, rather than sales, and excluding auction sites). This surge in share of purchases, relative to their share of online visits, came at the expense of many smaller retail categories and Electronics in particular. Shoppers appear to have flocked to the electronics retailers to check deals and prices, before either going in-store to the same merchants or online to mass merchants to make their purchases.
Online Apparel retailers fared well, capturing actually a greater percentage of online transactions than their relative share of online visits. This is due in part to fact that their merchandise is unavailable at mass merchant websites.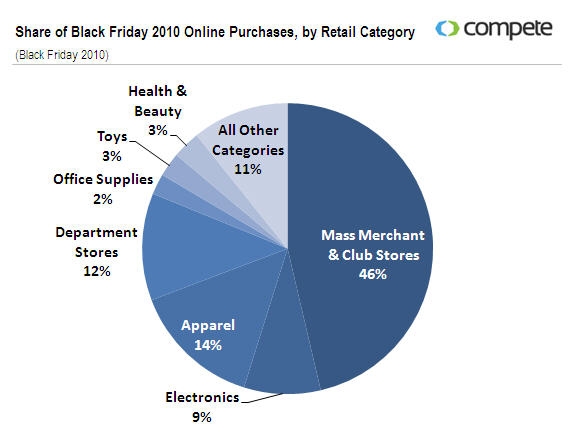 The 2010 Holiday shopping season, at least for the largest online players, may go a long way to erasing the bitter memories of the last couple years as consumers.