Honeywell International (NYSE:HON) is one of the best among diversified industrials. With the healing of the global economy, the company started to post big profits year after year with its innovative products, technologies and services. Furthermore, its smart business strategies and efficient management is allowing it to turn single digit revenue growth into higher double digit growth in earnings. In the past three years, Honeywell has generated 24% growth in earnings on a 6% growth in revenues, which represents very efficient management and smart deployment of investments in higher margin areas. All this left the company in very strong financial condition. Its cash generating potential is also strong enough to support potential investments and dividends. The table below highlights Honeywell's eye-catching performance in the past three years.
| | | | |
| --- | --- | --- | --- |
| | 2013 | 2012 | 2011 |
| Revenue | $39,055 | $37,665 | $36,529 |
| Net Income | $3,924 | $2,926 | $2,067 |
| Earnings Per Share | $4.92 | $3.69 | $2.61 |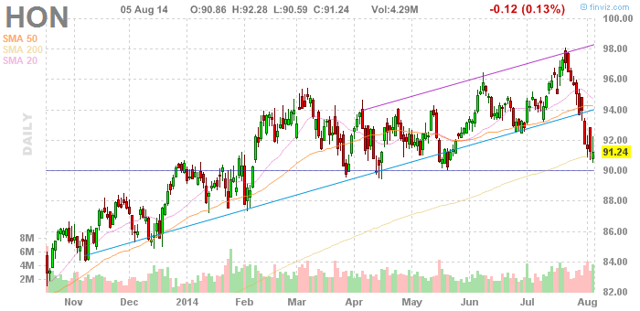 Investors are admiring Honeywell's business strategy, product innovations, and ability to convert sales into big profits. Its stock is consistently on surge over the last few years, with few shortfalls, presenting opportunities for interested investors. Honeywell is again offering an attractive opportunity for defensive investors to pick its stock on the market correction. I believe, and all indicators show, that Honeywell is going to make big profits in the coming days. At the moment, its valuations are moving in line with the industry average, but higher forward PE indicates that Honeywell has strong upside potential. Further, the outlook for the company's financial forecast is very attractive; which also signifies that Honeywell has better days ahead.
Honeywell is a diversified manufacturing and technology leader offering aerospace products and services; control technologies for homes, buildings and industry; turbochargers; and performance materials. The company is operating in four business segments: Aerospace, Automation and Control Solutions, Performance Materials and Technologies, and Transportation systems. The company looks to amalgamate its Transportation and Aerospace segments in order to better take advantage of the technology and engineering similarities and the shared operating practices with two businesses. Honeywell's management is always seeking to maintain its portfolio, which continues to align with market demand.
At the end of the recent quarter, all four of its segments had generated strong organic and inorganic growth except aerospace segments, which remain flat compared to the past year's quarter. On a consolidated basis, Honeywell has generated 6% growth in sales, including 3% organic growth and earnings per share increased by 8% on a reported basis. Further, the strong first half results allowed the company to increase its lower end guidance to $5.45 - $5.55, which represents a double digit growth compared to the past year's earnings per share of $4.92. Its short-cycle businesses are improving with the geographic expansion, innovation and robust demand in the end markets. While long-cycle businesses have been gathering massive backlogs on the back of improving economy.
| | | | | | |
| --- | --- | --- | --- | --- | --- |
| Years | 2013-12 | 2012-12 | 2011-12 | 2014-06 | 2013-06 |
| Cash From Operations | $4,335 | $3,517 | $2,833 | $1,341 | $1256 |
| Capital Expenditures | $947 | $884 | $798 | $229 | $196 |
| Free Cash Flow | $3,388 | $2,633 | $2,035 | $1,112 | $1060 |
Source: Morningstar.com
Looking at the cash side will reveal any risks associated with the company. It has been generating very strong cash flows over the years which are allowing it to make consistent increases in dividends. At the end of the recent quarter, Honeywell had generated $1.1B in free cash flows when its dividend payments are only standing at $373M. I am expecting hefty dividend increases from the company as its free cash flows are offering a huge opportunity for that. Further, the company's debt-to-equity ratio is well below the industry average and current and quick ratios are also showing that the company has hefty cash available to meet short-term liabilities. Being organized as a diversified industrial company most of its businesses are correlated with economic situation. At the moment, global economic situation is healing over the past two years and the environment is anticipated to improve further in the coming days based on International Monetary fund. Here, we can say that Honeywell will continue to grow with the healing of the economy and the company has very low risks in its way.
In Conclusion
The company's five year plan looks attractive and achievable as it is in a strong situation with its diversified portfolio and innovative products and technologies. Additionally, the company has strong penetration in the market and its management is adjusting its portfolio according to the need and trends in the market. The company is well set to achieve double digit growth in earnings each year over the next five years and to double its free cash flows as they did in the past three years. Having such an attractive past performance and strong momentum in the present, I believe Honeywell is well set to generate big profits in the coming days. And I believe with the market correcting in price, Honeywell is offering an attractive entry point.
Disclosure: The author has no positions in any stocks mentioned, and no plans to initiate any positions within the next 72 hours. The author wrote this article themselves, and it expresses their own opinions. The author is not receiving compensation for it (other than from Seeking Alpha). The author has no business relationship with any company whose stock is mentioned in this article.