Dividends don't matter in the accumulation phase; all that matters is total return. After all, you're not spending the money (yet) so why would it matter how much you are getting by way of dividends, and if that dividend stream was consistent or choppy? All that matters is how much you generate by way of total return and that typically consists of capital appreciation that can include the reinvestment of those dividends.
Now certainly I am a fan of dividends and dividend growth, those dividends are a sign of fiscal health and earnings power; and in the end there's that key phrase, it all comes down to the earnings power of the companies that you hold. Over time, the markets will reward the index or basket of companies that you hold with rising stock prices. In fact the market will also reward you with periods when some giddy buyers will actually offer you much more than your company is worth. Benjamin Graham says accept that offer to a degree. Mr. Graham also advised for the defensive investor (that's dividend growth investors) to select companies with at least a 20 year history of paying dividends. Many investors now of course insist on 10, 15 or 25 years of increasing dividends.
I am a big fan of dividend growth because it is a proven strategy of delivering very generous stock market returns with lower risk. To simplify, the (not so) secret appears to be dividend growth combined with a low payout ratio. I invite you to read "The Most Important Article I Could Ever Write On Dividend Growth." OK, that was the most important article I could ever write, until this article. Ha!
Here's a simple chart from a recent article that shows the outperformance of dividend growth companies vs. the broader market (NYSEARCA:SPY). Interestingly, the no dividend paying companies are shown to outperform the broader market.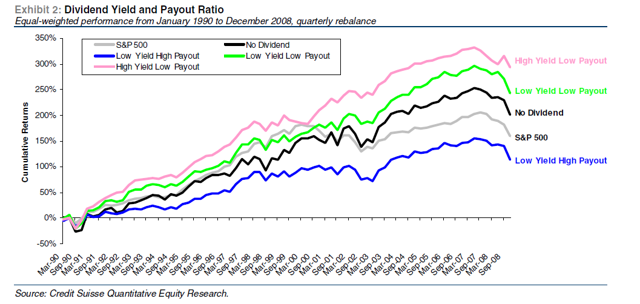 So yeah, I am a fan of dividend growth as it provides a potential path to total return. Those who use dividend growth as a method to "grow the dividends" and invest on a total income strategy are likely giving up the potential to beat the market. The returns of a few total return investors on Seeking Alpha seem to suggest they will not get the market beat that dividend growth is offering. To those who don't want to beat the market, or need to watch the dividends to manage risk, more power to you. But for those who are newer investors or those exploring dividend growth, a few of us on SA like to make them aware of the true gift of dividend growth - greater total return. And make no mistake, whoever has the most money wins. Period.
This from Sure Dividend on Seeking Alpha. Again, it comes down to earnings power, profitability. As you may know, the dividend aristocrats, now available as (BATS:NOBL) have a history of beating the market.
The businesses in the Dividend Aristocrats Index have another distinguishing feature; they are highly profitable. The average return on assets for the stocks in the S&P 500 is 7.23%. The average return on assets for the Dividend Aristocrats Index is 9.58%, 2.35 percentage points higher.
And back to dividends don't matter in retirement. My first example is the Berkshire Hathaway fund (NYSE:BRK.A) (NYSE:BRK.B). It does not pay a dividend, though Mr. Buffett certainly invests in some dividend paying companies. He is happy to reinvest those dividends at his leisure. But Mr. Buffett buys those companies at reasonable valuations, and he buys those companies for the earnings power. Like me, I'd guess he does not really care much about the dividends, he wants to ensure that the companies are healthy, have strong brands and management and great earnings power. I bought Tim Hortons (THI) due to the brand strength. I know it well as I was a creative director on the business in Canada. It is arguably the most loved company in Canada. They sell about 80% of all quick serve cups of coffee in Canada. Crazy stuff. On surveys Canadians list hockey, universal health care and Tim Hortons as "things" that make them Canadian. I first bought it the day Wendy's spun off Tim Hortons. I have much more than a double-double (that's Canadian for two cream, two sugar). I sold off half after a double, it continues to go up. It has beaten the market by a very considerable margin. It pays a dividend in the 2% area. Its dividend has grown by over 25% or more per year for a while. The dividend has grown from 6 cents to 29 cents over the last several years. The payout ratio is well below 40%. The market has noticed. I could honestly care less about the dividends. I hope to get another double-double, I will sell half the shares again. Perhaps if I'm at that semi-retirement stage, I will turn the double-double into cash or a bond ladder. But the money I will take from the selling of Tim Hortons shares is real, and it will be determined by the earnings history (and the market's perception of future earnings potential). Side note, yesterday Tim Hortons released earnings (they were very solid, and the share price increased by over 7%).
Same goes for those who have held the Berkshire Hathaway fund.
Here's Warren Buffett's take on how companies can create value.
He notes that a company can do four things with its profits:
reinvest in the company (i.e. pursue organic growth)
acquire other companies
repurchase shares
pay dividends
For Shareholders, Mr. Buffett has even detailed a plan on how they can create retirement (dividend-like) income by selling shares.
This is how Buffett explains the superiority of his investors harvesting shares vs. Berkshire paying dividends.
There is an alternative approach, however, that would leave us even happier. Under this scenario, we would leave all earnings in the company and each sell 3.2% of our shares annually. Since the shares would be sold at 125% of book value, this approach would produce the same $40,000 of cash initially, a sum that would grow annually. Call this option the "sell-off" approach.

Under this "sell-off" scenario, the net worth of our company increases to $6,211,696 after ten years ($2 million compounded at 12%). Because we would be selling shares each year, our percentage ownership would have declined, and, after ten years, we would each own 36.12% of the business. Even so, your share of the net worth of the company at that time would be $2,243,540. And, remember, every dollar of net worth attributable to each of us can be sold for $1.25. Therefore, the market value of your remaining shares would be $2,804,425, about 4% greater than the value of your shares if we had followed the dividend approach.

Moreover, your annual cash receipts from the sell-off policy would now be running 4% more than you would have received under the dividend scenario. Voila! - you would have both more cash to spend annually and more capital value.
Warren then goes on to offer a wonderful 4.25% annual giveaway scenario. The same result would have occurred if the funds were used to fund retirement.
For the last seven years, I have annually given away about 41⁄4% of my Berkshire shares. Through this process, my original position of 712,497,000 B-equivalent shares (split-adjusted) has decreased to 528,525,623 shares. Clearly my ownership percentage of the company has significantly decreased.

Yet my investment in the business has actually increased.
Here are the returns for Berkshire Hathaway over the last 15 years. It has not beat the market in this period, as it has beaten the market in the previous few decades. But beat the market it has, in total return.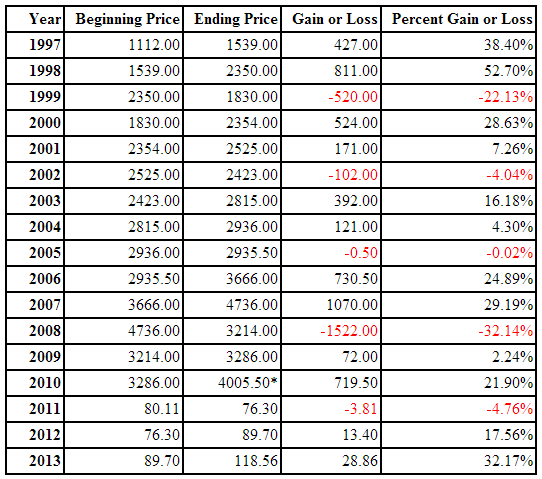 Let's run the numbers for here with a simple allocation of 3 years of spending in cash and the rest in BRK. It's self evident that the retiree who had wisely invested with the greatest total return investor would have a more than comfortable retirement with income that comes with inflation protection, and then some. In fact, Warren of course beats the snot out of the markets, and inflation is no match for his total return approach.
Here's BRK over the last 15 years funding 5% of an initial $1,000,000 with a 2% annual increase in spending. Again, that 5% is above that typical 4% spending rate that planners suggest as a potentially sustainable spending ratio.
| | | |
| --- | --- | --- |
| Year | Income 2% infl. | Balance |
| 1997 | 50,000 | 1,262,669 |
| 1998 | 51,000 | 1,772,046 |
| 1999 | 52,020 | 1,371,955 |
| 2000 | 53,060 | 1,666,706 |
| 2001 | 54,121 | 1,725,343 |
| 2002 | 55,203 | 1,608,645 |
| 2003 | 56,307 | 1,789,818 |
| 2004 | 57,433 | 1,793,532 |
| 2005 | 58,581 | 1,738,276 |
| 2006 | 59,752 | 2,057,489 |
| 2007 | 60,947 | 2,532,299 |
| 2008 | 62,165 | 1,715,244 |
| 2009 | 63,408 | 1,688,557 |
| 2010 | 64,676 | 1,954,662 |
| 2011 | 65,969 | 1,803,925 |
| 2012 | 67,288 | 1,934,546 |
| 2013 | 68,633 | 2,414,415 |
It's kinda crazy that some investors and some Berkshire Hathaway shareholders suggest or demand that Mr. Buffett pay a dividend. When an investor protects the growth component so that they never have to sell shares in a down year, wonderful things can happen. Again, in the above scenario 3 years of spending was kept in cash.
Here's another scenario where only units are sold from a fund, Vanguard's Wellington Fund. It's a managed fund with a wonderful history and very low fees. Here is the total return chart for the last 10 years. The fund is a balanced growth portfolio with 65% in stocks and 35% in bonds. It's an equity portfolio designed for growth with volatility managed by the modest bond exposure.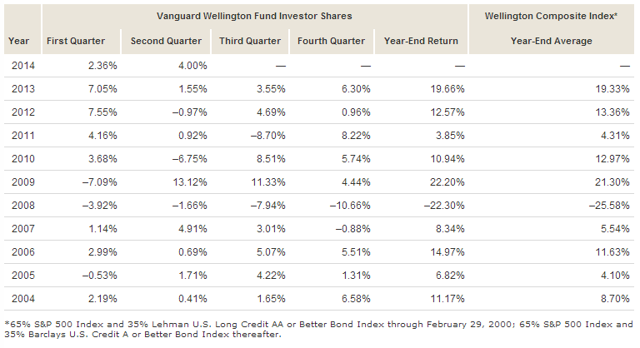 Here's the Wellington Fund with 2 years of spending in cash; once again the investor is harvesting 5% of the initial $1,000,000 with a 2% increase each year. I only used 2 years of cash due to the 35% bond exposure that will reduce volatility.
| | | |
| --- | --- | --- |
| Year | Income 2% infl. | Balance |
| 1997 | 50,000 | 1,170,272 |
| 1998 | 51,000 | 1,246,768 |
| 1999 | 52,020 | 1,248,092 |
| 2000 | 53,060 | 1,312,997 |
| 2001 | 54,121 | 1,311,389 |
| 2002 | 55,203 | 1,176,683 |
| 2003 | 56,307 | 1,247,198 |
| 2004 | 57,433 | 1,311,905 |
| 2005 | 58,581 | 1,333,032 |
| 2006 | 59,752 | 1,448,060 |
| 2007 | 60,947 | 1,494,905 |
| 2008 | 62,165 | 1,156,344 |
| 2009 | 63,408 | 1,308,431 |
| 2010 | 64,676 | 1,366,970 |
| 2011 | 65,969 | 1,347,367 |
| 2012 | 67,288 | 1,425,066 |
| 2013 | 68,633 | 1,597,713 |
In this scenario the investor was able to harvest units with an increasing spending rate, and the growth of the stock component was able to outpace inflation, leaving the investor with a portfolio balance well above the initial $1,000,000. In fact, the spending ratio is only 4.3% of assets in year 15, below the 5% starting level. In the words of Charlie Sheen "It's Winning."
That's a somewhat aggressive approach for a retired investor on the surface. That investor began the spending stage with about one third in bonds and 10% in cash. But that may be in the area of optimum or sensible allocation to provide great potential for a higher spending rate with inflation protection from stock-growth, with price protection from bonds and cash.
I was happy to see Chuck Carnevale add to the conversation with the article "Are Growth Stocks Appropriate for Retirement Portfolios?"
Chuck wrote...
Therefore, are high-growth stocks appropriate for retirement accounts? My answer is yes, but only in the context of how they fit into each investor's own risk tolerance and personal objectives. Moreover, they can be utilized in many ways to either turbo-charge a portfolio's total return performance.
When you read the article, you will see that Chuck is suggesting a core dividend growth with a satellite growth component. That may be a very prudent approach as well.
But I will make it even simpler. A dividend growth investor (or most any investor) can simply buy those dividend aristocrats that have a history of beating the broader market by 2% or more per year on average over longer periods. Again, as per Sure Dividend that index is a total return machine due to earnings power. But an investor would have to ignore the yield (sometimes low) and invest for the higher total return potential. When SA authors or commentators publish their returns or public portfolios we see them not capturing the simple total return magic of dividend growth - because they are investing for income, they are micro managing the income. They are trading too much. The numbers say that total income investing is not the way to the greatest income available in retirement.
And once again, this is not an attack on dividends. They're lovely. They're real. You can spend them if you like. They are often derived from real and sustainable profits. But more importantly, the dividends are sending some strong signals. In my opinion the growing dividends and low payout ratios are more important as financial advisors than as cash machines.
Happy investing and be careful out there. Always know your risk tolerance level.
Disclosure: The author is long VIG, SPY, EWC, EFA. The author wrote this article themselves, and it expresses their own opinions. The author is not receiving compensation for it (other than from Seeking Alpha). The author has no business relationship with any company whose stock is mentioned in this article. Dale Roberts is an investment funds associate at Tangerine Bank (formerly ING Direct). The Tangerine Investment Portfolios offer complete, low-fee index-based portfolios to Canadians. Dale's commentary does not constitute investment advice. The opinions and information should only be factored into an investor's overall opinion forming process