IBM (NYSE:IBM) recently said that it will join Apple (NASDAQ:AAPL) for jointly selling a bundle of Apple devices and IBM services in the enterprise arena. Clearly, their enterprise partnership could be a game changer for many industries. But for the healthcare industry, both Apple and IBM are looking to leverage their partnership to build an iOS healthcare software empire with the help of healthcare software vendor Epic Systems, according to a recent InformationWeek article.
Dan Pelino, general manager of IBM's business with the public sector including health systems, said, "The deal on its own merits is a game changer, but in healthcare we can use the mobile environment to reach the consumer, the patient, the member -- and back into the enterprise."
Can iOS become the Dominant Mobile OS in Enterprise mHealth?
A large part of Apple and IBM's recently announced global strategic partnership is targeted at the mHealth segment. With IBM's help, iOS can become the most dominant mobile OS for enterprise applications in healthcare. In future, "nobody will ever be discharged from care," IBM's Dan Pelino said, which implies that apps and mHealth monitoring will follow them from the hospital to the home. Pelino added, "A pregnant woman might do an ultrasound scan on herself using an iPhone and have to visit the doctor's office only if the scan shows something worrisome."
If Dan Pelino is to be believed, Apple has a great future in mHealth. IBM and Epic recently joined hands to compete for the DoD (Department of Defense) Healthcare Management Systems Modernization (DHMSM) contract, which is going to replace and modernize the agency's electronic health record system. If their bid is accepted, Apple's iOS would play a key role in the contract. Apple's CEO Tim Cook said:
For the first time ever we're putting IBM's renowned big data analytics at iOS users' fingertips, which opens up a large market opportunity for Apple. This is a radical step for enterprise and something that only Apple and IBM can deliver.
Apple and IBM will jointly develop apps for healthcare, and IBM will sell iPhones and iPads with industry-specific solutions to business clients worldwide. With wearable fitness and personal health devices market forecasted to hit $5 billion by 2016 and annual revenues from mobile sensing wearables reaching $47 billion in 2018, we have no doubt that iOS will slowly but steadily become the most dominant mobile OS for enterprise applications in healthcare.
Competitive Landscape of iOS in Enterprise mHealth
Google's (NASDAQ:GOOGL) (NASDAQ:GOOG) Android mobile OS platform is also witnessing a growing market share in mHealth with the release of premium devices by Samsung (OTC:SSNLF), HTC (OTC:HTCKF) and LG (OTC:LGEIY). However, we believe that Android has the following limitations in mHealth:
Android's adoption depends on third-party devices, which is worrisome at least from investors' point of view.
Android may have huge potential in the unregulated health and fitness market, but in the regulated healthcare market Android's potential is limited in the absence of Google's own iPhone and iPad like devices.
Apart from Apple, Google may see intense competition from Samsung with its recently announced new platform, called Samsung Architecture Multimodal Interactions, or SAMI supporting a number of health sensor-laden devices from a biomedical perspective.
We believe that in the regulated enterprise mHealth marketplace, Apple's primary competitor will not be Google, it will be Samsung. Samsung's SAMI will act as a data broker that will help wearable devices upload information in the cloud, from where developers will access the data for creating new apps.
Apple's Target Price
Apple's FCF (free cash flow) has risen to $48.10 billion compared to Google's $10.80 billion, which is heading downwards. However, Apple's FCF yield is standing at a much higher level (8.15%) compared to that of Google (2.77%), which implies that Apple has huge upside left from the current level. If an FCF yield of 5% is applied on Apple's stock, its target price becomes $160, which we think is definitely attainable in the medium-term, specifically due to the following reasons:
We believe that Apple's 4.7 inch and 5.5 inch (phablet) large-screen iPhones, which are expected to be launched in the second or third week of September, will be tremendous revenue generators in the enterprise mHealth sector as a result of the IBM deal. Apple's CEO Tim Cook claims that over 98% of Fortune 500 companies and over 92% of Global 500 companies use iOS devices in their businesses. Clearly, Apple's iPhone sales could rise to the highest level since iPhones were first introduced seven years ago.
In October, Apple would launch its modestly updated iPad range, potentially focusing more on Apple's wearable devices. The company's iPad sales, which remained weaker than expected in the past several quarters, could see a turnaround as a result of the IBM deal, according to Tim Cook. The deal, that would allow businesses to buy iOS devices equipped with IBM-enhanced enterprise software, will be a "catalyst for future iPad growth," he suggested.
Last but not the least, we think that Apple's much awaited iWatch, for which the company has been granted a patent recently, will soon be commercially available all over the world, boosting its top line significantly. According to a Morgan Stanley estimate, Apple's iWatch could generate up to $17.5 billion in revenue in its first year on the market, which translates into a first-year market 46% larger than iPad's first year sales of $12 billion.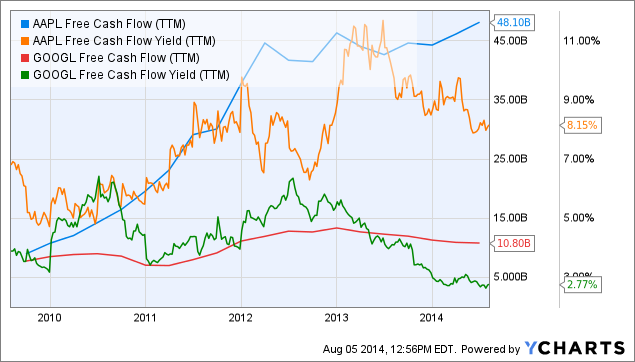 AAPL Free Cash Flow (TTM) data by YCharts
Conclusion
For the regulated mHealth market, the US FDA approved two motion-tracking wrist-worn devices -- CamNtech's MotionWatch and Pro-Diary -- earlier this year for use in clinical trials. We believe that it's a matter of time that Apple's iOS-based apps will follow the footsteps of mobile apps like WellDoc's BlueStar diabetes management program and become a reimbursable item.
Business relationship disclosure: The article has been written by a BB Research stock analyst. BB Research is not receiving compensation for it (other than from Seeking Alpha). BB Research has no business relationship with any company whose stock is mentioned in this article.
Disclosure: The author has no positions in any stocks mentioned, and no plans to initiate any positions within the next 72 hours. The author wrote this article themselves, and it expresses their own opinions. The author is not receiving compensation for it (other than from Seeking Alpha). The author has no business relationship with any company whose stock is mentioned in this article.