I have been following Tupperware (NYSE:TUP) since earlier this year, when it appeared on a screen for stocks with strong five-year growth prospects, which pay 3%+ dividends, and have reasonable PEGs (PE/Growth). I almost pulled the trigger at $77 and berated myself as it went to the mid $80s. On July 23, TUP announced earnings that were disappointing for multiple reasons. Likely, because of the complexity of the miss, shares sank over 10% from $84.74 to $75.78; TUP continued to drop; and as of this writing TUP is $73.20 almost 14% below pre-announcement levels.
When a stock disappoints, it often overreacts. It the disappointment is marginal, say a $0.01 miss, or a, "I don't understand it, so I'm selling" reaction to something explainable, a buying opportunity may be created. As I am a value (ideally, a GARP- growth at a reasonable price) buyer, the opportunity to be a contrarian and buy "on sale" is attractive. I have come to believe that TUP may be "on sale" due to some tricky, but resolvable items, and ultimately represents growth and dividends at a reasonable price.
Tupperware is More Than Just Plastic Sold at Parties
From the company's website, "Tupperware Brands Corporation is the leading global marketer of innovative, premium products across multiple brands utilizing a relationship based selling method through an independent sales force of 2.9 million. Product brands and categories include design-centric preparation, storage and serving solutions for the kitchen and home through the Tupperware brand and beauty and personal care products through the ... Avroy Shlain, BeautiControl, Fuller Cosmetics, NaturCare, Nutrimetics, and Nuvo brands."
TUP like micro-finance companies in the third world, endeavors to advance the lives of women and their families through economic empowerment; the company supports women's advancement organizations globally. TUP was named by Fortune as one of the World's Most Admired Corporations for the seventh consecutive year.
Though the company is headquartered in Central Florida, where I live, it keeps a relatively low profile, which is appropriate given that 66% of the company's sales, and almost all of its growth, are in emerging markets.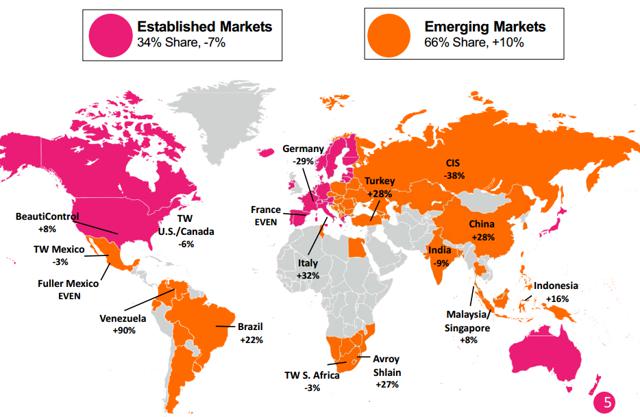 Source: Tupperware Corporation (noted percentages are period sales increases or decreases)
The Q2 "Opportunity" (and 2014 Guidance)
In the second quarter, TUP reported in-line earnings of $1.47/share, but shocked the market by guiding fiscal 2014 earnings down to $5.40-$5.50/share compared to the consensus of $5.73/share. The company identified Venezuela as representing approximately $0.16 of the forecast reduction ($0.10 from Fx and $0.03-$0.06 from price-controls) and $0.18 from lower sales increases in Asia/Pacific (6%-8% compared to high single/low double digits) combined with additional costs in Brazil.
Venezuela in particular requires some explanation. TUP, which has over 70,000 sales people (about 2.5% of total) in the country, was hit with a double whammy by the government of that poorly run country. First, the company was mandated to reduce its selling prices (the government is flailing as it attempts to control inflation) and market realities forced it to take a huge Fx hit due to a combination of inflation and government currency controls. Unfortunately, neither of these problems can be expected to be remedied in the short run. The company is staying the course in the belief that things will eventually turn-around and re-entering the market would be extremely difficult.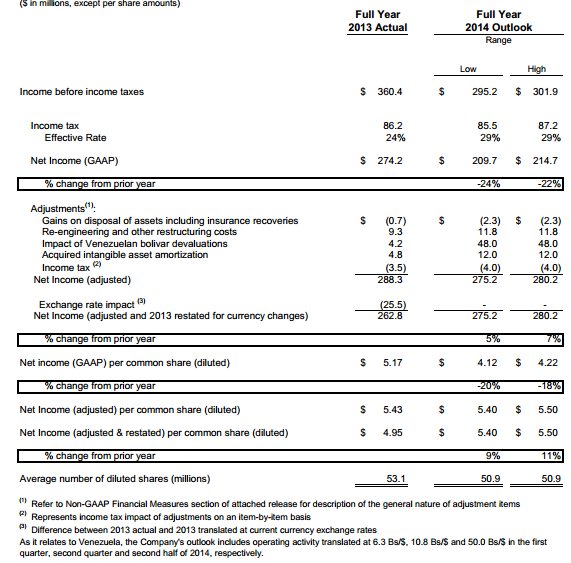 Source: Tupperware Corporation
We can discuss the second quarter and the forecast change in more detail, but for me the takeaway is a quasi-permanent impairment in Venezuela worth about $0.10/share (assuming TUP is clever enough to mitigate the impact) or around $2 in stock value and a slowdown in growth from emerging markets (from high single/low double digits to 6%-8%). If the slowdown is long-term, the cost is about $0.35/share or around $7 in stock value. Recent sanctions against Russia are not factored into any identified forecast changes, but can be considered a downside risk (TUP does not break out Russia sales).
Longer term, I have confidence management can revitalize those markets. TUP's CEO, Rick Goings, spent a fair amount of time during the Q2 conference call discussing management upgrades, strategy and a renewed emphasis on staying close to markets and customer (including the Millennial) needs, wants and desires. Mr. Goings mentioned passing the foreign service exam as a good primer for a career at TUP due to its relationships with so many "interesting" countries. Perhaps because my secret ambition was to work for the CIA (author note- I did pass the foreign service exam, but the CIA was interested in me as an accountant, not a swash-buckling spy, so I passed), I can appreciate some of the challenges and opportunities within this global company. I believe management will make course corrections and market slowdowns will be mitigated, and ultimately reversed.
Valuation
As the below graphic demonstrates, TUP's earnings estimates took a big hit following Q2 results and downward 2014 guidance. However, objectively looking at forward earnings, we see a unique, diversified consumer products company trading at a 2015 P/E of only 12, and an associated PEG (PE/Growth) of less than 1.
TUP also pays a robust 3.7% dividend [about equal to General Electric (NYSE:GE) and McDonald's (NYSE:MCD), but with a much lower PEG], which has been increased annually since 2009. The payout ratio is 56%, which is sustainable. Debt-to-Equity is 3.2x, not low, but not especially worrisome. Debt-to-Adjusted EBITDA (a TUP measure) is 2.0.
S&P reaffirmed a "four star" rating following the downward guidance. I use a multiple of 14x (roughly consistent with historical multiples) as a proxy for "fair" value, which implies today TUP is worth approximately $84/share.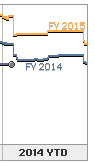 Source: TDAmeritrade

Source: TDAmeritrade
Recently, owning TUP has not been for the faint of heart. The stock is down significantly over the last year.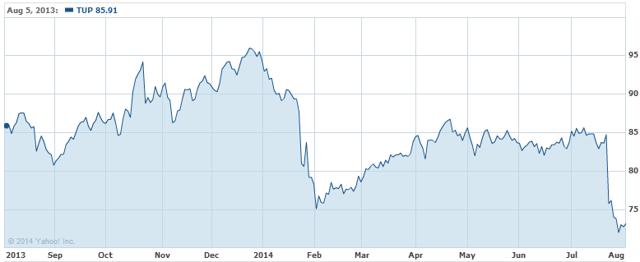 Source: Yahoo!
And since the beginning of the year, the chart is scarier than any Orlando roller coaster!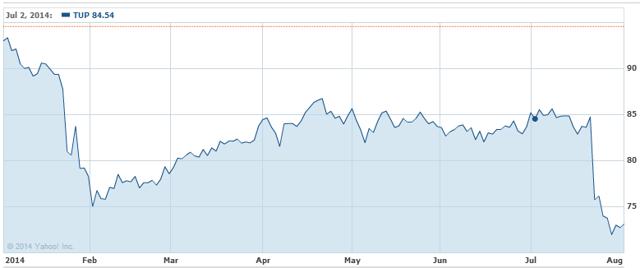 Source: Yahoo!
All kidding aside, over the past five years, TUP has performed very well, and handily beat the S&P 500.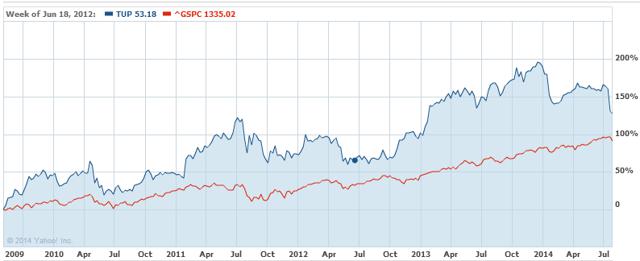 Source: Yahoo!
Financial and Valuation Statistics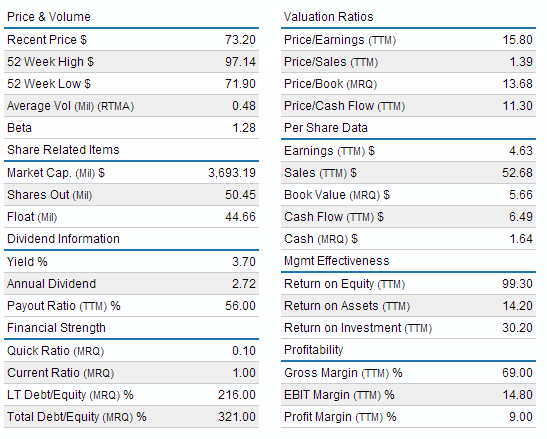 Source: Tupperware Corporation
Qualitative Thoughts
TUP a well-managed company, with strong focus on grooming the company's next generation of leaders. TUP operates in a variety of geographies and adjusts its model and selling prices as appropriate. Millennials, who are more apt to cook in a microwave than with a stove, are a focus area for the company, and it is adjusting its offerings accordingly. It is worth noting the company is working to leverage the traditional "party," into a social gathering for relationships that all too often communicate via social media rather than face-to-face. Another insight is the TUP purchase is never about getting the best deal, it is about a shared experience and the acquisition of a quality product.
Opportunities
The company has identified growing its current base of almost 3 million salespeople to 5 million as a prerequisite to its long-term goal of growing sales to $5 billion (from under $3 billion today). Significant opportunities exist with respect to increasing retention of salespeople.
One opportunity I would suggest the company consider is a tax inversion. TUP has identified its tax burden (as a percentage of income) as growing, and certainly, given its international orientation, can take advantage of (and justify) a lower rate domicile. A 10% reduction in rate would be worth about $0.37/share in GAAP earnings, translating at 14x into $5/share in value.
Conclusion
TUP had some bad and confusing news during its recent Q2 earnings announcement. In my opinion, the market over-reacted, creating a buying opportunity. The company is diversified, with 66% (and the majority of its growth) of its sales coming from a variety of emerging markets. The company is well managed with a dynamic leader. TUP's expected five-year average growth rate of 12+%, yields a PEG rate of less than 1. The company pays a robust 3.7% dividend, a yield, which compares favorably with other consumer product companies and is higher than many slower growing companies. The payout ratio and debt are reasonable and sustainable. Using a reasonable 14x forward multiple yields a target price of $84/share; a 15% upside on today's forecast. However, given that TUP is a relatively low-profile stock, the next real catalyst may not occur until Q3 earnings.
This article reflects the author's opinions and should not be used as the basis of a buy or sell decision. All investors should conduct their own due diligence and make investment decisions on the basis of their findings.
Disclosure: The author has no positions in any stocks mentioned, but may initiate a long position in TUP over the next 72 hours. The author wrote this article themselves, and it expresses their own opinions. The author is not receiving compensation for it (other than from Seeking Alpha). The author has no business relationship with any company whose stock is mentioned in this article.