FinishMaster Inc. (OTC:FMST)
Share Price: $16
Intrinsic Value: $25
Buy Below: $17
Business Description & Background:
FinishMaster, Inc., an Indiana corporation, is the leading national independent distributor of automotive paints, coatings and related accessories to the $2.5 billion U.S. automotive paint refinishing market.
FinishMaster offers its collision repair, automotive dealership, and fleet operator customers a full line of brand-name products from leading manufacturers such as BASF (OTCQX:BASFY), DuPont (DD), PPG and 3M (NYSE:MMM).

Founded with a single outlet in 1968, FinishMaster has grown to 177 sales outlets and three major distribution centers in 29 states. Headquartered in Indianapolis, Indiana, FinishMaster employs more than 360 sales personnel and a total of 1,550 associates throughout its national network of sales outlets and distribution centers.

FinishMaster has a history with its majority shareholder LDI Ltd., a private, family-owned company with holdings in value-added distribution businesses. After an extensive strategic planning process, LDI decided to enter the business of distributing aftermarket automotive paint in 1995 with the acquisition of a $12 million Florida paint distribution operation from a multi-product distributor to the collision industry. In 1996, LDI acquired majority control of FinishMaster, the leading national independent distributor of automotive paint, coatings and related materials to the $2.5 billion automotive paint refinishing market in the U.S. FinishMaster provides a full line of brand-name and private-label refinishing products to collision repair shops, automotive dealerships and fleet operators. These high quality products are manufactured by leading companies such as BASF, DuPont, PPG and 3M.

FinishMaster's history has three roots. The first root is the original FinishMaster company established in 1968 in Grand Rapids, Michigan. Originally, FinishMaster served the Great Lakes region and later expanded its branch network to also cover Texas, Philadelphia and Washington, D.C. The second root is Thompson PBE, which began as the Thompson Lacquer Company in the 1930s. Thompson's initial focus was primarily California but, by the 1990s, the company had expanded into the Southeast and New England and had become the largest jobber in the nation. The third root is LDI AutoPaints, a medium-sized distributor operating in Florida. In 1995, LDI acquired LDI AutoPaints, a $12 million spin-off from an automotive parts company. In 1996, LDI purchased a controlling interest in FinishMaster. In 1997, FinishMaster completed a tender offer for California-based Thompson PBE and shortly thereafter acquired LDI AutoPaints from LDI in order to consolidate all three businesses on one platform with national coverage.

As part of LDI's consolidation plan, FinishMaster relocated its headquarters to Indianapolis and has worked steadily to hone internal systems and improve its service to local and national customers alike. FinishMaster employs over 1,400 associates throughout a national network of more than 160 sales branches and three distribution centers in 29 states. Senior management includes members of the Thompson (from Thompson PBE) and Lacy families.
Source: Company website, LDI website
Thesis: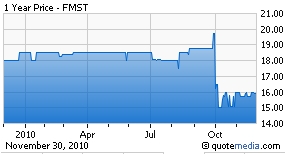 FMST is the leader in automotive industrial paints which is a highly fragmented and mature industry mostly made up of approximately 3,500 competitors most of which are Mom and Pop shops. FMST's next largest competitor (LKQX) is one third its size. This sleepy company is posed to continue its growth trajectory over the coming years. Current valuations are out of touch with the economic reality of the underlying business.
FMST has approximately 11,000 customers which they bill monthly. Some of their larger customers include AutoNation (NYSE:AN), MAACO, NAPA, and Cars Collision. The insurance company, in most instances, is the ultimate payer.
The industry is changing at an accelerated pace. Insurance companies like State Farm are deciding the winners among body shops "jobbers". In most cases, the insurance company will recommend (but not demand) a policy holder use certain jobbers base on their shops customer satisfaction and cost of repair. Often times, a bad experience at a body shop will reflect poorly on the insurance company and often result in a termination of insurance. The cost of repair is vital to the insurance company and they are ultimately responsible to cover the cost. Insurance companies also typically pick-up the cost of loaner cars, so business is steered to larger more efficient jobbers. There are approximately 35K jobbers in the market and FMST expects this to decrease to about 20K in a couple of years.
Ultimately, this means the larger jobbers do more volume with FMST and qualify for discounts. This will reduce the margins FMST earns. It also means that the distributors with the most scale will be best positioned to handle larger orders in terms of best practices, pricing, and service.
The automotive paints business is relatively stable as many consumers are required to paint their cars by insurance companies to collect reimbursement for repairs. The industry is primarily driven by miles driven (pun intended). The more miles that are driven and the more cars that are on the road, the more accident that will happen. Other factors that will affect the business include:
1. Unemployment rate: Negatively correlated to new business as consumers will defer repairs.
2. Vehicle repair rates: The rate has steadily climb from 10% in 1998 to about 22% today.
3. Demographics: Baby boomers are some of the safest drivers as they have aged, but eventually increase the rate of accidents as they become elderly.
4. New car sales: Consumers are more willing to fix and paint a new car than an old clunker.
The industry has thousands of local geographical monopolies. These monopolies are defined by the paint suppliers such as DuPont, PPG, and BASF. Paint suppliers give distribution rights to local distributors. For example, it is unlikely that DuPont will allow two local distributors in one area to sell its paint. It is also equally unlikely that a distributor would want to sell the same brand of paint that a competitor is offering. This makes for a fairly rational, but still price competitive marketplace. Some suppliers sell direct such as Sherman Williams (NYSE:SHW), AN, NAPA and BASF, but have trouble gaining scale and turning a profit as capital expenditures to improve operations in the U.S. are seen as an afterthought, especially in this mature industry.
FMST gets paid primarily in two different ways. The first is when a local body shop (independent of dealership) contact FMST for supplies directly. The other is through a fulfillment method where a large national company such as AutoNation contacts DuPont directly. DuPont invoices AN and then pays FMST a fulfillment fee to distribute the paint to AN.
Paint distributors are still hurting from the downturn in the economy, higher oil prices, and lower miles driven. Some have left he business and some are still hanging on and acting irrationally by pricing under cost to maintain customer relationships in hopes that they will survive when the market turns around. FMST has had to walk away from some business over the past two years, but it seems to be getting better every quarter.
Same branch sales are starting to improve again especially in the areas that were most effected such as Florida, California, and Michigan which account for 40% of FMST's sales.
Margins have depressed recently but only because FMST slowed down purchasing inventory from supplies with large incentives and have focused instead on working capital improvements. These working capital improvements have boosted free-cash-flow (FCF) recently.
FMST has historically taken a growth by acquisition strategy to expand their footprint and gain scale. Distribution rights from paint manufactures make it extraordinarily difficult to expand organically. Better sales teams and lower prices will only take you so far in this industry.
Recently acquisitions have slowed down as many local distributors are asking too much for their businesses. FMST's CFO Bob Millard looks for acquisitions that they can earn a 20% after-tax internal-rate-of-return (IRR). Competitors such as LKQ are competing to purchase local shops, but have been reasonable in the prices they pay. FMST won't pay any more for a company on an EBITDA basis than their own stock is trading for.
Occasionally, FMST has to win new customers by giving pre-bates, or big discounts on new supplies in return for a guaranteed amount of business. FMST takes some risk on doing this, but these are all contract based, so they have some recourse. Many jobbers can't get loans for business anymore so FMST acts a bank and assumes some credit risk. They earn mid-to- upper teens on any loans or upfront supplies provided.
The acceptance of environmentally friendly Waterborne paints may provide a continuing catalyst to improve inventory levels and working capital. Legacy paints require thinners and other chemicals that are harmful to the environment. The new water-based paints are the future of the business. California has adopted Waterborne mandates for all jobbers. It looks like some New England states may consider this move in the future. Since some jobbers in non-mandated states already use Waterborne paints and some don't FMST must keep two sets of inventory. Once a state adopts a Waterborne mandate FMST will only have to carry one type of paint, improving working capital.
Capital spending is around $2-3mm per year for maintenance and improvements. FMST spends about another $1-2mm a year in acquisitions and $6-10mm in customer inventory. Although FCF over the past twelve months has come in around $22mm (working capital improvements), normalized FCF is about $15mm per year and growing.
The Board of Directors and management target returning cash to shareholders every couple of years in the form of dividends. In 2007 they paid $4.00 and $3.80 this year. This equates to a normalized annual dividend yield of approximately 8%. They typically pay-off debt, pay a dividend, and re-lever up the company to a respectable level.
Management and Stewardship:
FMST is managed by J.A. Lacy of LDI Ltd., they are the largest shareholder (74.5%). FMST makes payments to LDI of approximately $733K per year for services including consolidating insurance purchases with other LDI businesses, management, employee sharing, etc. It is clear that LDI and FMST are symbiotic to some extent.
Officers and Directors own 1.1% of the company's shares. Other notable shareholders include Ruane, Cunniff & Goldfarb (4.77% or shares) and Tweedy Browne & Company (0.96%).
Return-on-invested-capital (ROIC), less goodwill, has been about 18% on average over the eight years outpacing their weighted-average-cost-of-capital (WACC), which is 12%. CFO Bob Millard spearheads the acquisition strategy and it seems he has done a good job of picking-up good firms and reasonable prices over the past couple of years.
LDI takes a build and hold approach to their investments and typically holds them for over 15 years. There seems to be a strong corporate culture to train employees in-house with a team oriented approach and clear mid-western values.
Valuation:
FMST just paid a dividend of $3.80, so we account for dividends payable in the net cash number.
Net Cash ($48.7)
Market Cap $126.4
Enterprise Value $175.1
FMST shares are cheap on a Trailing-Twelve-Month (TTM) basis.
P/E (TTM) 10.8x
P/S (TTM) 0.3x
P/FCF (TTM) 3.7x
EV/FCF, (TTM) 5.3x
On a normalized FCF basis using $15mm, FMST shares have a FCF yield of 8.5%. With a 8% dividend yield, you can see how easily an investment in FMSachieve a mid-teens total return over the next couple of years.
We think FMST can achieve normalized FCF of $25mm in five years through continued organic growth, minor acquisitions, adoption of Waterborne technology, and a recovery in miles driven. At 10x FCF the market-cap of FMST should be around $250mm, or roughly a double in value. Over ten years, FMST should be able to able to achieve $33mm in FCF and a $400mm market-cap at 12x FCF.
Sales for FMST could reach $600mm and $750 in 5 and 10 years respectively. With a p/s multiple of 0.40 we believe the market-cap of FMST could be around $240 in 5 years and $380 in ten using a 0.50 p/s ratio.
Based on our discounted cash flow analysis (DCF), the shares are worth $24, 50% more than FMST's current share price.
FCF Growth
Years, LOW, MIDDLE, HIGH
1 -10.0%, -5.0%, 0.0%
2 -45.0%, -40.0%, -35.0%
3 8.1%, 9.0%, 9.9%
4 7.2%, 8.0%, 8.8%
5 6.8%, 7.5%, 8.3%
6-10 5.4%, 6.0%, 6.6%
11-20 2.7%, 3.0%, 3.3%
Terminal 0.9%, 1.0%, 1.1%

Discount Rate 12.0% 12.0% 12.0%

Dilution 0.5% 0.5% 0.5%

Total per share IV $19.28 $24.06 $29.50
Multiple to Y0 FCF 4.6x 5.7x 7.0x
Price% of IV 0.8x 0.7x 0.5x
Upside/current 20% 50% 84%
Upside/purchase 20% 50% 84%
Overall, we think shares of FMST are easily worth $25, a substantial premium to today's current market price of $16.
To achieve our targeted upside of 30%, we would recommend purchasing the shares at, or below, $17.5.
Variant View
FMST is in a low margin business that has to compete on price. Larger companies like LKQ may decide to dedicate more resources to muscle out FMST from the paint distribution business and take clients.
FMST may not be able to continue their acquisitions strategy and subsequently future growth prospect could be hurt.
Additionally, paint manufactures may decide to enter the market directly and revoke distribution rights to sell their product.
LDI Ltd. is the majority shareholder and prefers to own 100% of the companies it runs. Shareholders are at risk of a take-under or at least at a price that is less than what FMST is worth.
Disclosure: Long FMST.PK