Tonga GPU
Rumors are mounting for Advanced Micro Devices' (NASDAQ:AMD) next 28nm GPU iteration that is codenamed "Tonga" that is expected to be released in August. In the words of the Techpowerup forum: "The new GPU is supposed to go head to head with Nvidia's (NASDAQ:NVDA) bestselling GeForce card, the GTX 760, and is expected to offer at least similar performance with the GeForce GTX 760, while achieving in parallel lower power consumption and overall production costs than existing AMD alternatives. ... These alternatives so far have been limited to the similar performance (with GTX 760) and energy hungrier R9 280X and to the R9 270X which loses out on performance but draws similar power as the GTX 760." As a result, I expect that the Tonga GPU will be a strong sales catalyst for AMD going into Q3 and Q4.
Pro A-Series APUs Line
During the Q2 earnings call, CEO Rory Read announced the release of AMD's Pro A-Series APUs in Q2 2014. He also stated that AMD will double the available commercial offerings during the second half of 2014. In the meantime, HP (NYSE:HPQ) has already announced a full product range based on AMD's Pro A-Series APUs that can be found here, while additional OEMs are expected to follow as well. AMD's new Kaveri APUs will finally gain traction in the notebook market and small form PCs and hybrids. So far, Intel's (NASDAQ:INTC) microprocessors have dominated the notebook market, with the exception of small market share taken by AMD's old Trinity and Richland APUs. What's more important now is the fact that AMD is differentiating its products from the competition with innovative features like HSA, Mantle and True Audio. Taking into account that the sales impact of the Pro A-Series APUs has not even started to be played out yet, I am expecting this to be a strong catalyst for AMD's Q3 and Q4 earnings.
Seattle 64-bit ARM Server Processor
The successful launch of Seattle -- the industry's first 28-nanometer 64-bit ARM server processor -- could be more of a psychological catalyst in 2014 than anything else. Although it will have some positive impact 2014 earnings, I expect this to be a catalyst for 2015 and beyond. As can be read in the bit-tech forum: ''AMD has recently launched the Opteron A1100 - Series developer kit which is now available for ordering. The kit includes a single AMD Opteron processor packing four 64-bit ARM Cortex-A57 cores, together with 16GB DDR3 memory. In addition eight SATA connectors enable mass storage capabilities. However details are not available yet for the higher-end Cortex-A57 Seattle implementation, that is rumored to support dual channel DDR4 memory and feature 8 cores."
Increased Consoles Sales in Q3 and Q4
Further increases of Sony's (NYSE:SNE) PS4 and Microsoft's (NASDAQ:MSFT) Xbox One sales are highly probable in Q3 and Q4 as the holiday season approaches. Many important game titles will also become available this fall. Any further design wins here will provide more upside to the stock price.
Embedded Business
The double-digit growth of the embedded business as mentioned in the Q2 earnings call is key to AMD's new transformation strategy. While AMD intends to keep and develop its core business segments, Rory Read has repeatedly emphasized the new strategy's goal of diversifying the revenue base by 2016 through the embedded business and custom SoC design segments. So far the numbers point in the right direction, with a couple of new product design wins like HP's thin client products and Boeing's (NYSE:BA) next-generation display systems. Besides the obvious economic benefits, AMD stands to gain the recognition of a reliable partner to these important companies.
Fundamentals
AMD's current valuation right now is a fairly mixed one. An EV/EBITDA valuation of 8.9 suggest fair valuation compared to Intel and Nvidia, whereas a P/S ratio of 0.53 suggests strong undervaluation. I would like to emphasize the EV/EBITDA multiple, however, as it takes both the control perspective into account as well as the debt levels. Despite everything surrounding AMD's leverage, this ratio shows that the debt level is not as extreme as perceived by the market. Current P/E ratio of 38.13 suggests that AMD could be overvalued compared to its peers as the P/B ratio of 6.21 does too. However, a high P/E ratio can be justified for growth and value if other ratios support undervaluation.
In addition, before coming back to this ratio, it is worth noting that the P/B ratio is probably the one that has been hit hard by the "sins" of the past ($6.3 billion accumulated deficit). As a result, I expect this ratio to improve once strong profitability is back on track.

Source: FinToolbox Screener.co.
Last but not least, the P/E ratio is heavily dependent on earnings per share. As can be seen from below, the average analyst estimate for full-year 2014 EPS is 12 cents. This is the same value as the current 12-month trailing EPS.

Source: FinToolbox Screener.co.
In the table below, the historical performance of 2013 EPS per quarter is depicted. It is worth noting that for the first half of 2014, AMD is performing significantly better that the first half of 2013. The second half of 2013 was mainly boosted by the console sales whereas in 2014 a handful of catalyst are likely to combine with continued console sales. What is the probability of AMD actual beating analysts' estimates? In my opinion, the probability is very strong in favor of AMD, and as a result I expect the forward P/E ratio to be significantly lower than the current trailing P/E.

Source: FinToolbox Screener.co.
Technical Analysis
As can be seen from the daily chart below, AMD's stock price is currently trending in an uptrend despite the large fall after the earnings call. The stock has found support in the 3.70 to 3.80 range. Should the stock price drop below 3.70, a trend reversal could be inevitable with 3.35 and 3.25 being the next support levels. However, the above scenario seems highly unlikely and the stochastic fast oscillator and the RSI supports the same. Going forward in Q3, the stock price could test the upper support line around 4.75. From that point it would need some strong positive announcements and results in order to break out to the 5.5 to 6 range.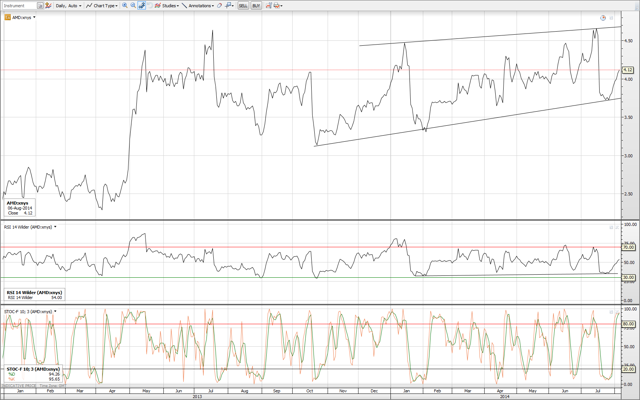 Source: SaxoTrader 2.
Conclusion
AMD has been lagging so far in its core businesses segments -- in terms of market share -- vs. Intel and Nvidia, but it is worth noting that it has more to gain than to lose. In addition to this, AMD's core products are more mature and are finally reaching into the market. Last month, I could hardly find any new Kaveri APU based laptops to buy on online retailers like Amazon (NASDAQ:AMZN), but I expect that this won't be the case in the following months. For AMD, taking a 10% market share from Nvidia and Intel could be huge. And with its latest product releases in the second half of 2014, this is more feasible than ever before. Intel cannot eliminate AMD. Neither can Nvidia. It wouldn't make any sense to. Both companies enjoy operating margins that are too high to be left without competition. Could AMD be worth $5.50 to $ 6 by year-end? I strongly believe this is a very possible scenario considering all the above-mentioned catalysts.
Disclosure: The author is long AMD. The author wrote this article themselves, and it expresses their own opinions. The author is not receiving compensation for it (other than from Seeking Alpha). The author has no business relationship with any company whose stock is mentioned in this article.