ONEOK, Inc. (NYSE:OKE), a diversified energy company, operates as a natural gas distributor primarily in the United States. The company operates in three segments: ONEOK Partners, Distribution, and Energy Services. This dividend challenger has increased distributions for the past 8 years in a row. The latest dividend increase was in October 2010, when the company raised distributions by 4% to 48 cents/share.

Over the past decade this dividend stock has delivered annualized total returns of 13.80 % to its shareholders.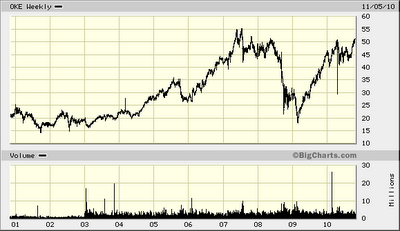 The company has managed to deliver a 7.80% average annual increase in its EPS between 2000 and 2009. Analysts expect ONEOK Inc. to earn $2.97 per share in 2010 and $3.15/share in 2011. In comparison, the company earned $2.87/share in 2009.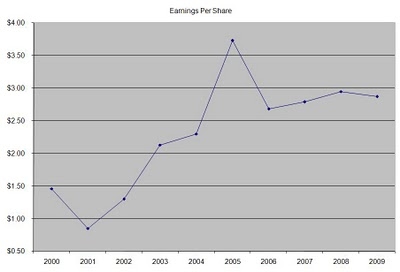 ONEOK Inc.owns the
general partner interest
in the ONEOK LP (OKS) partnership as well as almost half of the units outstanding of the partnership. In addition to that, investors in ONEOK Inc. do not receive K-1 tax forms, but would receive a regular 1099-DIV for dividend income earned. This makes this investment suitable for
tax-deferred accounts
. ONEOK LP (OKS) does account for 60% of ONEOK Inc's operating income. The beauty of master limited partnerships is that they are heavily regulated, there is very little competition in for transporting energy for specific geographic locations, and their revenues are typically not dependent on the rise or fall in energy prices. When a new pipeline is being constructed, after being approved by the Federal Energy Regulatory Commission (FERC), transportation rates are set by the agency. These rates also cover certain returns on investment. The monopoly of pipelines is further strengthened by the steep cost of entering of a particular market, which could be in the hundreds of millions of dollars.
The company's return on equity has been stable around 15%, after peaking in 2005/ Rather than focus on absolute values for this indicator, I generally want to see at least a stable return on equity over time.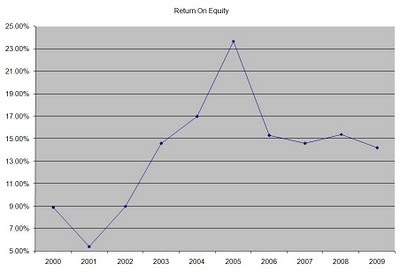 Annual dividends have increased by an average of 11.40% annually since 2000, which is much higher than the growth in EPS. The main reason is the increase in the dividend payout ratio over the past decade.
A 12 % growth in dividends translates into the
dividend payment doubling
every six years. If we look at historical data, going as far back as 1993, ONEOK Inc. has actually managed to double its dividend payment every eight and a half years on average.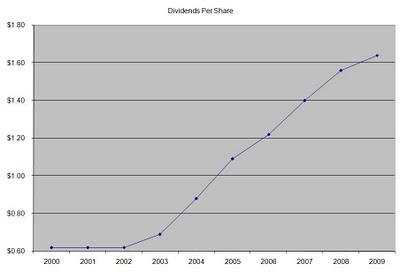 The dividend payout ratio has increased over the past decade, breaking out above 50% in 2009. A lower payout is always a plus, since it leaves room for consistent dividend growth minimizing the impact of short-term fluctuations in earnings.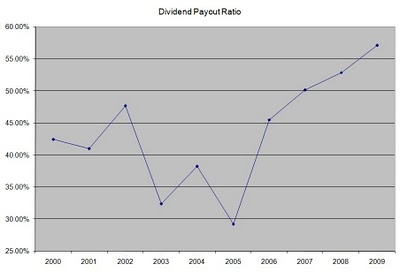 Currently, ONEOK Inc is attractively valued at 17.20 times earnings and yields 3.80%. Given the high dividend payout ratio and the fact that the company is two years away from
being eligible
for inclusion in the dividend achievers index, I would rate it as a hold for the time being.
Disclosure
: None