Since this great bull market started in the spring of 2009, stocks have climbed a dual wall of worry. One was that the economy was sputtering. Stocks brushed this off by assuming it meant the FED would remain resolutely accommodative. These lower interest rates made stocks the "only game in town" for many investors, pushing up prices.
The other, oddly enough, was persistent evidence of solid revenue and earnings growth, which suggested stocks were attractive on a valuation and dividend growth basis.
The result? The most hated bull market in post-war (as in WWII) history as the S&P500 and its eponymous ETF (NYSEARCA:SPY) more than tripled.
Investors have heard permabears cry "Wolf! Wolf!" so often, they now are in danger of finally missing the assemblage of meaningful signals that may be saying, this summer of 2014, that a major correction, or even the first leg of a bear market, may have arrived.
My Seeking Alpha followers know I believe there are two key features to any bull market:
a substantial majority of stocks should be participating in the rallies (breadth measured by new highs, or net advances) and
stocks should attract increased volume as higher prices attract trend followers and new buyers.
Alas: both of these factors have been absent as 2014 unfolds. I was willing to cut this market some slack earlier in the year but now my patience has been pushed over the limit.
How so? The chart below shows the broad market has risen to new highs through several rallies in March, April, May, June and July of this year. Notice however the on-balance volume has not exceeded the peak it made right at the start of this year.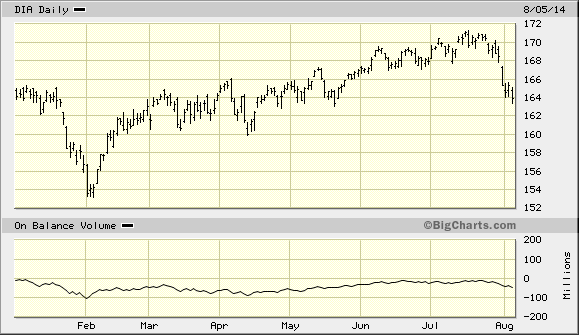 source: bigcharts.com
You can't blame this on the summer doldrums: March, April, and May were not up to par.
More ominously, there has been a serious deterioration in breadth. A look at the Dow Jones Industrial Average ETF (NYSEARCA:DIA) reveals that twelve of the thirty stocks in that average have not gone on to new highs in the last few months, even as the "market" worked its way higher. A quick look at stockcharts.com candleglance groups shows that this weakness is across a broad spectrum of sectors:
and an assortment of other big names from Boeing to IBM.
Unlike recent quarters, the dynamic that has pushed the market higher is now absent.
Strong economic news broadsides the market with a fear of higher interest rates, while weak economic news makes earnings estimates hard to meet and beat. The result: last week stocks and bonds both got hit hard.
I suggest investors stand aside until the market has resolved this "good news is bad"/"bad news as bad" conflict. While it may not imply a bear market, it sure seems to suggest this recent weakness will be more than the typical summer wobbles we have seen in the last few years.
Disclosure: The author is long IHI, XLK. The author wrote this article themselves, and it expresses their own opinions. The author is not receiving compensation for it (other than from Seeking Alpha). The author has no business relationship with any company whose stock is mentioned in this article. Medical Technology and the tech SPYder have hung in there and I am still long; but my patience is wearing thin!