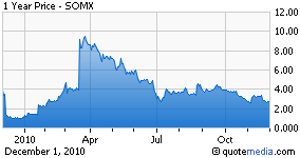 Somaxon Pharmaceuticals (NASDAQ:SOMX) looks to be an exceptional bargain buy for new investors given analyst opinions along with zero debt and forward sales expectations. I believe SOMX is trading at unrealistically low levels with a current share price of $2.69. This is extremely cheap considering the average analyst price target is $10 a share. This specialty pharmaceutical company focuses on the in-licensing, development and commercialization of proprietary-branded products and late-stage product candidates for the treatment of diseases and disorders in the central nervous system therapeutic area. Its principal product Silenor (doxepin) has been approved by the FDA for the treatment of insomnia characterized by difficulty with sleep maintenance.
SOMX recent third-quarter financial results showed recorded shipments of Silenor to its wholesale distributors totaling $5.5 million, of which $38,000 was recognized as net product sales. SOMX is deferring revenue recognition of the remaining $5.5 million in Silenor shipments to wholesale distributors. Deferred revenue of $4.4 million is reported net of $1.1 million of associated discounts and allowances on SOMX's balance sheet.
The company's third-quarter financial results demonstrated the launch of Silenor in the U.S. insomnia market in the quarter alongside its co-promotion partner, Procter & Gamble (NYSE:PG). The company also distributed over 250,000 Silenor sample packs to physicians. Its wholesale and retail stocking program included training and deployed all of the 215 field-based sales representatives in mid-September. The full-scale, field-based promotion of Silenor began with the deployment of SOMX's 110 sales representatives and Procter & Gamble's 105 sales representatives, targeting approximately 35,000 physicians and 25,000 pharmacies across the United States. Also, it is seeing robust week-over-week growth in its total prescriptions and the early favorable response from physicians and payors. Through October 31, 2010, the combined efforts of SOMX and Procter & Gamble sales force have resulted in over 43,000 details to physicians and over 10,000 calls to pharmacies. Jeffrey Raser, SOMX's senior vice president and chief commercial officer, said Silenor is priced at or below the average of the three branded products on the market.
SOMX stock price has recently dropped from the mid $3 range due to raising $24.8M from selling 8.8 million shares of common stock at a price of $2.95 a share. SOMX should now have around 44M shares outstanding, thus generating a marketcap of about $118M. Institutions own 59% of SOMX and insiders own 15%. Short sellers are holding around 25% of the float short. A 500,000 buy to cover block was filled yesterday. I would expect SOMX to rally back soon above its 200-day moving average of $3.97 a share. It would be risky holding SOMX short in the current price range given how undervalued it is. Some bigger company might suddenly buy them out considering the earnings prospects.
To give an idea how currently undervalued SOMX is: a 10% penetration into the insomnia market next year with a 25% net profit margin would give this stock a ridiculously low forward P/E of 3 to 4.
SOMX Analyst Coverage
November 30th, 2010: Analyst Piper Jaffray initiates coverage on SOMX with an overweight rating and a $7 price target.
August 2010: Jefferies & Company recently increased their 12-month price target on SOMX to $10 from $9 along with their 2015 sales estimates for Silenor to $322m from $257m.
April 2010: Oppenheimer analyst rates SOMX with an outperform and a price target of $12.
Investors could get some exciting details from the SOMX presentation at the Piper Jaffray 22nd Annual Health Care Conference December 1, 2010, Wednesday at 1:00 PM ET.
Based on the given facts, I strongly believe SOMX should be trading at a realistic valuation of $5 to $6 representing a double from the current stock price. I expect a rapid run up soon. I have used my gains to invest in SOMX from Avanir Pharmaceuticals (NASDAQ:AVNR) and Keryx Bio-pharmaceuticals (NASDAQ:KERX). Both stocks have doubled this year since my articles on them.
Disclosure: Author long SOMX, AVNR and KERX