Shares in Cracker Barrel Old Country Store (NASDAQ:CBRL) have dropped by 12.05% year to date and are now trading at $96.81. The company recently increased its dividend by 33%, to $1 per quarter, putting the dividend yield at a very respectable 4.13%.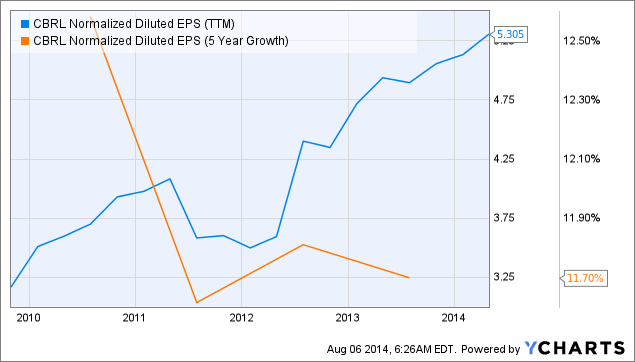 CBRL Normalized Diluted EPS (NYSE:TTM) data by YCharts
CBRL has seen double digit EPS growth over the past years, and expectations are this will continue. In its most recent quarterly report, the company stated:
"Based upon year-to-date financial performance, the Company expects to report earnings per diluted share for the 2014 fiscal year of between $5.50 and $5.60, which implies adjusted EPS for the fourth quarter of between $1.50 and $1.60."
Analysts appear to agree as the average estimate stands at $5.58, putting the company at a forward price to earnings ratio of 17.3, well below competitors like DineEquity (NYSE:DIN), which is trading at 17.9 times forward earnings and Jack in the Box (NASDAQ:JACK), which has a forward p/e ratio of 24.3. The industry average p/e ratio stands at 27.5. Last year's earnings per share were $4.90, which means the average analyst expects CBRL to grow its EPS by 13.88%. For next year, the average estimate stands at $6.16, which would be a further 10.39% increase.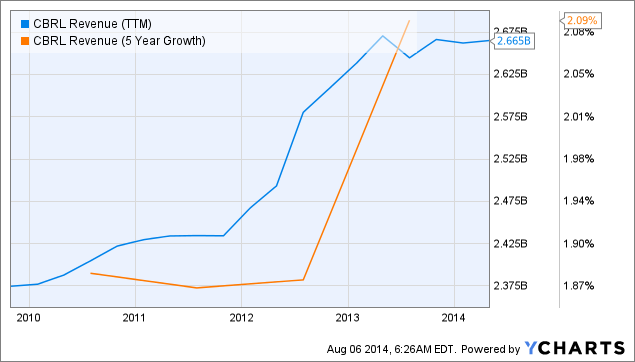 CBRL Revenue (TTM) data by YCharts
Revenue has been steadily growing in recent years, as can be seen by the 5 year growth rate of 2.09%. The company expects revenue to reach $2.7 billion in the current fiscal year, thanks in part to the opening of 7 new stores. Average analyst expectations are slightly less optimistic, with a revenue expectation of $2.68 billion. This would be an increase of 1.3% to last year's $2.65 billion. Revenue growth is expected to go up next fiscal year, with the average analyst estimating $2.79 billion. Cracker Barrel is trading at a price to sales ratio of only 0.9, well below the industry average of 2.2. It's also a lot lower than DineEquity's p/s ratio of 2.5 and JACK's 1.5.
Looking at the balance sheet we can see CBRL has a current ratio of 0.88, which is slightly below the 1.0 I would like to see as a minimum, but not low enough to really worry me too much. The long term debt currently stands at $381 million and has been declining in recent years.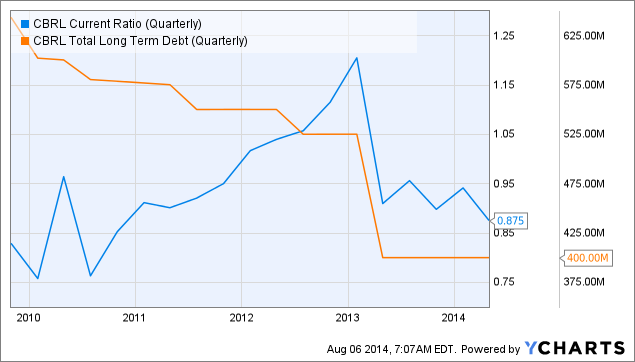 CBRL Current Ratio (Quarterly) data by YCharts
Conclusion:
The 12% drop year to date has made Cracker Barrel Old Country Store a bargain compared to its competitors, both on a p/e and p/s ratio basis. Earnings per share have been growing by double digits on average over the past 5 years, and EPS of $6.16 for next year mean the $1 quarterly dividend leads to a payout ratio of only 64.9%, leaving plenty of room for even further growth. The high dividend yield of 4.13% make this a great stock for investors looking for some extra income from their stocks.
Disclaimer: I am not a registered investment advisor and do not provide specific investment advice. The information contained herein is for informational purposes only. Nothing in this article should be taken as a solicitation to purchase or sell securities. Before buying or selling any stock you should do your own research and reach your own conclusion. It is up to investors to make the correct decision after necessary research. Investing includes risks, including loss of principal.
Disclosure: The author has no positions in any stocks mentioned, and no plans to initiate any positions within the next 72 hours. The author wrote this article themselves, and it expresses their own opinions. The author is not receiving compensation for it (other than from Seeking Alpha). The author has no business relationship with any company whose stock is mentioned in this article.