As the launch of Organovo's (NASDAQ:ONVO) first 3D human liver tissue product approaches, the company is preparing the prerequisite steps to ensure the product reaches market without a hitch. To-date, Organovo has validated its product through third-party sponsorship and another large pharma agreement, while also adding valuable human capital that will make commercialization unproblematic.
Understanding KOL Presentation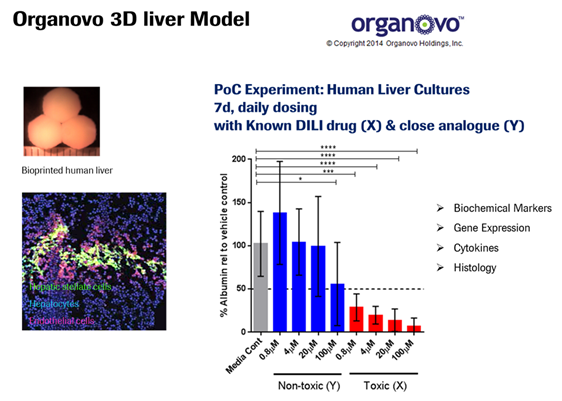 Last month, Organovo announced positive results from a collaborative study that Roche's Dr. Roth presented at the "3D Cell Culture 2014" conference (above) in Freiburg, Germany. The fluorescent microscopy image (bottom left) shows a slice of 3D printed liver tissue in a solution that stains for different types of cells in their respective positions. Organovo's printed tissue portrays that it can place the right types of cells (hepatic stellate, hepatocyte and endophilia) in a position that mimics the relative architecture of the human body tissue. This way, cells can function together as they would naturally, thus leading to advanced activity. By systematically positioning cells, tissue is recreated as it would be in the body.
As a result of recreating native tissue, Organovo's 3D printed tissue acts like human tissue. This was tested using two drugs. One was a drug that passed the traditional testing models like 2D cell tests and animal models, but failed in human trials due to causing drug-induced liver injury (DILI). Since these traditional methods are different from the human system, previous testing was inaccurate, and thus proved to be a waste of time and capital. Organovo's 3D printed model (above) was able to show the toxicity of the "toxic" drug (red bar) even at very light doses.
To further support the results of the toxic drug, an analog non-toxic drug was used to show that the system was not being tweaked in favor of arranging a negative result. This distinguished that the analog drug was non-toxic when tested in human system. Therefore, Organovo's human liver cultures were able to show superior predictability when testing for toxicity than compared to traditional methods.
Agreement with Janssen R&D
Earlier this July, Organovo announced an agreement with Janssen Research and Development, a pharmaceutical company of Johnson & Johnson. The deal with Janssen was to evaluate the use of 3D bio-printed tissue in a drug discovery setting, outside of the company's work in 3D liver tissue for toxicity testing. While terms were not disclosed, Organovo has mentioned in prior presentations that drug discovery efforts result in the partner funding the development of tissue, which, if proving successful, could be leveraged into a larger deal with royalty and milestone potential.
Since the therapeutic area of the arrangement is not disclosed (other than the fact that it is outside liver tissue), speculation leads me to believe Janssen is interested in Organovo's blood vessel and lung tissues. Janssen's priority disease focus includes hematologic malignancies and lung cancer. As a result, it would make sense to have an agreement revolving around utilizing blood vessels and lung tissue, both of which Organovo has worked with.
Organovo Enhances Team in Preparation for First Product Launch
Organovo announced that Gregory Lucier will advise CEO Keith Murphy and the company's management team on various corporate issues. With Organovo's 3D printed liver tissue expected near the end of 2014, adding Lucier's expertise will ensure the launch and commercial expansion of the company's first product will run smoothly.
Lucier was formerly chairman and CEO of Life Technologies, a global life sciences company acquired by Thermo Fisher for $15.6B in 2014. During Lucier's 11-year tenure at Life Technologies, he directed Invitrogen's $6.7B acquisition of Applied Biosystems in 2008 (now known as Life Technologies). By 2013, Life Technologies was a global biotechnology firm with nearly $4 billion in sales.
Life Technologies' goal has been to contribute to development of life sciences (DNA sequencing, molecular biology, cell biology, genetic analysis) so that it becomes common in customized medicine. When Lucier became head of the company in 2003, he wanted to make the tools that would enable growth in the life sciences space faster, easier and more economical. This strategy fueled Life Technologies' growing operations before it was acquired.
Similar to Life Technologies, Organovo is a company that is contributing to 21st century healthcare by being ahead of the curve. With the bioprinting technology, Organovo hopes to redefine drug discovery by utilizing better indicative human systems rather than conventional methods like animal testing. The first commercial step to this will be the launch of the 3D human liver tissue. One of Life Technologies' business areas was drug discovery and development, where the company sold products like cell culture systems, cell-based assays and offered drug discovery services, to name a few.
Conclusion
Though I do not believe that the Roche KOL had any impact on the Janssen deal, third-party validation proves that Organovo's tissue is functional in drug discovery. This should help Organovo's outlook moving forward, as it facilitates additional partnerships. Additionally, having the former CEO of a life sciences company on-board Organovo should give investors confidence that the product launch will experience a smooth transition into penetrating the drug discovery market.
Disclosure: The author is long ONVO. The author wrote this article themselves, and it expresses their own opinions. The author is not receiving compensation for it. The author has no business relationship with any company whose stock is mentioned in this article.