Like someone who crashed on your couch one night and is still around 6 months later, it seems like Bank of America (NYSE:BAC) is finally ready to get rid of the DOJ at any cost and put the subprime crisis in the rearview mirror. This settlement will put the toughest part of the mortgage backed security crisis far behind Bank of America and will serve to signal as an unofficial end to much of the investigation associated with the 07-08 financial crisis.
Since then, the economy has pulled itself out of the muck, fueled by help from the Federal Reserve, as the Dow has touched 17,000, jobs continue to be created, and interest rates remain as low as they can go. The Fed is feeling confident enough to begin tapering their bond buying and it looks like interest rates are going to start to poke upwards towards the end of this year.
It's been one year to the day since I wrote my article, "Why You Should Ignore Bank of America's Legal Woes." In that last twelve months, the bank has been up 4.6% amidst a bumpy ride that saw them nearly pushing $18/share and having to rewrite their capital allocation plan for the Federal Reserve.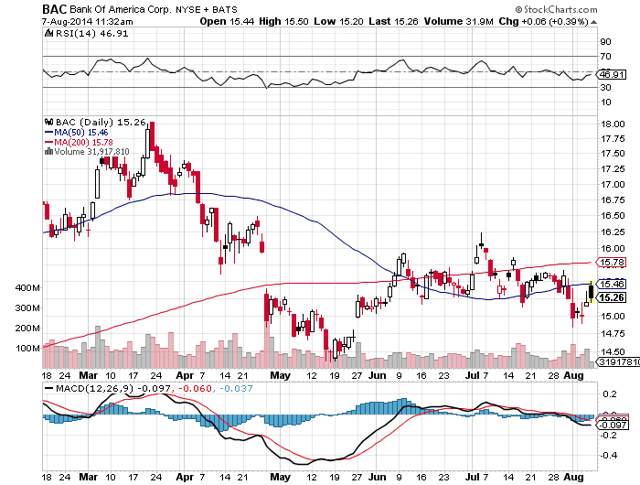 I think the $17 billion sum that's being tossed around is likely double what people had in mind for the largest settlement possible in this case, but at this point - can you put a price on putting this behind the company? The amount dwarfs the $13 billion settlement that was reached with JP Morgan (NYSE:JPM) last year and the $7 billion settlement reached by Citigroup (NYSE:C).
I mean, after all, we don't want this negotiation hanging around when the next bubble pops!
Okay, that was a joke - kind of.
The light at the end of the tunnel to this transaction started last week. The bank had been trying over and over to negotiate with the DOJ, who seemed about as interested in settling as Jerry Jones' wife is likely interested in sleeping in the same room as him this week.
DealBook touched on a bump in the road that Bank of America hit last week:
Judge Jed S. Rakoff, a longtime thorn in the side of Wall Street and Washington, issued an unexpected ruling in another Bank of America case that eroded what was left of the bank's negotiating leverage. Judge Rakoff, of Federal District Court in Manhattan, ordered the bank to pay nearly $1.3 billion for selling 17,600 loans, many of which were defective. Bank of America had previously lost that case, which involved its Countrywide Financial unit, at a jury trial.

Photo

The bank's top lawyers and executives, who made the ill-fated decision to fight that case in Judge Rakoff's court rather than settle, appeared to recognize that another courtroom battle would not only be futile but extremely expensive, according to two of the people briefed on the matter. The remaining cases, which by contrast would involve billions of dollars in securities backed by home loans, could have cost the bank multiples more than Judge Rakoff's penalty, perhaps even more than a settlement with the Justice Department.
Hitting this roadblock seemed to be the last straw for those on the bank's side that wanted to continue to negotiate.
Bank of America bulls love to be putting this issue behind them; it's a cloud that's been hanging over the company for far too long. Bears on the bank point out that this still seems to be like a small fine for the amount of money lent to the bank during the crisis. Some bloggers still contend that Bank of America executives belong behind bars.
It's sounding like a significant portion of the money that BAC is going to have to turn over is going to go to consumers and homeowners to help continue to fuel the recovery in the housing market that was crippled just years ago.
Terms and conditions of the deal are likely being whittled away with a fine tooth - uh, whittler, I guess - by the lawyers as we speak; but this is the most promising "light at the end of the tunnel" we've seen for this issue since it began.
Say what you want about the dollar amount (which isn't enormous when you look at BAC's balance sheet), but when Bank of America is able to put this behind them and continue anew - with Moynihan's restructuring and cost cutting behind them - the bank will likely continue to flourish. This, of course, remains contingent on the geopolitical banking conditions and the macro market indices holding up.
However, on the heels of getting a deal done and finally behind them, Bank of America continues to look like a sound investment. I'm maintaining my price target of $20 on the stock. Best of luck to all investors.
Disclosure: The author has no positions in any stocks mentioned, and no plans to initiate any positions within the next 72 hours. The author wrote this article themselves, and it expresses their own opinions. The author is not receiving compensation for it (other than from Seeking Alpha). The author has no business relationship with any company whose stock is mentioned in this article.